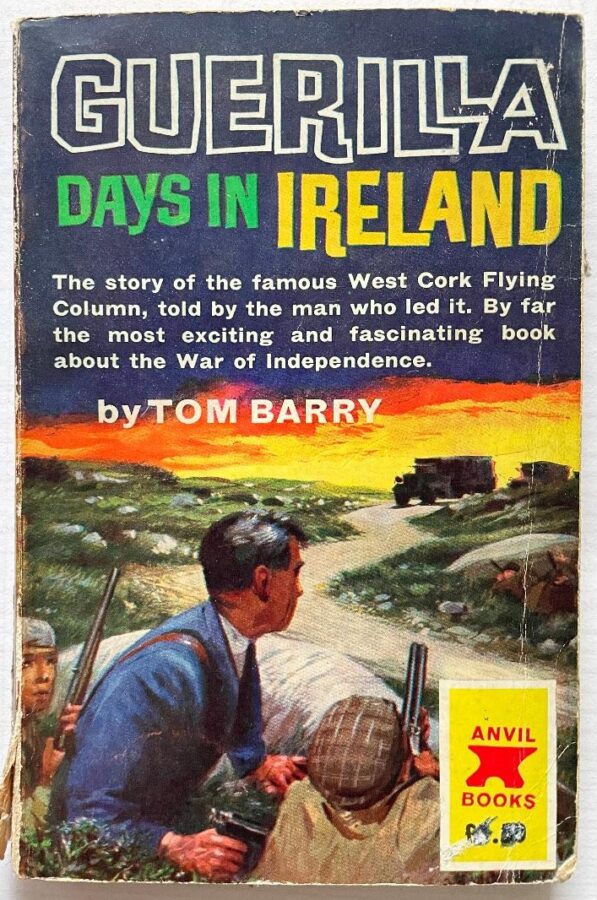 Kieran's Our City, Our Town Article,
Cork Independent, 22 July 2021
Journeys to a Truce: Guarding the Truce
On the advent of the Truce, Michael O'Donoghue, Engineer Officer with the 2nd Battalion of Cork No.1 Brigade, remarks in witness statement (WS1741) of the Bureau of Military History of a new-found freedom. He had been based in the West Cork Brigade in the early summer of 1921 and decided to return home to Cappoquin in Waterford to study for his final engineering exam in UCC. He returned though via Cork and ended up staying in his old digs in the Shamrock Hotel on the Grand Parade, where he spent a few days and nights before heading for home. On his first post Truce night in Cork, he notes that he was amazed at the reactions of the public to the abolition of curfew and other restrictions on their freedom.
"At 10pm they could be seen sitting on the pavements, in doorways everywhere, on the streets under the open air, as if they were trying to assure themselves that it was really true that British tyranny no longer operated and that they were now free and no longer under the baleful hostile gun-muzzle of Tan and Tommy. But Republican Police appeared like mushrooms and enforced the licensing laws with strictness and even harshness. The RIC and Tans strolled around aimlessly and at ease and seemed to regard the rather puritanical activities of their successors in law–enforcement with amused benevolence. The citizens played holiday round their streets until well past midnight each night, rejoicing in their new found liberty. The young girls, particularly, fell over themselves in their admiration for the returning Republican Volunteer youths, and I and young IRA men like me basked in the sunshine of female smiles and admiring glad eyes".
West Cork Brigade Commander Tom Barry in his book Guerilla Days in Ireland gives a chapter to the Truce negotiations and the impact of the peace. He relates that the sudden ending of hostilities left IRA men dazed at first and uncertain of the future, as no one considered during those early July days that the Truce would continue for more than a month. Tom notes that his own concerns were not eased by the arrival of a dispatch on 9 July, from Sinn Féin headquarters, stating that the President de Valera had appointed him as Chief Liaison Officer of the Martial Law Area of Cork or an important post making sure the ceasefire and peace was kept. Tom describes of the Truce:
"As July 11 approached one slowly began to appreciate what the Truce and all it entailed signified. Gradually it dawned on me that the forcing of the enemy to offer such terms was a signal victory in itself; that days of fear were ended, at least for a time, and that one could return to normal life and thought, away from the hates, the callousness and the ruthless killings of war. The respite might only be brief, but one would not dwell on that. The sun blazed from God's Heavens during those cloudless days of the longest and most brilliant summer in living memory, as if to remind man that the world held brighter things than the darkness of war. At peace and relaxed we rejoiced with our own people, who had been so good to us in the troubled past, until it was time for me to leave for my new liaison post".
The Bureau for Military History has a number of files in its archives on the correspondence and work of the Office of the Chief Liaison Officer. It operated from the Gresham Hotel, Dublin and was set up following the successful negotiation of a Truce between the British Government and the Army of the Republic (also known as Irish Republican Army), effected on 11 July 1921.
Representing the British was General Sir Nevil Macready Commander in Chief, Colonel J Brind and A W Cope, Assistant Under-Secretary, acting for the British Army. They agreed as follows that there would be no incoming troops, Royal Irish Constabulary (RIC), auxiliary police and munitions. There would be no movements for military purposes of troops and munitions, except maintenance drafts. There would be no provocative display of forces, armed or unarmed. It was understood that all provisions of the Truce apply to the martial law area equally with the rest of Ireland. There was to be no pursuit of Irish officers or men or war material or military stores. There was to be no secret agents, noting description or movements, and no interference with the movements of Irish persons, military or civil, and no attempts to discover the haunts or habits of Irish officers and men. There was also to be no pursuit or observance of lines of communication or connection.
Commandant Robert C Barton TD and Commandant Éamonn J Duggan TD, acting for the Army of the Republic agreed as follows; Attacks on Crown forces and civilians were to cease. There was to be no provocative displays of forces, armed or unarmed. There was to be no interference with Government or private property. There was to be no move to "discountenance and prevent any action likely to cause disturbance of the peace which might necessitate military interference".
The Chief Liaison Officers included Commandant Éamonn Duggan, Commandant F Murphy and Commandant Emmet Dalton. By December 1921, the Office of the Chief Liaison Officer was liaising with 30 appointed Liaison Officers with locations amongst 30 counties and liasing with the British authorities in reporting and investigating alleged breaches of the Truce.
Caption:
1109a. Colourful front cover of first Anvil Books paperback edition (1962) of Guerilla Days in Ireland by Tom Barry (picture: Kieran McCarthy).