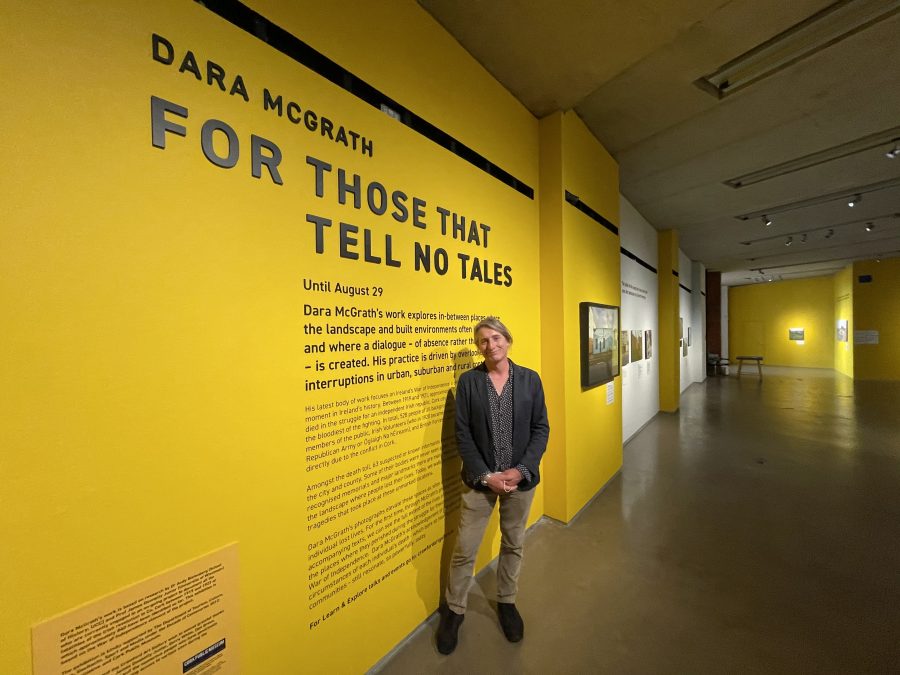 Kieran's Our City, Our Town Article,
Cork Independent, 1 July 2021
Journeys to a Truce: For Those That Tell No Tales
On Thursday night, 23 June 1921, an IRA unit in a motor car threw a number of bombs at an RIC post on the Grand Parade (see last week's column). The attack was followed by bursts of gunfire as the car sped up Tuckey Street towards the South Gate Bridge. Josephine Scannell (aged 19) was killed in the shooting that followed the bomb attack. She was working at a sewing machine inside the window of her first story residence at French's Quay when she was hit by a bullet that passed through the window. She died a short time later. Josephine was buried at St Joseph's Cemetery in Ballyphehane. In the 1911 Census, she was one of the five children of the builder John Scannell and his wife Jane.
There were many victims of the Irish War of Independence just like Josephine Scannell. Over the past one hundred years, there has been a tendency in Cork City to keep the focus on the larger fall out events such as Tomás MacCurtain, Terence MacSwiney and the Burning of Cork. However, the centenary commemoration has brought new scholars, new projects and new foci on elements on the War of Independence that have not been publicly commemorated before.
One such very insightful project is Dara McGrath's photographic exhibition entitled For Those That Tell No Tales, which can be viewed in the Crawford Art Gallery. It is a great contribution to thinking about life and society one hundred years ago. That it was not just the IRA, RIC and Black and Tans that caught up with tit-for-tat violence but also civilians and their families.
Dara McGrath's work is based on research by Dr Andy Bielenberg (School of History, UCC) and Professor James Donnelly Junior (University of Wisconsin) who are currently engaged in an on-going project to document all the fatalities of the Irish revolution in County Cork between 1919 and 1923 of which approximately 840 have been identified so far. This exhibition is based on the War of Independence element of the project in Cork City and showcases over sixty lesser known War of Independent sites from across Cork City.
Dara in his notes on his photographic exhibition writes that the catalyst for this project came from a series of conversations he had with Dan Breen, Curator of Cork Public Museum, in late 2017, as consideration was given how best to commemorate the centenary of events that took place in Ireland, and in Cork, between 1919 and 1921. Dan suggested Dara research and photograph the sites and locations of the many fatalities from this period. Dara relates: "I made contact with Dr Andy Bielenberg who was involved in the Irish Revolution Research Project at University College Cork, and with his help and research I was able to pin down the events that surrounded fatalities that took place within the new Cork city boundary extension during the years 1919 to 1921. I then set out to take a photograph as near as possible to where the event happened. Sometimes I photographed the almost exact spot on the ground, others were to be a guess with logical thinking".
Dara's photographs elevate these spots or spaces as sites of memory for those individual lost lives. For the first time, through Dara's photography and accompanying texts, one can see a cross section extent of the lives of the people and the geography where they perished during the struggle for freedom in Ireland's War of Independence. Dara's acknowledgement of the place and circumstances of each individual's death – which bore so heavily on their communities – still resonate, so powerfully, today.
The Crawford exhibition notes that today – sadly and almost universally – we pass by unaware of the tragedies that took place at unmarked locations that are daily traversed; "Beyond the recognised memorials and major landmarks there are many more sites within the landscape where people lost their lives. In Cork City, those 'forgotten' lives lost may include the Norwegian sailor Carl Johansen whose life was ended by being shot in the back while returning to his ship in the Port of Cork docks; or Josephine Scannell who at nineteen years old was shot dead by a stray bullet while sitting near a window in her house in the city centre".
Dara notes: "As I stood, I thought about the people who had died in these locations, and wondered was I the first to remember them at these sites of their deaths. The project forced me to think deeply about the relationship between me as a photographer, the place, and the history of the place. I'm aware this project may disrupt some firmly-held narratives. War is a terrible thing, and amidst its fall-out comes the silence, the secrets, the revisions, the stories told, and the stories hidden away. In death, some were treated as heroes, others as innocents, still others as the villains, but this understanding changes too depending on who you talk to. The stories I'm trying to tell include tragic accidents, bungled bombs, executions on both sides, and the abduction and murder of informants.
"My approach was to attempt to respect everyone who had died by treating them equally. I sought to present them with dignity, to demonstrate they were a member of a family, to show they were loved. In essence, this project seeks to give a voice to those who did not live to tell their tales", concludes Dara.
The exhibition For Those That Tell No Tales by Dara McGrath runs to the end of August and is kindly supported by The Department of Tourism, Culture, Arts, Gaeltacht, Sport and Media under the Decade of Centenaries 2012-2023 initiative, Cork City Council and Cork Public Museum.
Caption:
1106a. Dara McGrath at his exhibition entitled, For Those That Tell No Tales, in the Crawford Art Gallery (picture: Kieran McCarthy).