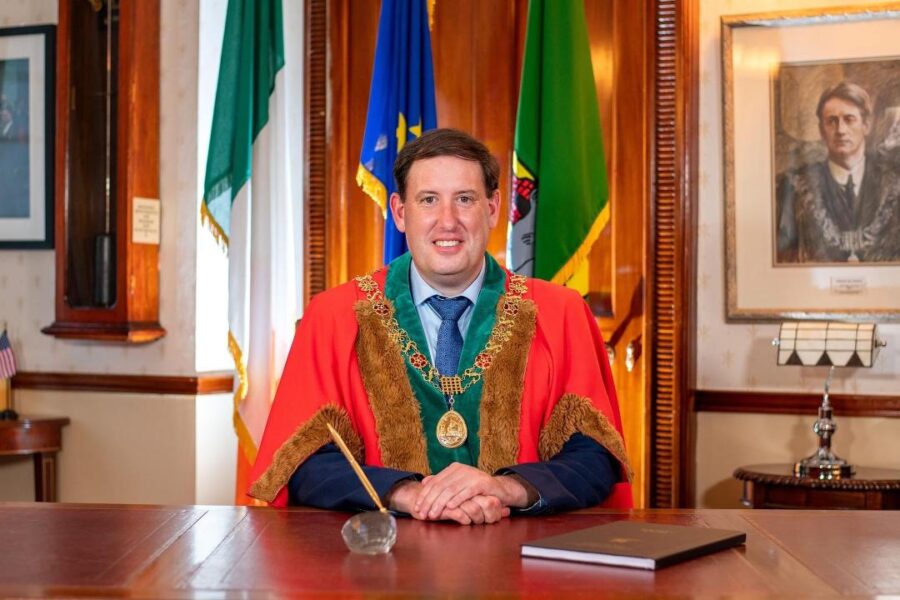 Kieran McCarthy is a born and bred Cork City man. Growing up in Ballinlough he developed a great love for his hometown and today remains dedicated to promoting the past, present and future of Cork city and its region.
Education:
After attending Colaiste Chríost Rí, Kieran went on to study Archaeology and Geography at University College Cork. On completing his Joint Honours BA degree, he went on to undertake a Masters in Geography.
Even after devoting four years to furthering his knowledge of the city, Kieran was not satisfied to leave his love of all things Cork and has completed a PhD in Geography on the River Lee Valley and the importance of remembering, identity and protecting our historic landscapes.
Local History Advocate:
For the past 24 years , Kieran has written his well-known weekly column, 'Our City Our Town' in the Cork Independent, which addresses the local history of Cork City, the River Lee Valley and Cork Harbour. He has also written 29 books dedicated to Cork and its region, and Irish history. He is also an occasional writer on Cork historical topics in the Irish Examiner.
Kieran's commitment to instilling a sense of pride in the community is demonstrated through his involvement in a well-established school project currently running in Cork. The Discover Cork: Schools' Heritage Project, was founded by Kieran in 2003 and is now annually implemented in 25 schools across the city with the involvement of 1,000 students.
Kieran has also created a new series of walking tours across the south east ward and across the city's suburbs, extending out from his City Centre tours. These walking tours focus on the landscapes, built heritage, and memories within 25 areas, which one can read about on his dedicated Cork heritage website www.corkheritage.ie or even better come out on one and participate and share your own memories and thoughts.
For his heritage work, Kieran was awarded Cork Person of the month in January 2017 and the Mulvihill Publication/ Media Award with the Industrial Heritage Association of Ireland in December 2019.
CONNECT to Kieran's One Stop Shop Cork Heritage website here:
Cork Heritage | Kieran McCarthy's blog about Cork City – Cork History Articles, Heritage and Photography & Historical Walking Tours
Community Project Advocate:
Other initiatives amongst our youth include the McCarthy's Community Talent Competition, McCarthy's Art Competition, McCarthy's Make a Model Boat Project and his involvement in the foundation and project development of Cork City Musical Society.
Councillor Commitees:
Kieran was elected to Cork City Council in June 2009, May 2014 and May 2019 as an Independent City Councillor for south east Cork City. He sits on the South East Local Electoral Area Committee, the Roads and Transportation Strategic Policy Committee, the Community, Culture and Place-making Strategic Policy Committee, the Commemoration Committee, the City Council's Arts Committee, the City Council's Heritage Forum and is an active participant on the Council's Climate Action Committee.
Kieran is Lord Mayor of Cork, 2023-24.
VIEW more here on Kieran's Advocacy Work | Cllr. Kieran McCarthy
Member, European Committee of the Regions:
In January 2015 and January 2020, Kieran was appointed by the Irish Minister for the Environment and Local Government for a five year term to be an Irish member on the European Committee of the Regions (CoR).
The CoR is a formal EU institution – an assembly of local councillors, Mayors and Regional Parliamentarians with 329 members from across the 27 EU Member States. It offers formal opinions to the European Commission and European Parliament on topics, which affect the over 95,000 local authorities and regional assemblies at EU level.
Kieran holds membership of the CoR's Commission for Social Policy, Education, Employment, Research and Culture (SEDEC) and has personal interests in the New European Bauhaus, informal and formal education, lifelong learning, culture and communities, the Digital Single Market, smart specialisation, science and innovation in regions and cities, cities and regions of the future, youth and sport, and socio-cultural effects of IoT.
Kieran also sits on the CoR's COTER Commission (Cohesion Policy and Territorial Development) with interests in the role and voice of small cities within the EU and the EU Urban Agenda, the sustainable development goals, interregional co-operation programmes and cross-border co-operation, and the dissemination to EU citizens of the work of EU structural funds.
Kieran is CoR Rapporteur on the opinion documents, Digitising European Industry, Building a European Data Economy, the Implementation Assessment of the Urban Agenda for the EU, the New European Bauhaus, and Small and Medium Cities and the Just Transition respectively.
From January 2020 to June 2022 he was President of the European Alliance political grouping at the European Committee of the Regions. He now serves at First Vice President of the group.
Kieran was also a COR delegate member to the 2021-22 Conference on the Future of Europe and sat on the working group Culture, Youth, Sport, and Education.
READ MORE ON: Kieran's European Committee of the Regions Work | Cllr. Kieran McCarthy
CONNECT to the European Committee of the Regions website here: https://web.cor.europa.eu/ea/AbouttheGroup/Pages/President.aspx
Kieran's Awards:
An Gaisce Gold medal, President's Award Recipient
Chief Scout Award Recipient
Government of Ireland Scholar, Recipient of Irish Research Council for the Humanities and Social Sciences Scholarship
Feis Maitiu Winner (President's Cup and Gilbert and Sullivan singing categories)
Cork Person of the Month, January 2017
Mary Mulvihill Publication/ Media Award, Industrial Heritage Association of Ireland, 2019 for The Little Book of Cork Harbour (2019, History Press) and for championing cultural heritage.
Certificate in Continuing Professional Development in Climate Crisis and Local Government with National University of Ireland, Cork.
Hobbies:
Kieran believes in living life to the full and when he has any spare time he enjoys horse-riding, acting, singing, photography, writing and getting involved in community activities. He is also an avid fan of the arts. His many achievements include receiving the President's Gold Gaisce medal award, the President's Cup for singing in the Feis Maitiú, and the Chief Scout Award.
Kieran's Past Involvement in Community Projects:
Former member of Ballinlough Pastoral Council- working on various projects with other members including setting up a folk choir, annual carol service, parish social and being a youth representative for the Cork City South Deanery on the Diocese of Cork and Ross Pastoral Plan
Former Beaver Scout Leader in Ballinlough for 16 years plus Former scout involved in Ballinlough's All Ireland Melvin win in 1992
Advisor and investor, Cork Community Radio, 2009
Former swimming instructor with Sunday's Well Swimming Club, Douglas Pool
Actor – appearing in a number of Cork productions on the Cork Opera House, Everyman Palace, Cork Arts Theatre and Firkin Crane stages
Active member and sponsor of Cork-Kerry branch of Showjumping Association of Ireland -Amateur rider, indoor and outdoor gymkhana participant; 90cm, 1m classes
Founder and Project Developer of Cork City Musical Society