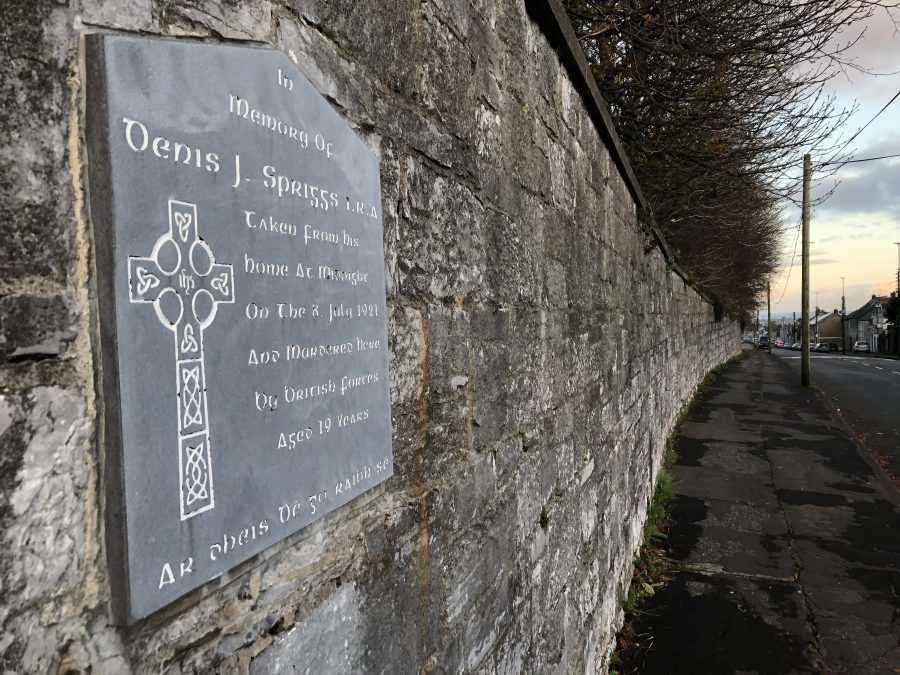 Kieran's Our City, Our Town Article,
Cork Independent, 8 July 2021
Journeys to a Truce: Fred Cronin's Republican Plot
IRA casualties from the ongoing War of Independence across the city continued all the way into the July 1921 truce. On 21 June Commandant Walter Leo Murphy was shot dead at Waterfall (a few miles from Ballincollig) when an IRA meeting in a local public house was encircled by two carloads of British undercover officers. He shot his way out of the public house but was subsequently killed.
A commemorative plaque erected at Turner's Cross to D Company 2nd Battalion commemorates Company Adjutant Charles Daly of 5 Glenview, Douglas Road, who was captured by British forces at Waterfall, Co. Cork on 28 June 1921. British army records claim he was shot attempting to escape from Victoria Barracks on 29 June 1921.
Denis Spriggs became involved in the fight for independence from British rule at a very young age. At 16, he lied about his age so he could join the IRA. As a known member of the IRA he, like many other Volunteers, was forced to go on the run from British forces in the city. On 8 July 1921, whilst visiting his mother, Denis Spriggs was captured. The house was raided and Spriggs was apprehended. He was taken from his house and shot on Blarney Street where a plaque marks the spot today.
Walter Leo, Charles, and Denis are buried in the Republican Plot at St Finbarr's Cemetery, which dates back to 1920. Previously to its use there was, immediately inside the gates of St Finbarr's Cemetery, a vacant plot of green in one corner on which stood a small but interesting memorial. Built in 1894 of stones taken from an ancient Cork abbey, it marked the place where the collected bones of the monks of Gill-Abbey had been reinterred.
On the day after the murder of Lord Mayor Tomás MacCurtain in March 1920. Fred Cronin, close friend of Terence MacSwiney and a leading Cork undertaker of Richard Cronin and Sons, suggested to the Brigade officers that the municipal authorities, who were owners of the cemetery, should be requested to make this plot available as a burial place for the dead patriot. The Corporation readily agreed, and with this first interment the Republican Plot came into existence.
Lough native Fred Cronin was an active member of Sinn Féin. His membership dated back to its earliest days in its foundation. Fred's obituary in the Cork Examiner on 30 October 1937 describes that he took an active interest in all the nationalist movements from the early days of his youth. He was one of the founders of the Young Ireland Society in the year 1899, whose work is engraved in the memory of the people of Cork by the erection of the monument on the Grand Parade. About this time also he was also one of those people who attempted to put an end to the recruiting campaign for men to fight in the British Army against the Boers in South Africa.
Fred also helped to establish a Republican organisation known as the Cork Celtic Literary Society in 1903, and it was in the ranks of this society that he came in close contact with such well-known men as Terence MacSwiney, Tomás MacCurtain, and Tadhg Barry. He was also a close follower of the national pastimes, being connected with the Éire Óg Hurling Club. He also played for a number of years with the Nils Football Club. He took a deep interest in the language movement and was a prominent member of the Gaelic League for a long period.
Fred was transport officer to the 2nd Battalion of Cork No. 1 Brigade IRA for a time around 1920. His experience with the family firm of undertakers gave him considerable knowledge of transport organisation.
When Terence MacSwiney's life was increasingly threatened in 1920, whilst he was Lord Mayor he could be found at the house of Fred. Keeping a watchful eye on Fred and Terence were the members of G Company of the 2nd Battalion. Their base were Messrs Phair grocery and provision store on Bandon Road. Here there were stores and out offices of G Company, which provided an admirable hiding place for guns and other military equipment.
When Terence was on from hunger strike in Brixton Prison, Fred visited him regularly and on Terence's date of death on 25 October 1920, Fred was one of the last to see him alive. Fred was tasked by the MacSwiney family to be the executor of Terence's will. Fred's personal papers are now archived in the National Library in Dublin. The notes for his 33 folders of surviving papers describe that between May and December 1921, he was interned by the British authorities at Cork Male Prison and Spike Island. While he was incarcerated on Spike Island, he joined the other prisoners in a hunger strike which lasted only four days, ending 2 September 1921.
Fred applied for parole due to the illness of his youngest daughter. His parole application bound him during the period of his release not to "render any assistance, direct or indirect, to persons disaffected towards His Majesty the King, or do any act calculated to be prejudical to the restoration or maintenance of order in Ireland." Republicans generally disapproved of parole-giving and it was permitted only in cases of severe family stress. Fred Cronin had five children, of whom the youngest, Maire, required a major operation and was dangerously ill for a time. His wife Katie had died and her sister Mary Roche was looking after the children.
During the Civil War Fred's anti-treaty sympathies saw him interned during the Civil War by the Free State Government in Cork Prison and then Hare Park Camp (Curragh), Co. Kildare from 1922 to 1923.
Recently Phoenix Historical Society has published a book on those laid to rest in the Republican Plot at St Finbarr's Cemetery. The Plot is the final resting place of 61 Irish Republicans. Contact michael_nugent@corkcity.ie for more information on how to attain a copy of a very interesting and important local history book.
Captions:
1107a. Plaque on Blarney Street Cork in memory of Denis J Spriggs, killed 8 July 1921 (picture: Kieran McCarthy)
1107b. Republican Plot at St Finbarr's Cemetery, present day (picture: Kieran McCarthy)