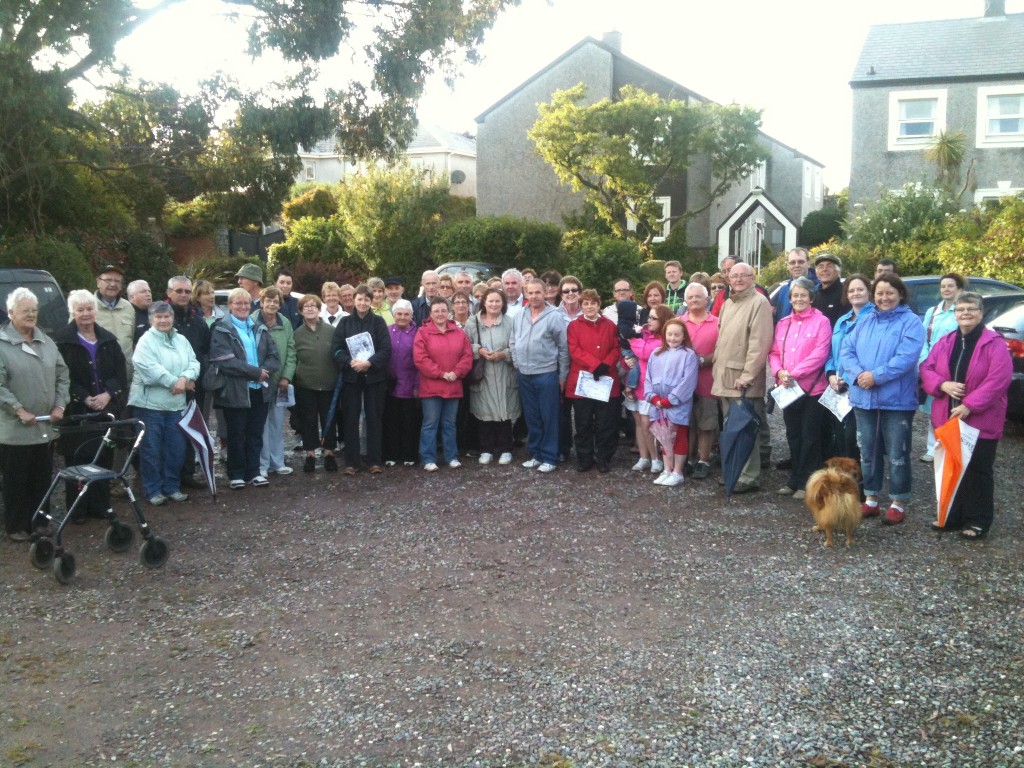 Thanks to everyone who came out to support the historical walking tour of Ballinlough this evening plus thanks for your contributions and sharing your memories.
Ballinlough: Did you Know?!
Ballinlough has a rich variety of heritage sites that provide an understanding into the development of the city and region and connections between both.
The rock-formation beneath Ballinlough is an expansive layer of fine, carboniferous limestone, rich in crinoidal fossils. The rock is potentially 300,000,000 years old.
The area's first recorded resident to settle in the area was Patrick Meade. In records from 1641, Ballinlough was written as Ballynloghy and Patrick, a Catholic, had 144 acres of profitable land. The Meades were originally from the west coast of England.
During the Cromwellian wars, Patrick Meade was dispossessed of his property. William Tucker had the caretaker's lease on the property through Oliver Cromwell. Subsequently, the 144 acres were given to Alexander Pigott. The Pigotts came from Chetwynd in Shropshire and initially came to Ballyginnane beyond present day Togher. In time, they re-named this area Chetwynd (CHETWID).
In 1792, when Beamish & Crawford was first established, William Beamish resided at Beaumont House, which was then a magnificent period residence situated on Beaumont Hill (SEE MAP). During their tenure at Beaumont House the philanthropic spirit of the Beamish family was well known. The name Beaumont, is the French derivative of Beamish meaning a beautiful view from the mountain or a beautiful view.
Ballinlough House, one of several large mansions in the area was built c.1860 by George Gregg. The house had 21 ½ acres of parkland and the adjoining crossroads were named after the family. In time 15 acres of the land were sold off to creat Silverdale.
In the 1840s, Mr Meade conducted a private school in Ballinlough, which was attended by 80 females all Roman Catholics. It may have been located in County's Lane (now Glencoo Lawn entrance from Ballinlough Road).
A standing stone survives in Ardmahon Estate. It was visited by antiquarian Thomas Crofton Croker in 1815. It measures 4 feet, 10 inches high and is a limestone block. Local folklore says it may have been part of a missile cast by Fionn MacCumhall to discommode his enemies!
In 1850 Griffith's Valuation of property in Ballinlough, 49 individual land holdings – are listed. The surnames included McGrath, Dennis,Hare, Pigott, Angleton, Barrett, Barry, Callaghan, Coughlan, Delany, Donovan, Hayes, Keeffe, Keohane, Lavallin, Love, Lyons, Mahony, Meade, Noonan, Reid, Regan, Riordan, Silke and Smith
In the 1901 census Ballinlough townland had 17 market gardeners
Pic Du Jer Park, built by the Bradley Brothers, was one of the first speculative building projects in the early twentieth century in Cork. Before Pic Du Jer was built Fordson's Football Club, a subsidiary leisure group of a Fords had their home on the site.