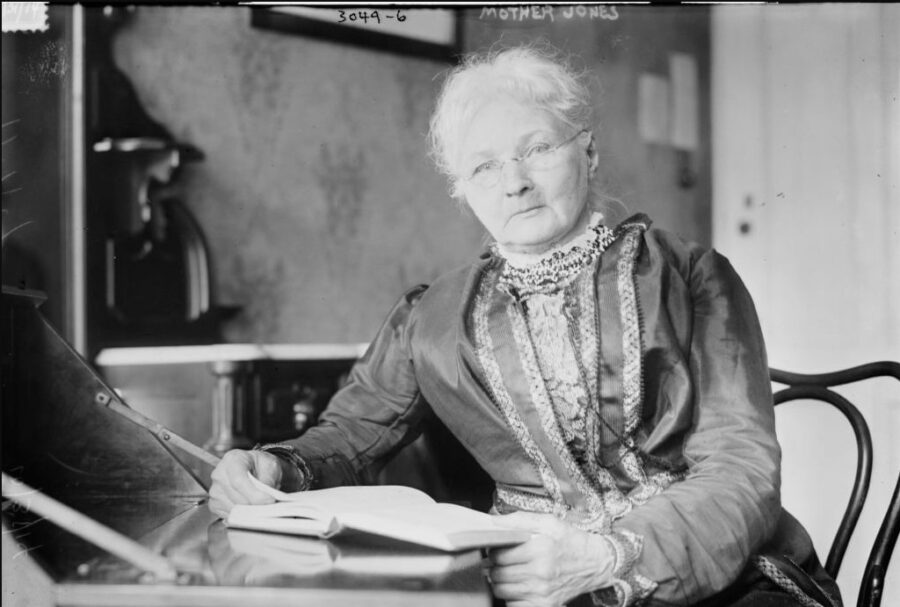 Kieran's Our City, Our Town Article,
Cork Independent, 21 July 2022
Mother Jones Festival 2022
The 2022 Mother Jones festival and summer school in Shandon– the eleventh annual festival – will take place from Thursday 28 July to Saturday 30 July. It is dedicated to the memory of Mary Harris/Mother Jones and to inspirational people everywhere who fight for social justice. The website for all the details of the event is at www.motherjonescork.com
The Cork Mother Jones Committee have assembled over 20 events ranging from talks and lively discussions, to walks and exhibitions, to presentations of awards and toasts as well as singing, poetry and music. They are working closely with their sponsors Cork City Council, the SIPTU trade union, the ASTI Trade union and IFUT. With their assistance, it is possible to maintain the festival free and open to all.
Highlights for 2022 will include the screening of the Shandon Area History Group/Frameworks Films documentary 'Ordinary Women in Extraordinary Times' at the Dance Cork Firkin Crane Theatre on Friday evening, 29 July. 
Of special interest this year will be the visit of Antoinette Keegan, whose two sisters Mary and Martina died in the Stardust Fire tragedy in 1981.  Christine her mother and John her father were instrumental in establishing the campaign of the Stardust Victims to seek justice for their loved ones over the past 40 years.  Antoinette was will be presented with the 2020 Spirit of Mother Jones Award in person on Friday afternoon 29 July at 3pm. The festival committee hopes that the people of Cork will come along and show their support to the victims and survivors of the Stardust tragedy in their efforts to attain justice.
The Cork Mother Jones Commemorative committee was established in 2012 to mark the 175th anniversary of the birth of Mary Harris / Mother Jones (1837-1930) in Cork. After a highly successful festival marking that anniversary it was decided to make the festival an annual event marking the life and legacy of Mother Jones. Although famous in other parts of the world, especially in the United States of America where she was once labelled "the most dangerous woman in America", Cork born Mary Jones (née Harris) – or Mother Jones as she is perhaps more widely known – was virtually unknown and not recognised as yet in her native city. The festivals and activities of this committee have changed that and now the name of Mother Jones is better known in Cork and beyond.
The Cork Mother Jones Commemorative Committee, in conjunction with Cork City Council commissioned Cork Sculptor Mike Wilkins to create a limestone plaque to honour Mother Jones in the Shandon area of the city, near her birthplace. This plaque was erected near the famous Cork Butter Market and was unveiled on 1 August 2012 which was the 175th Anniversary of her baptism in the North Cathedral.
Mary's parents were Ellen Cotter, a native of Inchigeela and Richard Harris from Cork city. Few details of her early life in Cork have been uncovered to date, though it is thought by some that she was born on Blarney Street and may have attended the North Presentation Schools nearby. She and her family emigrated to Canada soon after the Famine, probably in the early 1850s. Later in the United States, after tragic deaths of her husband George Jones and their four children, she became involved in the struggle for basic rights for workers and children's rights, leading from the front, often in a militant fashion.
Mary is best known for her fiery speeches against the exploitation of miners; she was utterly fearless, travelling all over America to defend workers and their families. Mother Jones was one of the best and most active union organizers ever seen in America. She became a legend among the coalminers of West Virginia and Pennsylvania; Mother Jones was fearless and faced down the guns and court threats of the mine bosses. In 1905 she was the only woman to attend the inaugural meeting of the Industrial Workers of the World (Wobblies).
Later Mary became an organiser for the Socialist Party and continued her defence of workers in industrial disputes across America. She was arrested and jailed in West Virginia for her activities during the Paint Creek, Cabin Creek strikes, but later released following large demonstrations of her supporters. Between 1912 and 1914 she was involved in the "coal wars" of Colorado which led to the infamous Ludlow Massacre, where 19 miners and members of their families were killed. She was imprisoned many times but always released quickly due to huge local support for her activities.
Described as "the most dangerous woman in America", her cry of "Pray for the dead and fight like hell for the living" still resonates through history! Her autobiography was published in 1925. She passed away at the age of 93 in 1930 and is buried at Mount Olive Union cemetery in Illinois, where a museum will be erected to her memory shortly. When she died in 1930, she was a legend in her adopted land. A magazine (Mother Jones) is still published to this day, along with dozens of books and countless references in US Labour History. She certainly can claim to be the most famous Cork woman in the history of the United States of America.
See www.motherjonescork.com for more on the Mother Jones Festival 2022 across venues in the Shandon area.
Caption:
1160a. Photo of Mother Jones, 1920s (source: Library of Congress, USA).