19 Dec 2018
Deputy Lord Mayor, Cork Male Voice Choir, 50th Anniversary Event, 9 December 2018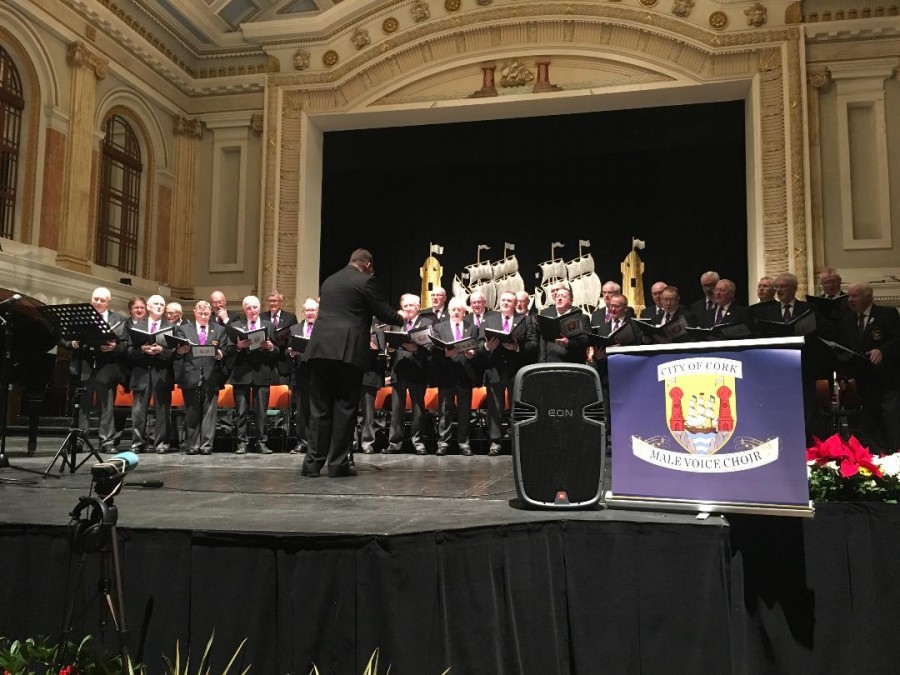 50th Anniversary, Cork Male Voice Choir Concert,
9 December 2018
Concert Hall, Cork City Hall
Deputy Lord Mayor, Cllr Kieran McCarthy
Distinguished Ladies and gentlemen,
How oft do my thoughts in their fancy take flight
To the home of my childhood away,
To the days when each patriot's vision seem'd bright
Ere I dreamed that those joys should decay.
When my heart was as light as the wild winds that blow
Down the Mardyke through each elm tree,
Where I sported and play'd 'neath each green leafy shade
On the banks of my own lovely Lee.
Being sent in as the warm-up act to tonight's special concert presents its challenges to go before the talented performers, we will hear this evening.
What may come across as a random act of breaking into song by one deputising for the Lord Mayor, can be attributed to my long-held wish to want to sing on this stage and indeed test the acoustics of this great hall.
This hall specifically opened 82 years to host concerts of light opera and musical theatre like those we are about to hear this evening. And if you don't believe me, the West End- London Strand electrical boxes still ablazen the side wings.
What this concert celebrates here this evening is another act of randomness and another long-held wish but this time, from 50 years ago, through the idea of a small group of individuals initially who wanted to come together to sing and create a new community and cultural outlet in the city.
1968 Cork coincided with an industrial boom in Cork – Fords and Dunlops had just had their factories expanded and further mechanised. The Harbour area was booming with industrial elements such as Verolme and Whitegate all making their mark.
In the same year, Cork Corporation planned to expand its city boundaries to take in new housing estates, social and private, which had emerged in the previous 20-30 years. From Churchfield to Blackrock, new houses etched the city's skyline. The first City Car parks were planned as the number of cars on the streets soared.
The Ballrooms of Romance such as the Arcadia shook with the sounds of new sounds, new music and the beat of new music. People swirled into the city's suite of cinemas; they swirled in the city of the brand-new Opera House. It was a baby just then three years old, but you could still smell the new paint and feel the texture of the new seats.
In the midst of all of that was the birth of a male voice choir, community based, who captured the energy of an industrially charged City.
However, as Cork over the past fifty years has seen boom and bust – one of the strong constant denominators to witnessing such change and getting on with their raison d'être – has been the Cork Male Voice Choir.
Moments of Life:
I have no doubt there were moments in the early days when the founder members held firm on why they established the choir. Paddy Murray one of the original particpants is here this evening and is still singing with the choir. Tonight, we remember him and the founders for their tenacity and vision.
There were moments where the choir suffered the blows of members who left for various reasons or who passed away. Tonight, we remember past members and rejoice in the talents of the present members.
There have been moments in the multitudes of rehearsals where complex musical notes confounded even the sharpest of members. We remember those who stayed quiet and let the choir master and accompanists do their work.
There have been moments when a new Choir master arrived and where members like a student were anxious to see what empathy and teaching skill would come forth. We remember all the past choir masters for their dedication and vision.
There have been moments when family members of Choir members critiqued the small flecks of dirt on a suit or shirt to be worn – probably asking the said family member to "take that shirt off", probably threw it in the wash and like out of nowhere presented a brand-new shirt. Tonight, we remember the support of family members not just from a clothes perspective, but who smiled and said in their own way, "no problem, it was great to see you on the stage. I am very proud of you".
There have been moments where members brought their life concerns in their head to rehearsal and through song worked out a resolution. We remember those who sang up and went with the flow of the music.
There have been moments in a break of a rehearsal – when a fellow member asked "is there anything wrong" to another member and a worry was shared -and in that quiet moment or a rehearsal room – the power of solidarity and friendship prevailed to soften the blows of life. We remember those guardians of empathy and the listening ear.
There have been moments where choir members did not want concerts to end and the words of "Beautiful City", charming and pretty – echoed into their heart and soul long after they left the stage. We remember those melodies which brought the audience along on a journey of discovery of pride and to that "haven of rest".
There have been moments when members knew that at a moment in time – they were the guardians of some of the city's favourite songs, and it they don't sing and champion them – who would? We remember that as the choir champions the city's musical culture; the city's DNA – an intangible quality of all things Cork – is also embedded into the members.
Over the past fifty years, there have been many moments.
In truth, the members are all true Corkonians, guardians of what it means to be from Cork – Ireland's southern capital, where its climate, geography, culture and history meets the Atlantic – where being a true Corkonian is perhaps the ultimate accolade.
So tonight, we celebrate fifty years, we reflect on the fifty years of its history and everyone associated with in the past, present and going forward.  We thank the Cork Male Voice Choir for the journey they have taken the city on, and we think about the journey going forward.
Funds from this evening go to the Cope Foundation, who have also been on its own journey in the last fifty years, and who also deserve a whole speech themselves in another time and space.
I wish to thank the Sontarinas, Cope Foundation and also Cork's first lady of song, Cara O'Sullivan, all of whom will also perform this evening.
Break a leg to all,
Go raibh maith agaibh.
Ends.