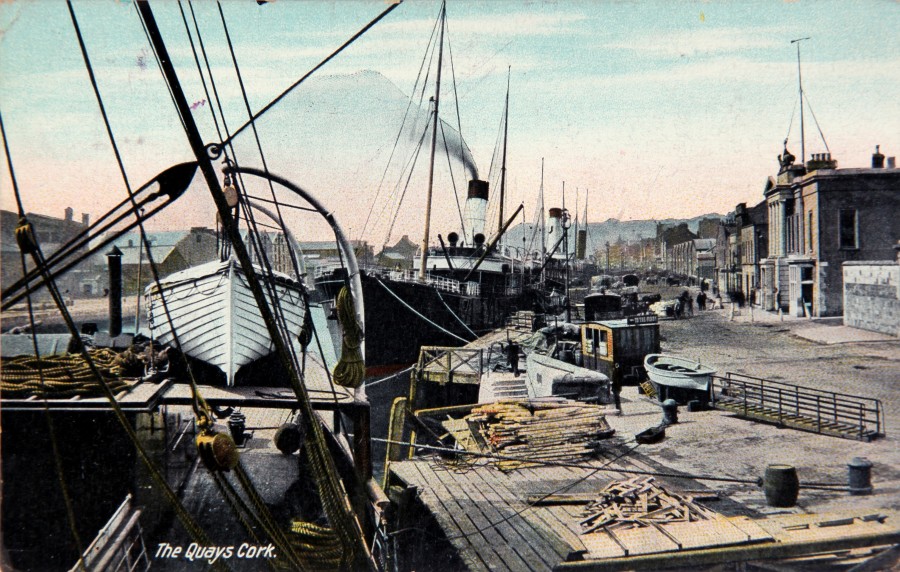 Kieran's Our City, Our Town Article,
Cork Independent, 24 May 2018
Stories from 1918: The Cork Sailors' Widows and Orphans Fund
    Across the newspapers of Spring and Autumn 1918, references are regularly made of subscriptions being made to the Cork Sailors' Widows and Orphans Fund. It was established to consider the impact on families who lost their breadwinners on torpedoed vessels and to relieve a large number of cases of distress among deserving widows and orphans.
   A sub-committee of key merchants in the city was set up on 5 April 1918 and by late September it had held ten meetings. The committee was championed by Bishop Daniel Cohalan of Cork, Bishop Charles Cork of Cork, Cloyne and Ross, Lord Mayor T C Butterfield, A R MacMullen, President of the Cork Incorporated Chamber of Commerce and Shipping, Ebenezer Pike, Chairman of the City of Cork Steam Packet Company, Sir Stanley Harrington, Samuel H Newson and T Lillis, General Manager of Munster and Leinster Bank.
   The Committee logged all meetings and published in the Cork Examiner all donations. Some were individual donations, which were banked until required for the payment of relief. Promises of annual subscriptions of any sum, small or large over five or ten years were also welcome. Larger sums of money came from bodies such as the Cork Cattle Trade Association. This association aimed to acknowledge the contribution of seamen in the cattle export trade.
    Citizens in the city and county organised entertainments and collections, which also helped materially strengthen the Fund. A benefit concert was hosted by Lord Mayor Butterfield in Cork Opera House. On 25 March 1918, the programme had contributions by several very-popular artistes Miss Rita Wallace sang selections from Madame Butterfly and Maritana. The accompaniment was by Miss M Barker of the Cork School of Music. The Opera House Orchestra was augmented for the occasion. It performed the overture Poet and Peasant and long selections from Cavalleria Rusticana and other pieces.
   A summary report was given at a meeting of the General Committee of the Fund held on 25 September 1918 at the Munster and Leinster Bank, with the local Canon O'Leary, PP in the chair. Up to September 1918 the sub committee dealt only with cases arising out of the loss of the six Cork steamers, Bandon, Ardmore, Lismore, Kenmare, Innisfallen and Inniscarra (see last week's column). A debate was ongoing whether to include a number of cases of widows of Cork men who were lost on other non-Cork related boats. About 20 cases were known to the sub-committee.
    Ninety-six lives were lost on the six Cork steamers and applications for relief from the fund were received for 95 households. Of these 17 were dealt with by grants of fixed loans, 67 others received monthly allowances, and of the remaining seven cases there were still under consideration and four for different reasons were not considered suitable for assistance. In dealing with all the cases the General Committee worked closely with the parish priests of the city in the Middle Parish, North Parish, South Parish,Blackrock and with clergymen in county districts. The services of the Cork Savings Bank gave useful advice and practical help in the distribution of the fund.
   The scope and usefulness of the work done by the Fund was wide ranging. Many heartbreaking cases were brought to the General Committee. In one case a widow had ten children and was expecting another. There were numerous cases of six and seven children in a household. Three expectant mothers were given special grants. A grant was given to a family to bury their mother, who only survived her husband a few weeks. Her children were being helped by a weekly allowance from the Fund. The aging father of a deceased seaman lived on a small island off the west coast of Ireland. His only income after his son's death was by picking and selling periwinkles and Carrigeon moss. In another case a grant was made for sanatorium treatment for a son who was recommended as suitable by his doctor. The committee also considered an application from a widow for the amount of fees required to qualify herself as a maternity nurse.
   On 11 August 1918 the Committee sustained a great loss by the death of Mr Francis Lyons, of 4 Ashton Place, Blackrock Road. He was one of the committee's core members and was Joint Honorary Secretary and Treasurer. Besides being one of the founders of the Fund, Mr Lyons took a keen and an interest in its management and promotion and gave up a great deal of time to the General Committee meetings.
   On 25 September 1918, the financial position of the Cork Sailors' Widows and Orphans Fund included total receipts, £7,282 4s 10d, which includes the large subscription of £705 1s 1d received recently from the Cork Cattle Trade Association, and £40 received from the Canteen Committee of the Incorporated Church of Ireland. The sum of £1,651 6s had been allocated in final grants and weekly allowances.
    The Committee was paying weekly allowances amounting to £39 19s per week, at which rate the balance they felt would last less than three, years. It was hoped that during that time additional contributions would be received which, would enable them to continue longer its important work.
Captions:
947a. Steam Packet Office at Penrose Quay Cork, c.1900 (source: Cork City Museum)
947b. King George Statue atop Steam Packet Office on Penrose Quay, present day (picture: Kieran McCarthy)
Kieran's June Historical Walking Tours:
Saturday 9 June 2018, Cork City & its Bridges (new tour), learn about the early history of the city's most historic bridges; meet at the National Monument, Grand Parade, 2.30pm (free, duration: two hours, finishes in City Centre) in association with Meitheal Mara's Cork Harbour Festival.
Saturday 23 June 2018, The Cork City Workhouse; learn about the workhouse created for 2,000 impoverished people in 1841; meet at the gates of St Finbarr's Hospital, Douglas Road, 12noon (free, duration: two hours, on site tour), in association with the Friends of St Finbarr's Hospital Garden Fete.
Saturday 30 June 2018, The Lough & its Curiosities; explore the local history from the Legend of the Lough to suburban development; meet at green area at northern end of The Lough, entrance of Lough Road to The Lough; 12noon (free, duration: two hours, on site tour)