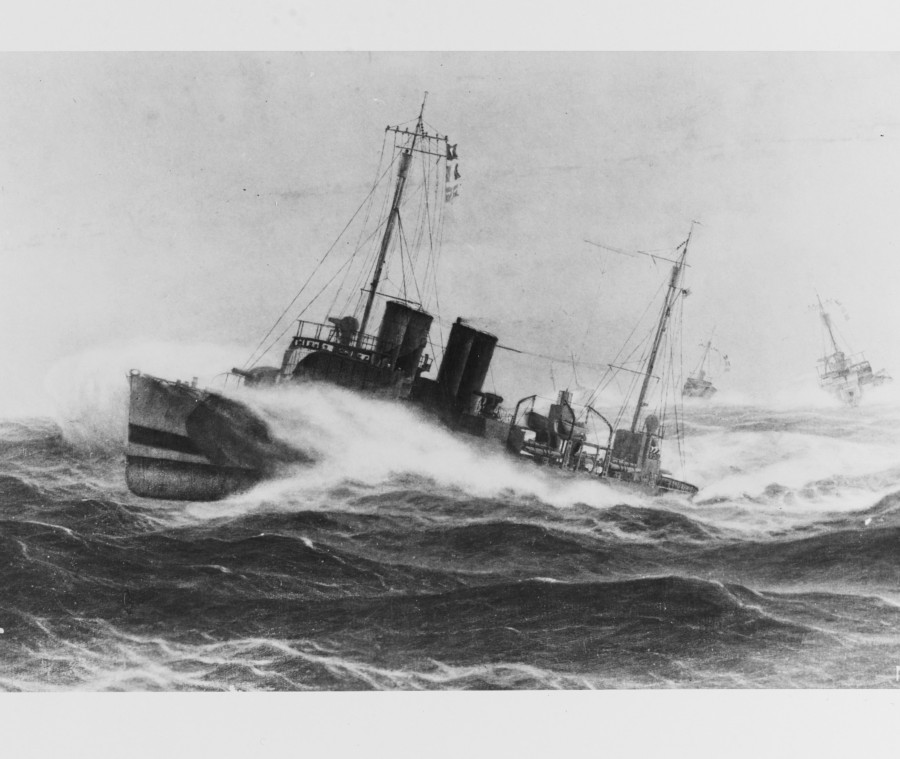 Kieran's Our City, Our Town Article,
Cork Independent, 11 May 2017
The Wheels of 1917: The Queenstown Patrol
   Sir Lewis Bayley of the British Navy gave Commander Joseph Taussig's four days to mobilise the six American destroyers, which arrived into Queenstown on 4 May 1917 (see last week's column). In the ensuing days of preparation work and strategy creation, stories were shared of the engagement between the British flotilla leaders Swift and Broke on one side and six German destroyers on the other side, as well as German submarines.
    According to Taussig's diary entries, by 7 May 1917, a naval strategy had been worked out – some of the core points of which are below. The destroyers, British and American, were to work in seven pairs for the short term. Taussig's fleet were to replace the larger British naval destroyers, which in time were to be sent back to the British base at Plymouth in the English Channel. The destroyers were to be made to work six days at sea. Ships chasing a submarine on the sixth day with two thirds of their fuel gone were to stop chasing their folly and come home. Shelter was to be taken in bad weather. When ship-wrecked crews were picked up, they had to be brought directly into the harbour. As German submarines were returning to torpedoed and floating steamers to get metal out of them, destroyers were encouraged to wait and approach them with the sun at their back. If they met what appeared to be a valuable ship in dangerous waters they were to escort her. If an SOS call was received, and they thought they could be in time to help, they were to go and assist the ship; but as a rule, they were not to go over 50 miles from their area.
   Destroyers were to be careful not to ram boats to sink them as cases had occurred whereby they had been left with bombs in them ready to explode when struck. Senior officers of destroyers were to give the necessary orders with regard to what speed to cruise at, orders for zig-zagging; they knew the capabilities of their ships best. When escorting, it had been found best as a rule to cross from bow to bow, the best distance away being about 1,000 yards; however, this depended on a myriad of factors, which included sea conditions and visibility. Reports of proceedings were not required on arrival in harbour unless for some special reason such as signalling for preparing for attacking submarines and rescuing survivors.
   Much confidence was placed in the strategic mind of Commander Taussig. Like his father before him, Joseph was noted as well-known figure with exceptional ability as a naval officer. Joseph Knefler Taussig was born of American parentage in 1877 in Dresden, Germany, where his father, who also became a rear admiral in the Navy, was stationed. His father was Edward David Taussig, a native of St Louis, Missouri, and his mother, Ellen Knefler Taussig, was a native of Louisville, Kentucky. Joseph's father graduated from the US Naval Academy in 1867 and retired in 1909, ten years after his son completed his work at the Academy. Joseph graduated from high school in Washington, DC, in 1895 and was appointed to the Naval Academy that same year. At Annapolis, young Taussig was known primarily as an all-around athlete: he won first-place medals in the high jump, broad jump, and 200-yard hurdles; he was a member of the crew, varsity football team, and runner-up for the wrestling team.
   In 1900, whilst a midshipman, a member of the naval forces, Joseph was sent to China with other members to squash a violent anti-foreign and anti-Christian uprising that took place in China between 1899 and 1901. Near Tientsin, Joseph was wounded and sent to a hospital to recover with an English Captain John Jellicoe who was Chief-of-Staff to Admiral Seymour, who was in charge of the British forces. It was a legend of sorts that grew up around Joseph and that diplomatic relations were something not new to him. In addition, a letter from Admiral Jellico was handed to Joseph in Queenstown in May 1917 welcoming him and the American Navy to the battle zone.
   In a public speaking engagement at Carnegie Hall, New York on 30 January 1918, Joseph Taussig recalls that in the three weeks before his arrival to Queenstown, German submarines had sunk 152 British ships in the nearby Atlantic area. Hence, he had depth bombs installed so as to fight off the submarines. He noted in his speech; "we escorted many ships and we saved many lives. I cannot say we sunk any submarines. The submarine I found was a very difficult bird to catch. He always sees you first. Only once did my vessel, in seven months, succeed in actually firing at a submarine. He then went down after the fifth shot was fired. At that he was five miles away. But they were afraid of the depth bombs. I saw results on several occasions, which led me to believe that I had at least damaged one of two".
   Joseph Taussig found the patrol duty very difficult as the ocean was strewn with wreckage for a distance of 200 miles off shore. Judgement was important; "it was hard to tell a telescope when we saw one. We fired at fish, floating spars and other objects because we could afford to take a chance. The submarines grew less active or did less damage as the summer [of 1917] wore on".
Captions:
894a. Painting by Burnell Poole, 1925. Depicting three U.S. Navy destroyers fighting heavy seas while on World War I escort service, off Queenstown, Ireland (source: Naval History and Heritage Command, Washington).
894b. Commander Joseph K Taussig in the 1920s (source: Naval History and Heritage Command, Washington).