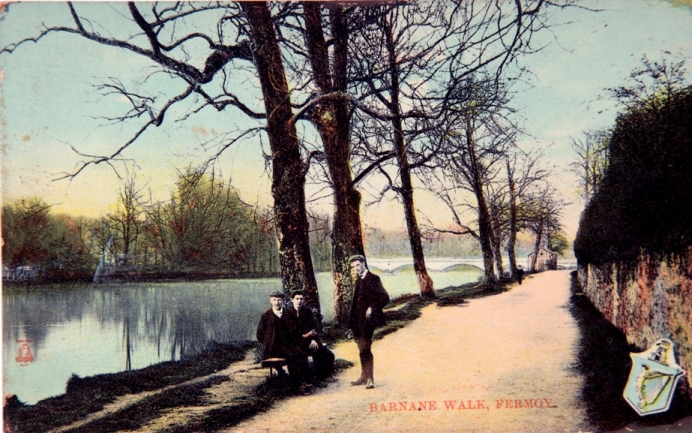 Kieran's Our City, Our Town Article,
Cork Independent,  24 September 2015
Kieran's North Cork Through Time
   It's been a very busy year. The second of three books I have been involved in penning this year focuses on postcards of historic landscapes of North Cork. Entitled North Cork Through Time, it is compiled by Dan Breen of Cork Museum and I and published by Amberley Press.
   It is easy to get entangled with the multi-storied landscapes of North Cork. It is a region with so many stories to tell, veins of nostalgic gold from tales of conquest to subtle tales of survival. There are many roads to travel down and many historical spaces to admire. The enormous scenery casts a hypnotic spell on the explorer. The region is defined by the meandering River Blackwater and its multiple tributaries and mountainous terrain to the north. It borders four counties that of Kerry, Limerick, Tipperary and Waterford. The postcards, taken for the most part between c.1900 and c.1920 show the work of various photographers, who sought to capture the region and sell their work to a mass audience. Not every town and village were captured in a postcard. This book brings together many of the key sites of interest and serves as an introduction to the rich history of the region.
  In the postcards, one can see the beauty that the photographers wished to share and express. The multitude of landmarks shown in this book have been passed from one generation to another, have evolved in response to their environments and contribute to giving the County of Cork and its citizens a sense of identity and continuity. Cultural heritage does not end at monuments and collections of objects. It also includes traditions or living expressions inherited from our ancestors and passed on to our descendants. Pilgrimages and rituals are also engrained in many of the scenes within the postcards. Even mundane performances can construct a historic past and help weave personal and local memories with established national and regional historical narratives.
    In many of the postcards, the scene is set up to elicit a response and to create a certain emotion within us, or because they make us feel as though we belong to something – a region, a country, a tradition, a way of life, a collective memory, a society. North Cork is blessed with such an array of diversity in heritage sites and there is a power in that diversity.
   Chapter one explores the border territory with County Kerry – a type of frontier territory for Cork people – its history epitomised in the elegant and well-built Kanturk Castle, the gorgeous town of Millstreet with its international equestrian centre and its access into the old historical butter roads of the region, the use of secondary rivers for transport and industry, and the development of railways lines.
   Chapter 2 centres around the Limerick Road from Mallow to Charleville – Mallow a settlement with a heritage dating back 800 years and straddles the winding River Blackwater. The town came into its own in the nineteenth century with the development of its main street, churches, academies, convents, viaduct, clock tower and spa house, all interwoven with the commemoration of Ireland's famous writer and poet, Thomas Davis. The idea of an interwoven and multi-narrative heritage is also present in Buttevant. A former walled town, its medieval fabric is shown in its streetscape and old tower, Franciscan church and the ruinous Ballybeg Abbey in the town's suburbs. On the latter site its columbarium or pigeon house reminds the visitor of the importance of seeing the human side of our heritage – that people minded the birds and in a cherished way created the house with all its square roosts. Charleville also connects to an English colonial past being a late seventeenth century plantation town named after Charles II.
   Chapter 3 glances at the area east of the Mallow-Limerick Road taking in the stunning Doneraile estate with the adjacent and spacious streetscape of the connected village. Killavullen, Castletownroche and Kilworth all present their industrial pasts. Along the Blackwater, Ballyhooley Castle stands in defiance of time, as does Moorepark and Glanworth Castles, just off the old Fermoy-Mitchelstown Road. The nineteenth century estates are very prevalent in old stone walls, old ruinous and rusted gateways. There are exceptions such as Castlehyde, which stands as a testament to the affection of the Flatley family, the current guardians of its heritage, but also a salute to the many families who inherited such estates and landscapes. Mitchelstown stands in the 'Golden Vale' of the Galtee Mountains, its heritage being linked back to the Kingston estate and their big house, which dominated the local landscape with views on all it surveyed.
   Chapter 4 explores Fermoy, which because of its history and connection to a local military barracks possesses a fine range of postcards. Its bridge and weir, views of the Blackwater, the nineteenth century square, colourful streetscapes all reveal the passion for such a place by its photographers. Still today, you can almost hear the hoof noises and creaking carriage wheels of the Anderson coach works and the marching of the military in the now disappeared army barracks. Above all Fermoy through its heritage exhibits a strong sense of place, a proud settlement, traits which pervade across North Cork and its landscape.
North Cork Through Time by Kieran McCarthy and Dan Breen is available in any good bookshop.
Captions:
810a. Banks of River Blackwater at Fermoy, c.1910 (source: Cork City Museum).
810b. Banks of River Blackwater at Fermoy, present day (picture: Kieran McCarthy)