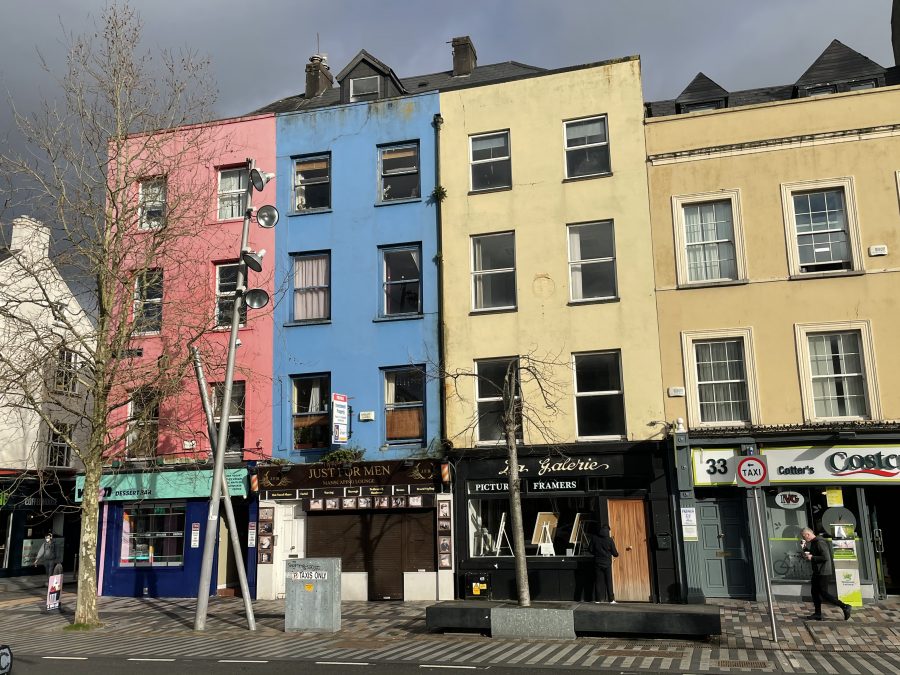 Kieran's Our City, Our Town Article,
Cork Independent, 18 February 2021
Journeys to a Truce: An Engineering Student Speaks
Cappoquin born Michael O'Donoghue was a final year student in early 1921, who was studying for his Batchelor of Engineering degree (mechanical and electrical) in UCC. He was Engineer Officer of the 2nd Battalion, Cork IRA Brigade No.1. In his witness statement to the Bureau of Military History (WS1741), he provides insight into his life going between student and IRA member.
At UCC, Michael details that his class was a small one, about eight or so, and only three or four were Volunteers. University College, Cork had at that time great teams competing in the Cork County Senior Championships in hurling and football. In the years 1919-20-21 UCC teams reached the Cork County finals more than once. During January and early February 1921 Michael describes he put in a little hurling practice at UCC's Gaelic grounds in the Mardyke. Selection of players for the University's hurling and football championships – the Fitzgibbon and Sigerson Cups – were due for decision. He had not played much in Cork, but he had already competed in the Waterford championships in 1919 and 1920.
Turning up for hurling practice with Michael was Jerome Twohill, medical student, an ex-radio operator of the First World War and IRA member, and who also 'digged' in the Shamrock Hotel or lodgings at 31 Grand Parade. Mick Crowley, too, of Kilbrittain, afterwards second-in-command of Tom Barry's flying column in West Cork, also turned up for hurling practices with John Joe Joyce of Midleton, a good friend of Michael.
Late in January 1921, Michael and volunteer Jack Daly met Raymond Kennedy, who was acting Officer in Command of the 2nd Battalion. They asked him to arrange to have them redeployed to the Brigade flying columns in the county. Raymond told them that the county's active service unit columns were at full strength and that scores of City Volunteers were offering their services for flying column operations in rural areas. He told them that we were far more valuable in Cork City where the two city IRA battalions were holding down strong crown forces.
According to Michael, Cork City's IRA members aimed to keep crown forces occupied and preventing them from being thrown into the campaign against the Flying Columns in areas from West Cork to North Cork to East Cork. As well as that British forces in Cork City hardly knew a single IRA officer either by name or by description.
During January and early February 1921, Michael kept a Colt .45 with ammunition in his lodgings in the Shamrock Hotel at 31 Grand Parade. The Shamrock was located above Miss O'Brien's Restaurant. Many a night the landlady Mary O'Brien took the gun from him and concealed it herself during the long night hours, handing it over to him in the morning. There were a number of IRA men in the building sharing its 6-8 bedrooms, including her own brother.
However, the 1921 Martial Law Ordinance decreed that all heads at households had to list the names and occupations of all those residing in their house and that they should hang this list for military inspection on the inside of the front door. Absentees or fresh arrivals or new residents were to be especially noted. The penalty for evasion of this blacklisting decree was all the rigours of a British military court martial. Miss O'Brien had complied, as did every other householder.
One day when Michael was at the university, a British military officer with about ten armed soldiers visited 31, Grand Parade. The officer removed the list of names, questioned Miss O'Brien about the then whereabouts of all the residents – who were out and noted the names of the men who were in. He ordered Miss O'Brien to show him to the rooms of these in turn, leaving his armed soldiers below in the hallway and at the door. He queried each man of those in about his name, age, occupation, and reason for being in, and checked, with particulars on list. Satisfied, he returned the sheet to Miss O'Brien and withdrew with his troops.
That night Michael remembers he kept the gun loaded in his overcoat pocket hanging in the wardrobe of his room. He shared the room with Mick O'Riordan, an IRA man with B-Company, 2nd Battalion, who worked as a draper's assistant over in the South Main Street.
The night passed without incident and next morning he brought the gun, loaded and all, with him to the Crawford Municipal Technical Institute where he was to do some practical work and study in the electrical laboratory.
Michael's two IRA class-mates were Bill O'Connor and Ned Enright. During the morning laboratory work Michael did not feel at all at ease, carrying in his trouser pocket the big Colt .45. At lunch break, he decided on going ahead to the University College to hand up his gun to the quartermaster, Jerry Wall, of A Company, and then return to his digs. Enright, who was in digs down the Mardyke Walk, volunteered to accompany him as a scout and look-out. However, on route up College Road, both ran into a group of Black and Tans.
Both passed through a group of Black and Tans with nervousness speaking aloud being late for classes. They reached the College safely and gave the Quartermaster for safe keeping the gun for the company's arms dump.
Captions:
1087a. Former site of the Shamrock Hotel, 31 Grand Parade, Cork City, present day, blue building in the centre (picture: Kieran McCarthy)