Terence MacSwiney (Kieran's remarks as published in the Evening Echo, 25 October 2010)
Today marks the ninetieth anniversary of the death of Terence McSwiney, former Lord Mayor of Cork. Terence McSwiney is a name which stands for and symbolises Cork's Republican and revolutionary heritage. Yes he was a councillor, a Lord Mayor but also a  leader who directly sacrificed his life for his city and county. The collective memory of his 74 days of  hunger strike does not really talk about  his self torture. Terence seems to be primarily remembered through the making of City Hall as a site of memory to him and Tomas McCurtain. Within City Hall there are busts and paintings of him and speeches remember him at the Lord Mayor's inauguration every year.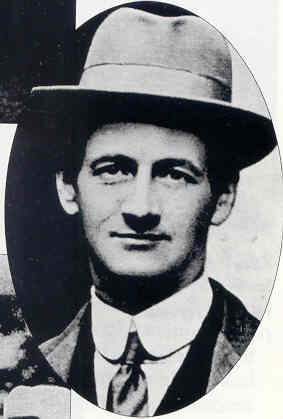 However I would strongly argue that much of Terence's key works, his writings, perceptions and learning from his legacy are almost forgotten in the public realm. He was one of the founders of the Cork Brigade of the Irish volunteers. His hunger strike brought international attention to the Irish War of Independence plus created an international debate on the ongoing war. His book Principles of Freedom inspired many in India to rise up against British control in the late 1920s and 1930s. He was also a playwright, poet, founder of the Cork Dramatic Society with another of Cork's famous literary sons Daniel Corkery. Terence wrote five plays with themes around revolution, democracy and freedom.
With all of those achievements, there is an enormous need to bring Terence's legacy and concepts of democracy and freedom into every school in the Cork region so that the  up and coming generation get to debate his writings and legacy; that  his ideas on democracy are maintained in a highly globalised world. Ultimately if we don't invest in his collective memory, his future legacy will be forgotten."
Terence MacSwiney
Terence was educated by the Christian Brothers at the North Monastery school in Cork city, but left at fifteen in order to help support the family. He became an accountancy clerk but continued his studies and matriculated successfully. He continued in full time employment while he studied at the Royal University (now University College Cork), graduating with a degree in Mental and Moral Science in 1907.
In 1901 he helped to found the Celtic Literary Society, and in 1908 he founded the Cork Dramatic Society with Daniel Corkery and wrote a number of plays for them. He was educated as an accountant and also was a playwright, poet, and writer of pamphlets on Irish history. His first play The Last Warriors of Coole was produced in 1910. His fifth play The Revolutionist (1915) took the political stand made by a single man as its theme.
MacSwiney's writings in the newspaper Irish Freedom brought him to the attention of the Irish Republican Brotherhood. He was one of the founders of the Cork Brigade of the Irish Volunteers in 1913, and was President of the Cork branch of Sinn Féin. He founded a newspaper, Fianna Fáil, in 1914, but it was suppressed after only 11 issues. In April 1916, he was intended to be second in command of the Easter Rising in Cork and Kerry, but stood down his forces on the order of Eoin MacNeill.
Following the rising, he was interned under the Defence of the Realm Act in Reading and Wakefield Gaols until December 1916. In February 1917 he was deported from Ireland and interned in Shrewsbury and Bromyard internment camps until his release in June 1917. It was during his exile in Bromyard that he married Muriel Murphy of the Cork distillery-owning family. In November 1917, he was arrested in Cork for wearing an Irish Republican Army (IRA) uniform, and, inspired by the example of Thomas Ashe, went on a hunger strike for 3 days prior to his release.
In the 1918 general election, MacSwiney was returned unopposed to the first Dáil Éireann as Sinn Féin representative for Mid Cork, succeeding the Nationalist MP D. D. Sheehan. On Tomás MacCurtain's death Terence MacSwiney was elected Lord Mayor of Cork. Like MacCurtain, he had been a member of the Irish Volunteers and an enthusiast for the Irish language. He had also been imprisoned following the Easter Rising. A talented writer, he wrote a drama entitled 'The Revolutionist', several volumes of poetry and a political tract entitled 'The Principles of Freedom'.
As well as being Lord Mayor of Cork, he was the Commandant of the First Cork Brigade of the I.R.A. On 16 June 1920, following his election, he signed an official resolution of the City Council, re-iterating that made by Tomás MacCurtain, declaring Dáil Éireann as 'the lawful, legal and consitutional parliament of the Irish Nation…the lawful Government of this country'. (See image below).
On 12 August 1920 he was arrested for possession of seditious documents and of a cipher key to coded messages used by the R.I.C. He was tried by court martial on 16 August 1920 and sentenced to two years' imprisonment. After his arrest he immediately went on hunger strike. He was imprisoned in Brixton Prison, England, where his continuing hunger strike attracted world-wide attention. He died on 25 October 1920 and his body was brought home for burial. He lies beside MacCurtain in the Republican plot in Saint Finbarr's Cemetery in Cork. His funeral on 1 November 1920 attracted huge crowds.
Images of the past: