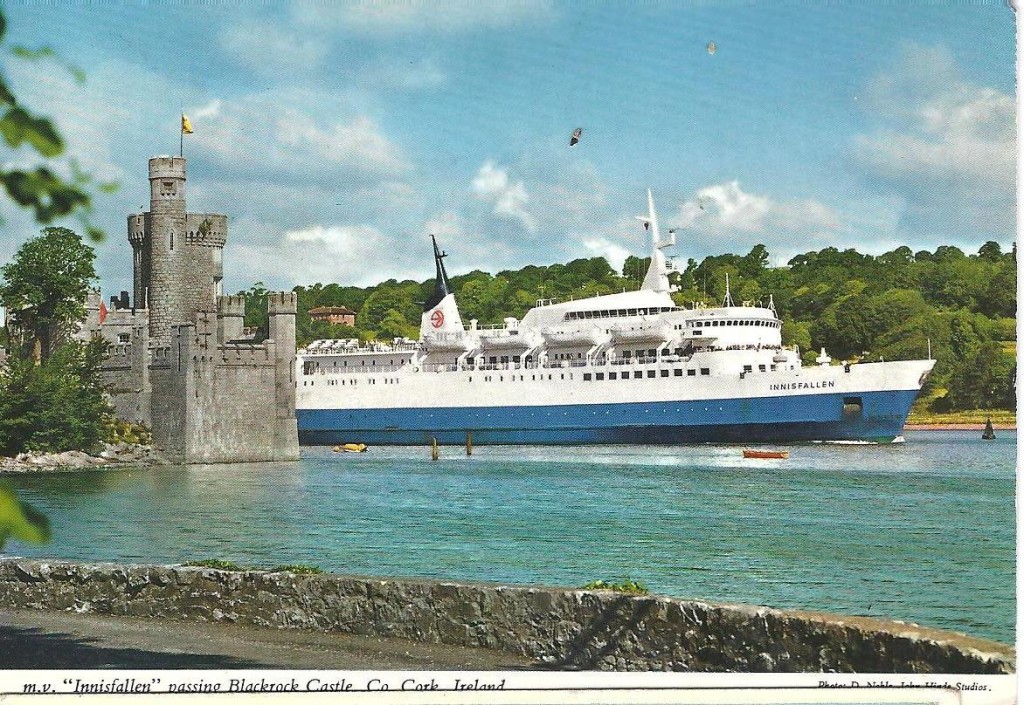 I stumbled across the following image of the ship Innisfallen passing Blackrock Castle in the1950s in a postcard sale in the Imperial Hotel last Saturday – a great image.
 Interestingly, there seems to many sides to this postcard addressing both the past and present- a reminder of a time of much emigration coupled with the eminent return of the Cork-Swansea Ferry in today's world. Couple those thoughts with Blackrock Castle and it now an astronomy centre today. So all very interestingly perspectives to think about how things change and how things come back to haunt us.
The 1950s (from the City Library files):
 In the 1950s, the standard of living was poor by European standards and emigration was one of the great scourges of Irish life. Many older Cork people will remember the boatloads of emigrants boarding The Innisfallen at Penrose Quay. So many Corkmen emigrated to work in the Fords factory in Dagenham that it became known as 'Little Cork'. Many of the Dagenham emigrants returned home every year for their holidays. With their more fashionable clothes and the slight traces of English accents they became known, affectionately, as 'The Dagenham Yanks'. The most important employers in Cork during this period included Fords, Dunlops, Sunbeam Wolsey, Irish Steel and Verolme Cork Dockyards. Many smaller enterprises engaged in the textile, agricultural processing, chemical and printing industries.
The Innisfallen:
The first Innisfallen (1,400 gross tons) was built in 1896 and served with the City of Cork Steam Packet Company until she became a war causality in 1918. She was built at Newcastle and measured 272 feet long. She served on the Cork Fishguard route.
    After WW1 the company was acquired by the Coast Lines group.  In 1930  a new Innisfallen was launched. She was built in Belfast and was a half sister to the Ulster Monarch. She had diesel engines and had a gross tonnage of 3,019tonnes. At the time she was the only motor passenger vessel running to South Wales and proved very popular with the Cork-Fishguard passengers and in 1938 was the ship that took the last British soldiers based at Spike Island home. By the outbreak of WW2 the Innisfallen was flying the tri-colour and hence was  neutral. Coast Lines had transferred the Cork operations to B&I Line in 1936 but Coast lines (who were anything but neutral) switched the ship to Dublin Liverpool and on December 21st 1940, tragedy again struck. While outbound from Liverpool she struck a magnetic mine off Wirral shore near New Brighton and went down with the loss of 4 lives. Fortunately no passengers were killed and all 157 and the rest of the crew were rescued.
    For many years B&I and its predecessor had used the advertising slogan "Travel the Innisfallen Way" and from 1948 it was again possible when B&I introduced the third Innisfallen. The ship brought a new style and class to the Lee with her dark green hull, cream upper works and green, white, and black funnel along with her new lively made a mockery of the prophecies that D'Innis was too big for the route. She was 3,705 gross tons and 340 feet over all. She had Denny Brown stabilisers also, a great advance on her predecessors. As before, the service from Cork was on Mondays, Wednesdays and Fridays with returns from Fishguard on Tuesdays, Thursdays and Saturdays. The ship layed over during the day at Penrose Quay, Cork and Fishguard putting to sea at night. She carried livestock and general cargo in addition to her passengers. In 1953 Coast Lines again decide to change ownership, and D'Innis  transferred to City of Cork Steam Packed Co. She was repainted with a black hull, white superstructure and funnel with black top and she kept the service going until 1967.
    In February 1965 Coast Lines concluded an agreement with the Irish Government which provided for Coast Lines sale of it's shares in B&I to the Government. Irish interests had been anxious to purchase B&I for many years and the war had proved that an independent nation that was also an island needed some control over shipping. The new ownership made little difference to the Cork-Fishguard service at first at first appart from a slight change in the funnel's colours. But changes were a coming…
    In 1967, B&I announced that new car ferries were on their way to Cork, and their 3 post-war ships would be disposed of. A new Innisfallen was ordered in Germany and would be a sister to the new Leinster (that was being built at Cork), but more changes came when British Rail gave notice of termination of agreement that allowed Cork ships use Fishguard. Now, B&I proposed a new ferry service to Swansea from Cork. In 1967 the old Innisfallen was sold to Greek interests and, since Penrose Quay was in the city centre and unsuitable for a ferry terminal Cork Harbour Commissioners developed new facilities at Tivoli.
 adapted from http://www.irish-ferries-enthusiasts.com/
For more old postcards of Cork, http://corkheritage.ie/?page_id=1672
For our new Cork-Swansea Ferry!!!, http://www.fastnetline.com/