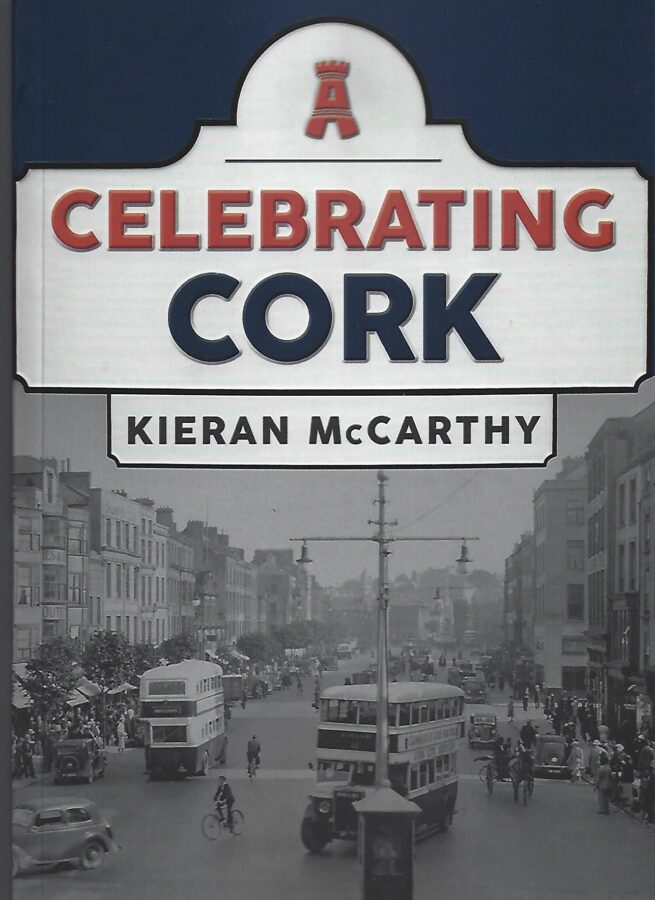 Kieran's Our City, Our Town Article,
Cork Independent, 1 December 2022
Kieran's Cork Books for Christmas
It's only a few weeks to Christmas. There are two publications of mine, which readers of the column might be interested in. Both were published in the past 18 months.
Celebrating Cork (2022, Amberley Publishing) explores some of the many reasons why Cork is special in the hearts of Corkonians and visitors. It builds on my previous publications – notably Cork In 50 Buildings, Secret Cork, and Cork City Centre Tour – all published by Amberley Publishing. 
Celebrating Cork takes the reader on a journey through the known and unknown layers of Cork's history and 'DNA'. It has chapters about its layered port history, the documents and maps that define its sense of identity, the arts and crafts movements that can be viewed within the cityscape, its statues and monuments, its key institutions and charities, its engineering feats and certain elements of why Cork is known for is rebel nature.
This book focuses on different topics again of Cork's past and places more focus on elements I have not had a chance to write upon and reflect about in the past. With more and more archival material being digitised it is easier to access original source material in antiquarian books or to search through old newspapers to find the voices championing steps in Corks progression in infrastructure, community life or in its cultural development.
Cork's construction on a swampland is important to note and the knock-on effects of that of that in terms of having a building stock that is not overly tall. Merchants and residents throughout the ages were aware of its physical position in the middle of a marshland with a river – and from this the hard work required in reclaiming land on a swampland. I like to think they saw and reflected upon the multitudes of timber trunks being hand driven into the ground to create foundational material for the city's array of different architectural styles.
Cork is a stronghold of community life and culture. Corkonians have a large variety of strong cultural traditions, from the city's history, to sports, commerce, education, maritime, festivals, literature, art, music and the rich Cork accent itself. Celebrating Cork is about being proud of the city's and its citizens' achievements. This book at its very heart is a nod to the resilience of Cork to community life, togetherness and neighbourliness.
Celebrating Cork was penned in the spring and summer of 2020 during which the COVID-19 pandemic challenged the resilience of every city and region across Ireland and Europe. For the tragedy and sickness it brought, it also brought out the best of volunteerism, rallied communities to react and help, and saw neighbours helping neighbours. The importance of community life is no stranger to any Irish neighbourhood but the essence of togetherness in Cork at any time in its history is impressive and more impressive that it has survived against the onslaught of mass globalisation and technological development.
In Cork City Reflections (Amberley Publishing, 2021), Dan Breen and I build on our previous Cork City Through Time (2012) publication as we continue to explore Cork Public Museum's extensive collection of postcards.
People have been sending, receiving and collecting postcards for well over 150 years. They have always come in a variety of forms including plain, comedic, memorial, and of course topographical. Their popularity reached its zenith in the two decades before the outbreak of First World War when people used postcards for a variety of everyday reasons from ordering shopping to making appointments. Postcards have been described as the 'social media' of the Edwardian period as it is estimated that about one billion penny postcards were sold annually in the United States alone between 1907 and 1915.
The old postcards within Cork City Reflections show the city of Cork to be a place of scenic contrasts. They are of times and places, that Corkonians are familiar with. Many of the postcards show or frame the River Lee and the tidal estuary and the intersection of the city and the water. The postcards show how rich the city is in its traces of its history. The various postcards also reflect upon how the city has developed in a piecemeal sense, with each century bringing another addition to the city's landscape.
Some public spaces are well represented, emphasised and are created and arranged in a sequence to convey particular meanings. Buildings such as a City Hall, a court house or a theatre symbolise the theatrics of power. Indeed, one hundred years ago in Ireland was a time of change, the continuous rise of an Irish cultural revival, debates over Home Rule and the idea of Irish identity were continuously negotiated by all classes of society. Just like the tinting of the postcards, what the viewer sees is a world which is being contested, refined and reworked. Behind the images presented is a story of change – complex and multi-faceted.
We have grouped the postcards under thematic headings like main streets, public buildings, transport, and industry. The highlight of Edwardian Cork was the hosting of an International Exhibition in 1902 and 1903 and through the souvenir postcards we can get a glimpse of this momentous event.
Captions:
1179a. Front cover of Celebrating Cork (2022, Amberley Publishing) by Kieran McCarthy.
1179b. Front cover of Cork City Reflections (2021, Amberley Publishing) by Kieran McCarthy and Daniel Breen.