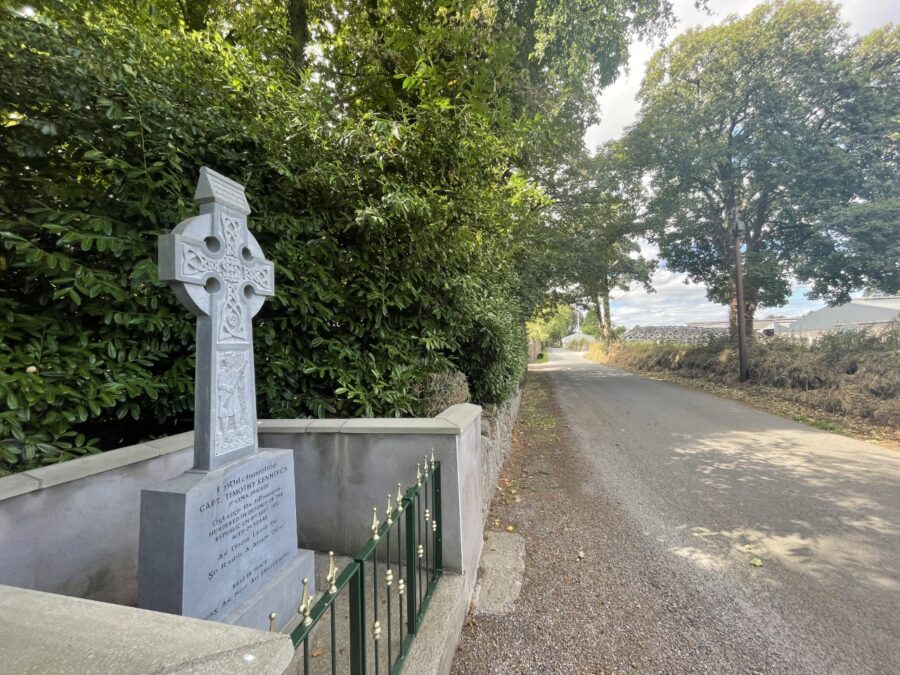 Kieran's Our City, Our Town Article,
Cork Independent, 8 September 2022
Journeys to a Free State: Remembering Timothy Kennefick
It has been fifteen years since this column focussed on the Timothy Kennefick memorial near Coachford. My thanks to Tony McCarthy, Blarney for raising Timothy's story way back when this column was exploring and writing about the River Lee valley.
On a Sunday drive around 2002, a friend asked Tony McCarthy to go and see people home from America –the children of Timothy Kennefick – Tim and Ellen, both in the late autumn of their lives. Corkman Tony McCarthy was drawn to their story and sympathetic to the basic memorial that existed near Coachford, which recorded the death of their father and his part in the Irish Civil War.
As Tony chatted to the Kennefick family on that Sunday afternoon from a history point of view, the facts on the stone and especially the question of who Timothy Kennefick was brought back to life. With their imaginations fired, Tony and others assembled a committee and began to work on perhaps improving the Kennefick memorial in line with the wishes of the Kennefick family.
The man in question Timothy Kennefick was born the sixth of nine children to Michael and Katherine Kennefick in Cork in 1893. In 1914 he lost one brother due to an accident. His father passed away in 1916 and his mother just five days before his own life was taken. In fact, he was on route to her funeral when he was captured and killed. He married Ellen Enright on 19 July 1919. The family lived upstairs at the Pier Head Inn in Blackrock, where he was a Bar Assistant. The Inn stands to this day, although with updated furnishings. This was where his daughter Kathleen was born.
In his early twenties, Timothy Kennefick left the operation of the Pier Head Inn for full time IRA duties. He learned to drill, to camp, to march and to scout. He moved his family over to the Lady's Well hill, where his mother lived. Captain Timothy Kennefick was involved in the Anglo-Irish war until the truce was called in July 1921.
After the Treaty was signed on 6 December 1921, the first shot of the Civil War was fired in June 1922. The Civil War lasted until May 1923. Families split and friends parted. Captain Timothy Kennefick took the anti-treaty side during the Civil war, similar to Tom Barry, Dick Barrett, Liam Deasy, Dan Breen, Richard Russell and Liam Lynch. Every known Republican was swept into prison. The houses of people who had sheltered and nursed and helped the very men in power, when they were irregulars themselves, were raided and ransacked by day and by night.
Timothy Kennefick was always an active man thus rising to the position of "Captain". During the month of September 1922, tension was very high in the Cork area after the August ambush of Michael Collins at Béal na Bláth. Timothy was billeted out near Ballingeary when he got news of his mother's death. He was a passenger in Mr Seamus Cotter's lorry making his way back to Cork for the funeral when they were apprehended by Free State soldiers at Mishells Gates.
According to the evidence presented at an inquest after Timothy Kennefick's death, Emmett Dalton was the Commanding Officer over 30 Free State Officers on Friday, 8 September 1922. They had three lorries and an armoured car. Mr Seamus Cotter the owner of the truck and Mr Herlihy another passenger were allowed go free. Timothy was arrested and put into a caged truck.
The full party then travelled on towards Coachford where all thirty Free State soldiers had breakfast at Thomas Burke's Restaurant. The prisoner was left in the caged truck. After breakfast some of the Free State soldiers got into the caged truck and travelled towards Dripsey. They turned right and stopped at Oldtown.
The inquest concluded that it was there that the Free State soldiers tortured and murdered Timothy. He had several marks on the face two broken teeth, and bullet wounds to the head. The groups then returned to join the rest of their party in Coachford.
There was an inquest held by coroner J J Horgan at Fr Gilligan's house in Coachford on Monday 11 September 1922, on the circumstances surrounding the death of Timothy. The following was the verdict of the jurors;
"We find that Captain Timothy Kennefick was wilfully murdered at Nadrid Coachford on Friday 8th September 1922 by a party of Free State troops and we bring in a verdict of wilful murder against the officer in charge of the Free State troops at Coachford on the morning in question and Richard Mulcahy as Minister for Defence and that the cause of death was shock and hemorrhage due to laceration of the brain caused by bullet wounds. We extend to his wife and relatives our sincere sympathy in their bereavement".
A little boy was born shortly after Timothy was murdered. Ellen and the children moved shortly afterwards to the east coast of the United States to carve out a new life. Over eighty years later, the commemoration committee of the Kennefick memorial collected funds to revamp the memorial itself. A high cross replaced the stone inscribed slab, which can now be viewed at the side of the monument. Finbarr McCarthy of Denis McCarthy, Mallow Road, sculpted the piece and it was unveiled on 4 October 2006 near Coachford.
Captions:
1167a. Picture of Timothy Kennefick, c.1920 (source: Tony McCarthy).
1167b. Timothy Kennefick Memorial, Coachford, County Cork August 2022 (picture: Kieran McCarthy).
Kieran's September Historical Walking Tours (All free, 2 hours, no booking required):
Saturday 3 September, Blackpool: Its History and Heritage; meet at square on St Mary's Road, opp North Cathedral, 2pm.
Sunday 4 September 2022, Ballinlough – Knights, Quarries and Suburban Growth; meet at Ballintemple Graveyard, Temple Hill, 2pm.
Saturday 17 September 2022, The City Workhouse; meet just inside the gates of St Finbarr's Hospital, Douglas Road, 2pm.