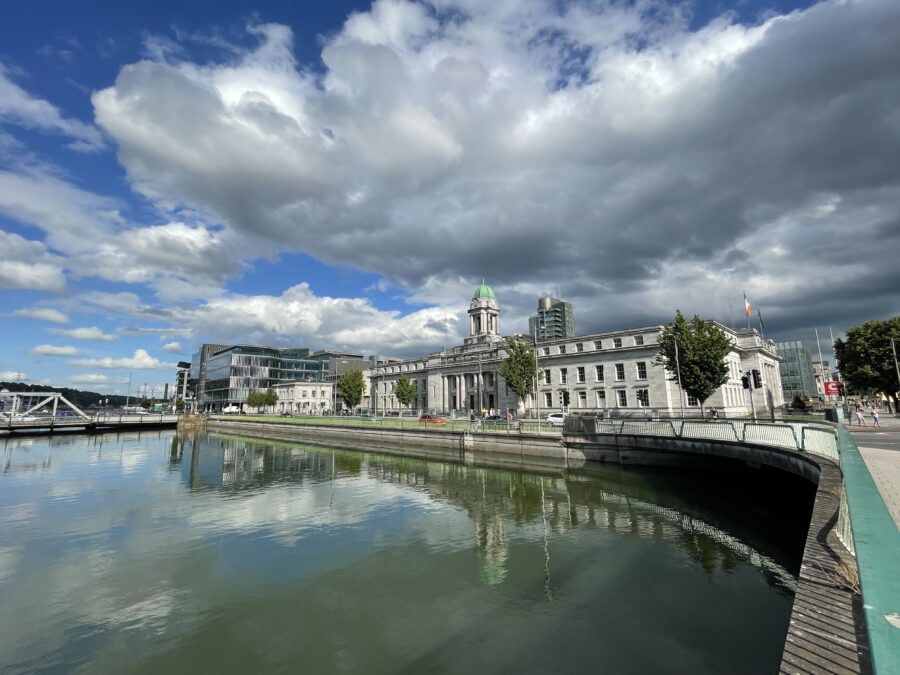 Kieran's Our City, Our Town Article,
Cork Independent, 11 August 2022
Kieran's Heritage Week Tours, 13-21 August 2022
It is great to be back to physical tours after a hiatus of two years with Covid. So far this summer, my tours across the city's suburbs for locals have, in particular, been very busy. Certainly, the Covid period and this post Covid era has brought a renewed interest in people's local areas and their development and sense of place. The tours I have chosen for National Heritage Week this year are all important areas in the city's development plus they all have a unique sense of place and identity. I will host seven tours, and all are free. There is no booking required bar the one for Cork City Hall for Cork Heritage Open Day.
Saturday 13 August 2022, A Tour of Cork City Hall as part of Cork Heritage Open Day, 10am, meet at entrance at Anglesea Street entrance (90 minutes, booking required from Cork Heritage Open Day website with Cork City Council).
Learn about the early history of Cork City Hall and Cork City Council; learn about the development of the building and visit the Lord Mayor's Room. The current structure replaced the old City Hall, which was destroyed in the Burning of Cork in 1920. It was designed by Architects Jones and Kelly and built by the Cork Company Sisks. The foundation stone was laid by Eamon de Valera, President of the Executive Council of the Irish Free State, on 9 July 1932.
Sunday 14 August 2022, Cork Through the Ages, An Introduction to the Historical Development of Cork City; meet at the National Monument, Grand Parade, 6.30pm (2 hours, no booking required).
Cork City city possesses a unique character derived from a combination of its plan, topography, built fabric and its location on the lowest crossing point of the river Lee as it meets the tidal estuary and the second largest natural harbour in the world. Indeed, it is also a city that is unique among other cities, it is the only one which has experienced all phases of Irish urban development, from circa 600AD to the present day. This tour explores the city's earliest historical phases.
Monday 15 August 2022, Shandon Historical Walking Tour; explore Cork's most historic quarter; meet at North Main Street/ Adelaide Street Square, opp. Cork Volunteer Centre, 6.30pm (2 hours, no booking required).
Tradition is one way to sum up the uniqueness of Shandon Street. Despite being a physical street, one can stroll down (or clamber up), the thoroughfare holds a special place in the hearts of many Corkonians. The legacy of by-gone days is rich. The street was established by the Anglo-Normans as a thoroughfare to give access to North Gate Drawbridge and was originally known as Mallow Lane. Shandon Street locals identify with the special old qualities of the street. Different architectural styles reflect not only the street's long history but also Cork's past.
Tuesday 16 August 2022, The Northern Ridge – St Patrick's Hill to MacCurtain Street; Historical walking tour of the area around St Patrick's Hill – Old Youghal Road to McCurtain Street; meet on the Green at Audley Place, top of St Patrick's Hill, 6.30pm (2 hours, no booking required; finishes on MacCurtain Street).
This is a tour that brings the participant from the top of St Patrick's Hill to the eastern end of McCurtain Street through Wellington Road. The tour will speak about the development of the Collins Barracks ridge and its hidden and interesting architectural heritage.
Thursday 18 August 2022, Views from a Park – The Black Ash and Tramore Valley Park, historical walking tour in association with the KinShip Project; meet at Halfmoon Lane gate, 6.30pm (90 minutes; no booking required).
The Tramore Valley Park tour will explore the development of the area from being a swamp through to being a landfill and then onto being an artificial mound to enable the development of a park. Historically William Petty's 1655 map of the city and its environs marks the site of Tramore Valley Park as Spittal Lands, a reference to the original local environment and the backing up of the Trabeg and Tramore tributary rivers as they enter the Douglas River channel. Of course, there are green spaces scattered across the city but none with the same scale of development and story as the 160 acre site off Kinsale Road. This is a site where the city's environment has also been a regular topic of debate across local newspapers and in the city's council political chamber.
Saturday 20 August 2022, Douglas and its History, historical walking tour in association with Douglas Tidy Towns; Discover the history of industry and the development of this historic village, meet in the carpark of Douglas Community Centre, 2pm (no booking required, circuit of village, finishes nearby).
The story of Douglas and its environs is in essence a story of experimentation, of industry and of people and social improvement. The story of one of Ireland largest sailcloth factories is a worthwhile topic to explore in terms of its aspiration in its day in the eighteenth century. That coupled with the creation of forty or so seats or mansions and demesnes made it a place where the city's merchants made their home it. Douglas makes also makes for an interesting place to study as many historical legacies linger in village's surrounding landscapes.
Sunday 21 August 2022, The Battle of Douglas, An Irish Civil War Story, historical walking tour, meet at carpark and entrance to Old Railway Line, Harty's Quay, Rochestown; 2pm, (free, 2 hours, no booking required, finishes near Rochestown Road).
The Battle of Douglas is a three day Irish Civil War battle, which occurred from 7-10 August 1922. In particular, the battle sprawled across the heart of Rochestown Road to Garryduff. Across fields and woodlands, Anglo Irish Treaty supporters faced off against Anti-Treaty forces. Aiming to take Cork City, General Emmet Dalton of the National Army of the Irish Provisional Government led over 450 men, with two artillery pieces and armoured cars, all of whom landed at Passage West.
Caption:
1163a. Cork City Hall, one of Kieran's National Heritage Week tour sites, 13-21 August 2022 (picture: Kieran McCarthy).