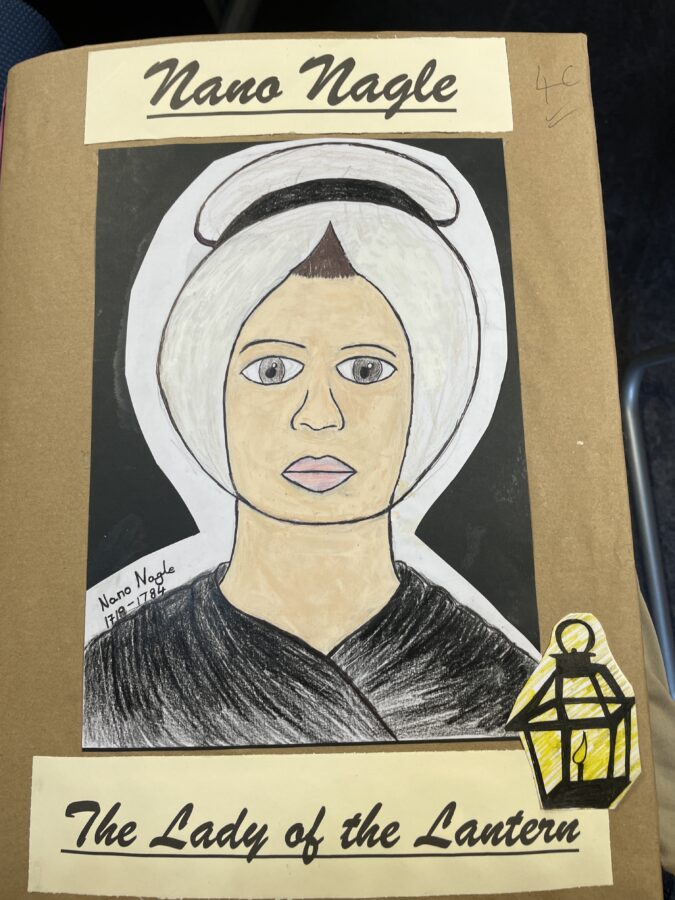 Kieran's Our City, Our Town Article,
Cork Independent, 17 February 2022
Season 20 for Discover Cork Schools' Heritage Project
This month marks the conclusion of the 20th school season of the Discover Cork: Schools' Heritage Project. Over the past twenty years the school wing of my local history work aims to engage younger generation to take up an interest in the history, heritage, and geography of the city.
This city-based project is kindly funded by Cork City Council (thanks to Niamh Twomey, Heritage Office), and supported by Old Cork Waterworks Experience Lee Road (thanks to Meryvn Horgan), It is open to schools in Cork City – at primary level to the pupils of fourth, fifth and sixth class and at post-primary from first to sixth years. A total of 25 schools in Cork City took part in this school season. Circa 800 students participated in the process and approx 200 projects were submitted on all aspects of Cork's history.
A full list of winners, topics and pictures of some of the project pages for 2022 can be viewed on my YouTube film at my website www.corkheritage.ie. A virtual presentation of the projects and students' work was given to Lord Mayor of Cork, Cllr Colm Kelleher. For those doing research, www.corkheritage.ie has also a number of resources listed to help with source work and loads of Cork City History virtual trails to discover..
One of the key aims of the project is to allow students to explore, investigate and comment on their local history in a constructive, active and fun way. The emphasis is on the process of doing a project and learning not only about your area but also developing new personal skills. Many of the topics in the city such as general histories of how Cork developed have myriads of history books written on them. However, the challenge in this project is to get students to devise methodologies that provide interesting and personal ways to approach the study of local history for up-and-coming generations.
Submitted projects this year and in previous years have been colourful, creative, contain personal opinions, imagination, and gain publicity. These elements form the basis of a student friendly narrative analysis approach where the students explore their project topic in an interactive way. In particular students are encouraged to attain primary material through engaging with several methods such as fieldwork, interviews with local people, making models, photographing, cartoon creating, and making short films of their study topic.
For example, a winning class project this school season from fourth class in Scoil Naomh Caitriona in Bishopstown focussed on the story of Nano Nagle and her legacy. They visited Nano Nagle Place, took the great educational tour, and returned to their classroom to create a project book thinking about how Nano's story could be presented to a younger generation. The project book is full of historical snippets but also impressive art and craft work, making their project one that a reader wants to turn the page on. Another impressive and winning project on the life and times of Nano Nagle was delivered by fifth class in St Patrick's Boys National School, Gardiner's Hill
Light was also shone on the story of Henry Ford and his legacy in Cork, when an overall winning student, Cuan O'Neill from Beaumont Boys National School wrote about the history of the tractor and car factory on the Marina. He wrote to experts in the field of Ford history engaging their views, and really created a project book, where one could hear the voices of why the Ford legacy should be championed in the present day, but also perhaps how to look at how Corkonians remember such a legacy.
This year marks went towards making a short film or a model on projects to accompany history booklets. Submitted short films this year had interviews of family members, neighbours to local historians to the student taking a reporter type stance on their work. Some students also chose to act out scenes from the past. One winning student, Oscar Ó Loinsigh, from Beaumont Boys National School did a short film tour of the Queenstown Story in Cobh.
The creativity section also encourages model making. The best model trophy in general goes to the creative and realistic model. Models of GAA pitches, Cork City Gaol and the Crawford Art Gallery, and even board games of Elizabeth Fort and Spike Island featured this year in several projects – not only physical models but Minecraft digital models as well.
Every year, the students involved produce a section in their project books showing how they communicated their work to the wider community. It is about reaching out and gaining public praise for the student but also appraisal and further ideas. Covid scuppered a fuller publicity element, but projects were presented to other classes in schools. Over the years students have been putting work on local parish newsletters, newspapers and local radio stations and also presenting work in local libraries. Open days for parents in schools to view projects have been successful as well as putting displays on in local GAA halls, credit unions, community centres and libraries.
Overall, the Discover Cork: Schools' Heritage Project attempts to provide the student with a hands-on and interactive activity that is all about learning not only about your local area but also about the process of learning by participating students.
Check out the YouTube awards ceremony under the Schools' Heritage Project at www.corkheritage.ie. Here's to school season 21 coming this September 2022!
Captions:
1138a. Portrait of Nano Nagle by fourth class in St Catherine's National School in Bishopstown.
1138b. Minecraft model of old Ford Factory, The Marina by Cuan O'Neill, Beaumont Boys National School.