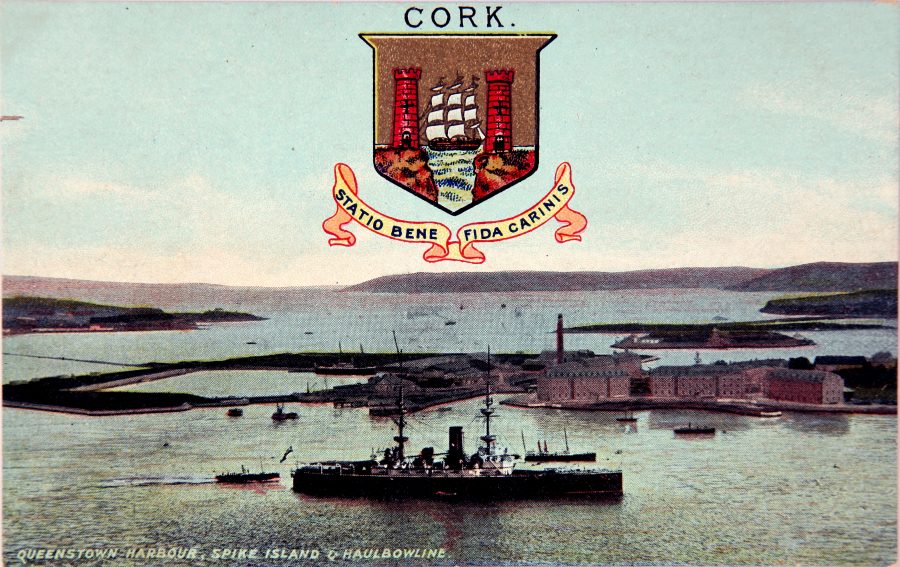 Kieran's Our City, Our Town Article,
Cork Independent, 3 June 2021
Journeys to a Truce: Bold Moves and Round-Ups
One hundred years ago, military cordons were common place across Cork City Centre. Cappoquin born Michael O'Donoghue was a final year student in early 1921, who was studying for his Batchelor of Engineering degree (mechanical and electrical) in UCC. He was Engineer Officer of the 2nd Battalion, Cork IRA Brigade No.1. Michael in his witness statement to the Bureau of Military History (WS1741) describes one such round-up from late May 1920.
One Friday early afternoon towards the end of May 1921, Michael was having his lunch at his accommodation at the Shamrock Hotel when news arrived that there was a big round-up outside by the military and that the whole Grand Parade – Oliver Plunkett Street – Princes Street – South Mall was cordoned off. Michael was afraid of a systematic house to house search, so he collected his bomb parts, including a couple of empty mills grenade cases, and went downstairs into the small rear room at the back of the adjoining fruit shop.
Michael details: "Here, occasionally, customers had a quiet cup of tea or coffee or maybe ice cream and fruit. Luckily, there was no one present. I deposited my deadly load in the fire grate, beneath and behind some shrubs and flowers which were covering up the ugliness of the empty grate. Then I went back upstairs, finished my lunch, and got some large books which I carried beneath my arm. Down the stairs with me and out on the street. A military cordon stretched diagonally across the junction of Old George's Street and The Parade. An officer and two sergeants were busy searching all males. A queue of men of various ages were resignedly awaiting search".
Michael dawdled for a few minutes awaiting his turn; then, getting impatient, he went up boldly to the nearest NCO and presented himself for scrutiny and search. The officer looked hard at him, felt his pockets and all over his body with his hands and then asked him where he was going. Michal told him that he was going back to College preparing for an examination, which was true. He told him to pass on. In the evening Michael returned to the "Shamrock". The military were gone. They had not even visited the digs, so the arnaments in the grate were still intact. Later he transferred the lot to the custody of Raymond Kennedy, Battalion Vice Officer-in-Command.
Michael's final engineering examination in mechanical and electrical engineering was due early in June. Mick Crowley, second in command of Tommy Barry's 3rd Brigade Column, came along to Cork, met him at the College and asked me to come along to Cork 111 Brigade and help him to reorganise the engineering services of that IRA brigade.
Michael eagerly accepted but told him that he would not be available to go to West Cork until after his June exam, then about to begin. He agreed. Michael describes a change of heart after the first three papers; "After I had answered the first three papers it was clear to me that I had not the remotest chance of a pass. Rather than mess up the rest of the exam. I withdrew and appeared no more that June in the exam. hall. I wrote home to father and mother explaining how I had missed doing some of the papers so to prepare them for the disappointment which they would suffer at not seeing my name in the pass lists for the B.E. degree. Of course, they knew little of my exclusive preoccupation with IRA operations and activities and did not realise at all that my own engineering career and University studies were only a very secondary consideration. I told them, too, that I was going to a temporary engineering job down in West Cork in Kinsale and that I might be back home later in the summer to prepare for the autumn exam".
In the same time frame as Michael's narrative, P J Murphy – a Company Commander of Fianna Éireann in Cork– the youth division of the IRA – describes a bold attempt to blow up a destroyer in Haulbowline Dockyards about 9.30pm on Wednesday, 1 June. The destroyer was to act an escort to the sloop HMS Heather, which was carrying prisoners to Belfast jail. The destroyer was lying in the basin of the dockyard. She was after test and had steam up in one of the boilers. The charge was placed between the boilers. The charge went off at 9.30pm and did sufficient damage to hold up the movement of prisoners. This job was headed by Volunteers from Passage West with help from some of Cork City's volunteers. Next morning the yard was surrounded by Marines and RIC.
P J, who worked as an apprentice within he dockyard, was an insider. He was arrested by the RIC and handed over to a Marine Captain. He carried out the search of his tool kit. PJ details; "I was then brought to the Chief Engineer's office and interrogated there as to my movements the evening before. I was released and told to report again that evening for further investigation. I did not report but got off the island as fast as I could. My indentures were cancelled by the Lord Commissioners of the Admiralty".
P J also describes in his witness statement that on 11 June 1921, a number of the Active Service Unit. were arrested in Mrs. Stenson's public house, Douglas Street. They included Mick Murphy, Frank Mahony, Jerry O'Brien, C. Cogan and Jim Fitzgerald. Jim Fitzgerald was wounded; a few escaped, including D. Hegarty. P J elaborated that in order to fool crown forces as to the importance of their capture, three RIC barracks were attacked that night – Tuckey Street barracks, Shandon barracks and Douglas barracks.
Captions:
1102a. Haulbowline Dockyard, c.1910 from Cork Harbour Through Time by Kieran McCarthy & Dan Breen.