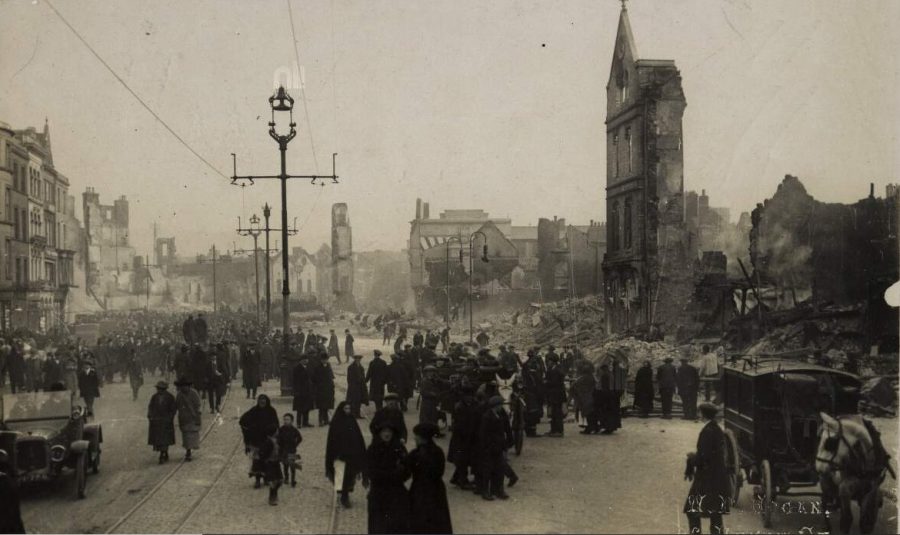 Kieran's Our City, Our Town Article,
Cork Independent, 10 December 2020
Remembering 1920: The Burning of Cork
It was a night like no other in Cork's War of Independence. The Cork Examiner records that about 7.30pm on Saturday night, 11 December 1920 auxiliary police were ambushed near Dillion's Cross on the way to Cork Barracks. Bombs were thrown at the lorry and several of the occupants were injured, some badly. Reprisals began in the locality of the ambush, and during the night several houses in the district were burned. Buttimer's Shop and Brian Dillion house were targeted. The latter House, which had a tablet on it dedicated to Irish Fenian Brian Dillion, was completely gutted. Rifle shots rang out and the crackling burning of timber was heard.
Between 8pm and 10pm volleys of revenge gunfire from auxiliary police and Black and Tans reverberated through the flat of the city and created considerable alarm as people stampeded away in various directions. Many people elected to stay in hotels and others sought the hospitable shelter of friend's houses in the neighbourhood in which they happened at the time. The people sought their homes, extinguished all lights, and then passed through many hours of fear.
Passengers on the last tram to St Luke's Cross, which left the Statue at 9pm had an eventful journey. The car had got about 60 to 70 yards beyond Empress Place Police Station on Summerhill North when a number of armed men in police uniform carrying carbines, and accompanied by auxiliaries, held it up. They ordered all the passengers off at the point with revolvers. Male passengers were ordered to line up for searching. Some tried to run and a voice rang out, "I'll shoot anyone who runs". Shots were fired in the air while the searches were being conducted.
The tram car was smashed up and was brought back by the conductor to the Fr Mathew Statue, who at that point was ordered off. It was set on fire and completely destroyed.
It was hoped that when curfew hour was reached there would be cessation of the firing and explosions, but such hopes were not realised: in fact as the night advanced the situation became more terrifying, and the people especially women and children were rendered helpless amidst fire and shots by Black and Tans stalking the streets with rifles and revolvers. About 10pm, following explosions, Messrs Grants' Emporium, in St Patrick's Street, was found to be ablaze.
The Superintendent of the City of Cork Fire Brigade, Alfred Hutson,received a call at 10.30pm to extinguish the fire at Grants. He found that the fire had gained considerable headway and the flames were coming through the roof. He got three lines of hose to work—one in Mutton Lane and two in Market Lane, intersecting passages on either side of these premises. With a good supply of water they were successful in confining the fire to Grant's and prevented its spread to that portion running to the Grand Parade from Mutton Lane, while they saved, except with slight damage, the adjacent premises of Messrs Hackett (jeweller) and Haynes (jeweller).
The Market – a building mostly of timber – to the rear of Grants was found to be in great danger. Except for only a few minor outbreaks in the roof the fire brigade was successful in saving the Market and other valuable premises in Mutton Lane. The splendid building of Grant's though with its stock was reduced to ruins.
During the fire-fighting at Grants Alfred Hutson received word from the Town Clerk that the Munster Arcade was on fire, just some doors from where he was. This was about 11.30pm. He sent some of his men and appliances available to contend with it. Shortly after he got word that the Cash's premises were on fire. He shortened down hoses at Mutton Lane and sent all available stand-pipes, hoses and men to contend with this fire as well.
Hutson's men found both the Munster Arcade and Cash's well alight from end to end, with no prospect of saving either, and the fire spreading rapidly to adjoining properties. All the hydrants and mains that they could possibly use were brought to bear upon the flames and points were selected where the fire may be possibly checked and their efforts concentrated there.
The flames ranged with great intensity, and within an hour, buildings were reduced to ruins. Owing to the inflammatory nature of the materials in these premises, or as the result of petrol having been sprinkled within the buildings, the conflagrations became most fierce and the blocks of buildings running between St Patrick's Street and Oliver Plunkett Street on one side and Cook Street and Merchant street on the other side became involved. It was impossible to subdue such outbreaks.
In the early hours of Sunday morning at 2.50am in the upper end of Dublin Hill in Blackpool the Black and Tans encroached on the houses of the Delaney family. IRA members Joseph Delaney, aged about 24, was shot dead and his brother, 30-year old Cornelius and his 50 year old uncle, William Dunlea, were wounded, the former very dangerously. All were shot at point blank range by uniformed soldiers. The two wounded men were removed to the Mercy Hospital where Cornelius succumbed to his wounds.
It was approaching 4am when it was discovered that the work of destruction continued. At that time the City Hall and Carnegie Library became ablaze. Both of these buildings were gutted, only the walls left standing. The upper portion of City Hall including the clock tower fell in. Such was the intensity of the fires the firemen were driven out of the buildings.
As dawn broke on Sunday morning, 12 December, residents of Cork were then able to see the picture of Saturday night's work of devastation. Fine buildings, with highly valuable stock, had been wiped out, and thousands of people were to become unemployed.
In one twenty-four period, over four acres of Cork City's Centre had been reduced to ruins – 2,000 people had lost their jobs, and an estimated three million pounds of damage had been inflicted on Cork's City Centre building stock. Nearly one hundred businesses and homes had been destroyed or badly damaged by fire and looting.
Kieran's latest book Witness to Murder, The Inquest of Tomás MacCurtain is now available to purchase online (co-authored with John O'Mahony 2020, Irish Examiner/www.examiner.ie).
Caption:
1078a. Aftermath of the Burning of Cork on St Patrick's Street photograph by W Hogan (source: National Library of Ireland).