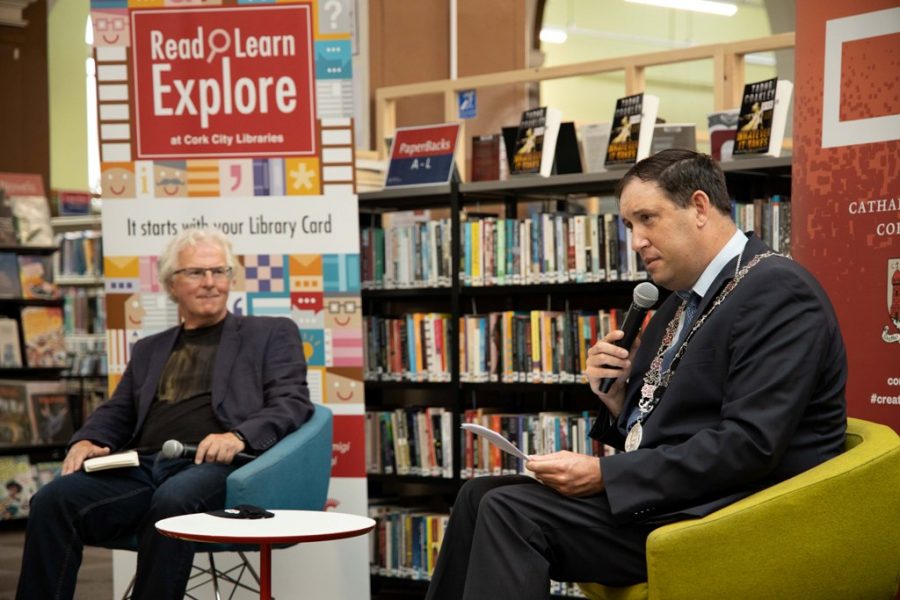 Dear Patricia, Dear Tadhg, Dear Ladies and Gentlemen,
Many thanks for the invitation to address you today.
They say that stories have the power to stop, impress, make one question, wonder, dream, remember, be disturbed, explore and not forget – a whole series of emotions.
With those threads in mind, there is truly much to be said and reflected upon in the annual One City, One book project, the 2020 edition of which, we have before us this evening.
From the outset, and in a universal context, I feel the title of the book we speak about here this evening – Whatever it Takes, sums up not only the story within Tadhg's book but also connects to the wider world of where we find ourselves.
Living in the social ruins of a pandemic or fallout of an ongoing pandemic has seen our lives stripped back to its physical basics as seen clearly in the sparse Library furniture available – and socially to the seams of our hearts and minds- it has forced us to take a journey inwardly for reflection.
Losing is Not an Acceptable Option:
Whatever it takes to curb the virus, society is willing to do. In a world where frontline staff fight back the virus we as a society put measures in place to curb its spread.
The last line of the back cover of Tadhg's book has written "Time is against him and the stakes are high, but losing is not an acceptable option".
With this virus losing is also not an acceptable option. We are all in this time of pandemic together. Our social bonds are more important than ever. So it is also apt that Tadgh's book also connects to the project of One City, One Book – and not just because Tadhg's book is set in Cork. The plot and protagonist of Whatever It Takes are both firmly rooted in Cork.
But because I feel at the moment in Cork at the moment it's a very real case of One City, One Virus. We saw the work of the community response teams across the Spring and early Summer of this year delivering food and medicines to those cocooning and we witnessed those who moved from council departments such as the Library to the HSE to help with contact tracing – and we have seen in more recent weeks, the measures put in place by shop-keepers and restaurants to awaken our sleepy city. One can see very clearly Cork's strong sense of place, which is a paradigm that Tadhg carries in his quiver of ideas that interest him.
Another important universal point to make is how important our cultural processes are to us at the moment – it has been imagination, culture and arts and aspects such as media and literature that have kept many of us sane in these difficult times. With literature, you can journey along the sentences and paragraphs of a book and travel as Tadhg proposes in his title for his memoir of essays for 2021 – to a Place Beyond Words – where words become gripping stories.
A read of Tadhg's previous works The First Sunday in September, the stories and remarks on his blog and his book Whatever It takes shows the power of words, narrative and ultimately story telling. In a recent Irish Examiner article written by Journalist Marjorie Brennan, Tadhg outlines his library career first in Cork City library and later in CIT. he pursued an MA in Creative Writing in UCC. In Tadhg's every day career, his tools of the trade were books. Books mattered and the stories within them also mattered.
In the world we live in, books matter more so than ever before. Cork City Libraries' One City, One Book is a multi-purpose tool or initiative to yes get book loving Corkonians to read and discuss the same book. But individuals, groups, book clubs, workplaces and organisations are also encouraged to take part in building a sense of community throughout the city, promoting literacy, supporting the arts and encouraging everyone to engage in reading. It takes the idea of a localized book discussion club and expands it to cover the whole city. It is the ultimate form of municipal biblio-therapy, a term, which my partner Mairéad mentioned to me during the week as we discussed this evening's event.
Books also matter in Cork City's Heritage, which also has a strong short story DNA – being the home to very fine story writers in the twentieth century but also in most recent times. But sometimes and this is my personal view we linger too much on the past wins of literary Cork and its actors within the twentieth century. They have been very important foundations and influences but also in our world it is also as important to leave imprints in the 21st Century for the present to create our literary output.
Supporting New Writing Talent:
Hence why I think One City, One Book project, the library's other literary initiatives and the Council's financial individual and project support schemes, and concepts such as the work of the MA in Creative Writing, the work and events of the Munster Literature Centre – they are crucial in finding and supporting new writing talent.
As Tadhg noted in the Irish Examiner article, "You can't really be taught to be a writer but you can be encouraged, supported, given a safe environment and pushed… It is easy to start a novel, short story or poem, it is not so easy to finish it and send it to people, that is the hard part…You have to really want to do it as well — to be honest, you have to be a little bit cracked to be a writer."
It is an unreal experience because I was older and I thought I would never even write a book, never mind get one published, let alone see it in a bookshop. I would say to anyone my age or older not to give up if they want to write a book".
I also think you need to be a person with much focus, patience, time, and much thick-skin to process the comments from one's early readers.
Tadhg's Whatever it Takes was originally in the first person, but after about 60,000 words, Tadhg switched it to the third person and brought in other characters and their voices as well. Pulling apart 60,000 words and retweaking them requires much thinking, much head space, much creativity, and much time.
One must be also open to the winds of direction by publishing houses. Of course, Cork is blessed to have Mercier Press as a very supportive and v active publisher. Mercier is not only interested in fiction but non-fiction as well and in this decade of commemorations through its own authors and history publications have laid the actual foundations of thought and knowledge for why commemoration and memory are so important to pursue.
A Cauldron of Ideas:
So what we launch here today in terms of the 2020 One City, One Book, is a cauldron of different simmering ideas – it's not just about supporting Tadhg's book, One City, One Book project but about the world we find ourselves, the importance of culture, the importance of literature, the importance of literary heritage, the importance of biblio-therapy the importance of the stories and ultimately their power to stop, impress, make one question, wonder, dream, remember, be disturbed, explore and not forget – a whole series of emotions.
I wish you well Tadhg in your journey with Whatever it Takes and the City Library well with this One City, One Book project. On behalf of the Lord Mayor's Office, many thanks for the invitation again and best of luck.