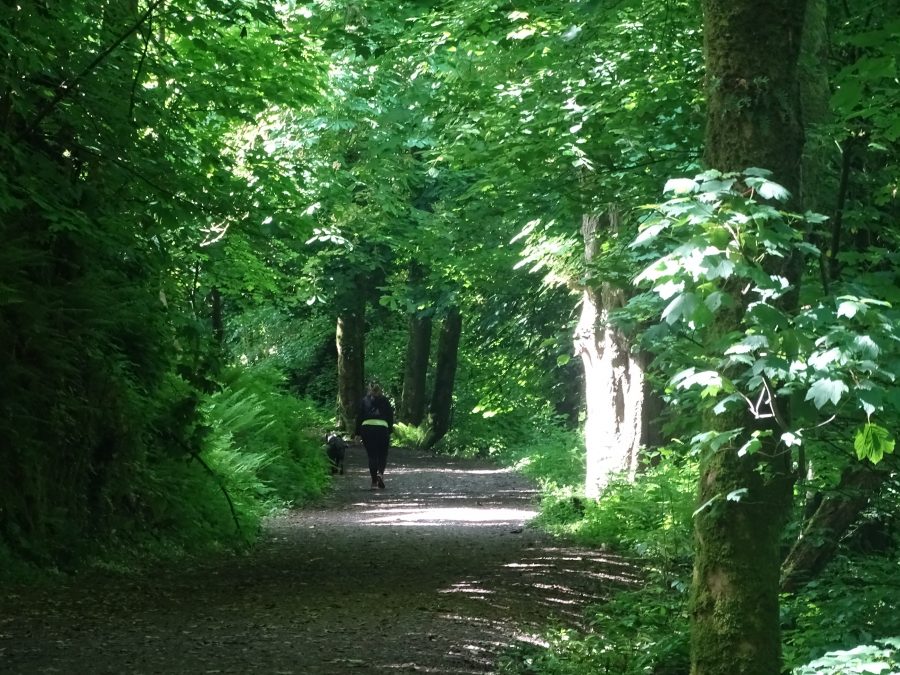 Serious concern has been expressed by Independent Cllr Kieran McCarthy on proposals to widen a forestry road within Old Court Woods in Rochestown to fell forestry. A notice from 12 May 2020 has been put up at the Garryduff entrance that Coillte have applied to the Department of Agriculture to create a wider road for 360 metres within the heart of the woods.
Cllr McCarthy noted: "I have several constituents write to me express their worries of the site. Since the boundary extension last year, Cork City has inherited this very beautiful 26-hectare forest amenity managed by An Coillte. It is a site I am rediscovering over the past year since it passed into the city especially from a historical perspective of the Old Court estate and the Battle of Douglas in 1922 was held across the woods. Plus I have been vocal many times in the Council Chamber that the City Council needs an effective urban forestry management strategy within the city area. This should also connect to other entities such as An Coilte for cross collaborative work.
Since the outbreak of Covid Old Court Woods has seen a big increase in day to day usage by locals for walking with their children and really has stood out as a public local amenity. The people I have met have described it as an oasis in the heart of suburban living. And to be fair to An Coilte they have done a good management job over the decades.
Many locals have expressed the view to me though that the woods are very small and the amount of timber that can be harvested is low, especially versus the amount of destruction which will be carried out by another felling. Locals have noted that some trees were never replanted some years back leaving a large gap with very little protection for remaining trees. So every time there is a new storm, we lose more trees again.
The Red Squirrel, which I have seen myself on my walks in the forest, are becoming more and more rare in Ireland and the destruction of their habitat would also be lessened by further tree felling.
I do realise that Old Court is a working forest but with more and more houses being constructed in upper Rochestown, I am calling on An Coillte to consider the plans they rolled out in Dublin to be also applied to Cork City. Coillte has announced that all nine of its forests in Dublin are changing to non-commercial recreational use.
The move means an end to commercial operations in the woods and will result in more bio diverse and climate resilient forests. It was heartening to hear that there will be no more planting, in Dublin, of Sitka Spruce the dominant species in Coillte's plantations. It will gradually be replaced by native species including many more broad leaf varieties. Clear felling large areas will be phased out and replaced by a system called continuous cover. This will see some mature trees removed from areas to allow new planting and new growth as the forest canopy is thinned.
And lastly the access to public information on plans on the Department of Agriculture's website needs to be a lot more people friendly if public consultation is to be really inclusive. An online interactive map would be great. It is a very difficult public consultation public information portal. I am calling upon the public with an interest in Old Court Woods to email their comments on the proposal for the widened forestry road to the Department of Agriculture at forestryappeng@agriculture.gov.ie before 11 June".