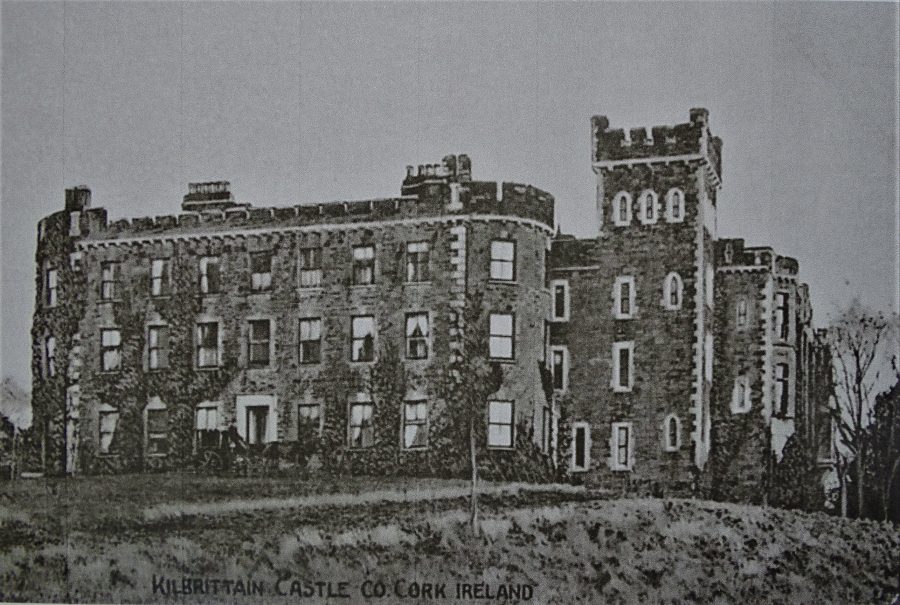 Kieran's Our City, Our Town Article,
Cork Independent, 28 May 2020
Remembering 1920: Kilbrittain's Arson Attack
As the weeks of early summer 1920 progressed, tensions escalated and violence ensued between the IRA and British forces. One additional element of force, which appears more and more in witness statements and across the newspapers of 1920, was the use of arson. It was used on both sides of the conflict especially in the destruction of buildings (and an aspect, which culminated in the Burning of Cork in December 1920).
In May 1920, the burning of old landed estate big houses began and intensified as the war of Independence progressed. Historian James Donnelly in a journal article in Éire-Ireland in 2012 records that burnings of such houses were a common occurrence in County Cork but were rare outside of the county. Fifty Big Houses and suburban villas were burned there before the Truce in July 1921. Forty of the fifty structures were burned throughout Cork from April 1921 onwards to the Truce on 11 July 1921.
On early Tuesday morning 25 May 1920 Kilbrittain Castle, a splendid ancient building, seven miles from Bandon and standing on an eminence overlooking a most scenic spot, was at midnight seriously destroyed by arson. IRA volunteers were determined to prevent the occupation of the mansions in question by British military or police forces or sought to punish their owners for allowing or encouraging such use. The IRA's first burning of a Cork Big House was certain to seize public attention because of the sheer size, prominence, and opulence of the Kilbrittain Castle mansion destroyed. The damage was estimated at least £100,000.
The original Kilbrittain Castle dated from the eleventh century, but the property was extensively re-modelled in the middle ages, and later in the eighteenth and nineteenth centuries by the Stawell family. In 1906 it was the property of Colonel William Stawell and valued at £182. There were 60 rooms in the Castle, which included a ballroom and banqueting hall. The corridors in it were extensive, and in front there was an exceptionally grand lawn and a fine kitchen garden.
From 1913 onwards the castle as residence lay idle. In 1918 the estate was auctioned in Dublin, and the purchasers were based in Cork City Mr. Denis VDoyle of Maryville, Victoria road and Mr Daniel O'Riordan of Clarence Street (now Gerald Griffin Street). They acquired it for a sum of £15,000. Neither of the purchasers, who were well-known Cork citizens, save in the summer, took over the Castle as a residence. The land surrounding the residence comprised over 500 acres of which 200 acres were woodlands and were being harvested – over 40,000 tons of timber. Of this quantity 2,000 tons or thereabouts was cut down and sold. The men, numbering over 20, engaged in this work were accommodated and their families with apartments in the Castle. Some of the felled timber went to Burren pier for shipment to Cardiff and Newport. Other quantities were carted to the nearby railway station at Bandon for transport to Cork, where it was sold. The 300 acres of the estate was good farming land, and this was let to tenants.
On 24 May 1920 the Castle was occupied by the men employed cutting the trees and their families, and it appears they were ordered to leave the Castle by the IRA volunteers and take as much as they could take within ten minutes before the building was to be set on fire.
Denis Lordan, Quarter Master with the Cork No.3 Brigade, 1919-1921, in his witness statement (WS470) held at the Bureau of Military History, outlines that tensions between the local Volunteer battalion and the local Royal Irish Constabulary (RIC) were simmering and ongoing for two years previously and that the May 1920 burning should not be looked at in isolation but had a deep historical context.
Previous to the purchase of the lands by Doyle and Riordan in 1918 a number of families in Kilbrittain village had rented on a yearly basis portions of these lands for tilling and grazing and for many of them it was their sole means of livelihood. When the lands were sold on, the tenants were outbid and felt very much aggrieved by the event. Abortive attempts were made to negotiate peaceful settlements of the dispute and finally a boycott was declared. All those working on the estate in tree felling were to cease work. A certain number of men persisted in working and one day a steam tractor used for hauling timber to Bandon was fired on and one of the workers was wounded. After the shooting affair Doyle and Riordan applied to the British authorities for police protection.
Brigade Staff Officer and member of Cork No.3 Brigade, Michael Crowley in his witness statement, now held in the Bureau of Military History (no. WS 1603), takes up the story that the RIC gave Doyle and Riordan police protection and occupied the castle. The police force sent out day and night patrols into the neighbouring countryside. But observation by Volunteers revealed a set pattern for patrols and they ambushed a patrol of eight men and officer disarming them at Rathclarin, Kilbrittain. A sergeant, however, had time to draw his bayonet and inflicted a severe head wound on Lieutenant Michael O'Neill of Maryboro, Kilbrittain. The nine RIC men though were released.
Further small ambushes ensued across 1919 and 1920. Michael Crowley records that by April and May 1920, his battalion were continually endeavouring to locate RIC patrols, which usually patrolled the countryside for some miles around their barracks. Despite being on the RIC's most wanted list, they continued to engage and disarm RIC members. However, by August 1920 in the overall picture of County Cork as many as eight infantry battalions (20 percent of the total) and one cavalry regiment were stationed in the county or city (of Cork alone). The historical tensions had been replaced with all-out war.
Captions:
1050a. Kilbrittain House, c.1910 (source: Cork City Library).
1050b. Section of Ordnance Survey of Kilbrittain Castle estate, c.1910 (picture: Cork City Library)