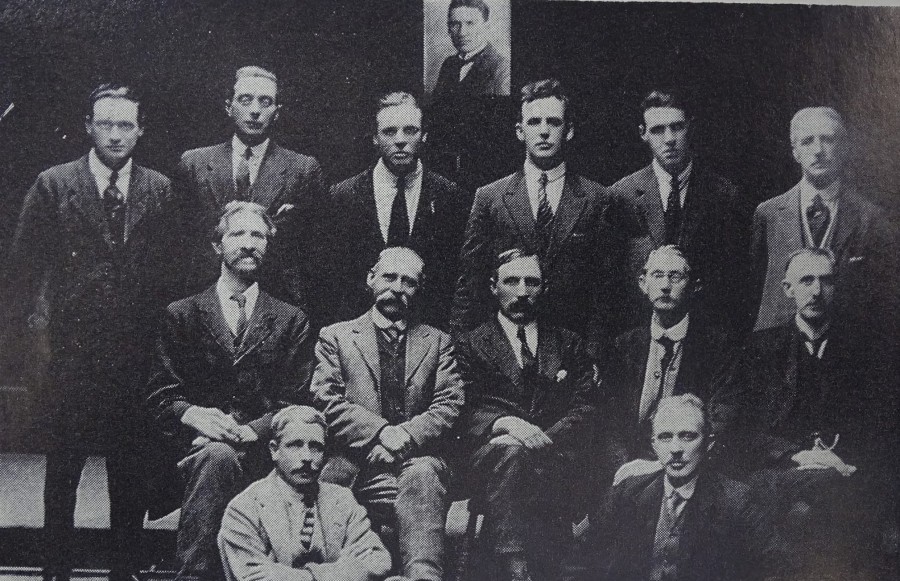 Kieran's Our City, Our Town Article,
Cork Independent, 23 April 2020
Remembering 1920: The Inquest Jury Speaks
   At the conclusion of the Inquest of Tomás MacCurtain on 17 April 1920, Chairman Coroner James McCabe thanked the jury for the great care and attention they had given the various witness interviews. The 14-man jury comprised: William J Barry (foreman), Daniel Barrett, Richard Barrett, Michael J Grace, David Hennessy, Harry Loreton, Patrick McGrath, Melville McWilliams, Florence O'Donoghue, Peter O'Donovan, Jeremiah O'Callaghan, Thomas O'Shaughnessy, Tadgh O'Sullivan and Pádraig O'Sullivan. With the passing of time, the memory of several of the latter members has disappeared. Through searching through obituaries, I have constructed some info on five of the jury members.
William J Barry was the foreman and his obituary for 27 January 1953 in the Cork Examiner outlines that he was a secondary school teacher, William was a language teacher and taught at various schools in Cork City, as well as outside colleges. He became a Fianna Fáil member of Cork Corporation in 1945 and was Secretary to the Cork Fever Hospital Committee.
Patrick McGrath became an apprentice blacksmith and had his own smithy in Morgan Street in Cork City Centre. During 1920 he was an officer in the C Company, Second Battalion, Cork No. 1 Brigade and took part in various armed engagements in and around Cork City. When peace returned to Ireland, Patrick or Pa McGrath contented himself with following his trade of blacksmith. He also became interested in bodies such as the Old IRA Men's Association and Fianna Fáil. He remained in the background for more than twenty years, known and loved by his own circle of friends, political and sporting acquaintances. His entry into the open political arena came through his service as Director of Elections in Cork City on two occasions in the 1940's. In 1946 he won a seat through a bye-election to Dáil Éireann and retained his seat in the 1948, 1951 and in the 1954 General Election. He did not become a member of the Cork Corporation until 1950. Two years in 1952 later he was elected Lord Mayor and was Lord Mayor for four years.
Florence O'Donoghue was one of three brothers – Paddy and Jeremiah being the others – who in 1910, left their farm home at Killeen, Glenflesk, County Kerry and travelled to Cork City to seek their fortune. Their father was a car-man having established a road business between Glenflesk and the city. He transported butter by horse and cart over the mountains of Derrynasaggart into the city and brought home merchandise for the neighbouring farmers. Jeremiah passed away shortly after arriving in Cork. Paddy and Florence after apprenticeship established a drapery business in North Main Street under the name O'Donoghue Brothers. Sometime later they moved to Oliver Plunkett Street, then known as Old George's Street and there opened another establishment.
  Just before 1914, Florence or Flor opened up a public house at 54 Thomas Davis Street in Blackpool. He still maintained an interest in the Oliver Plunkett Street business. Flor, now advanced in years, became interested in the Volunteer and Sinn Féin movement. Tomás MacCurtain appointed him Head of Communications of the Cork No.1 Brigade and later was prominent in the city in collecting money for the Dáil Éireann Loan schemes. Then came the murder of Lord Mayor Tomás Mac Curtain and Flor was summoned to sit on the jury. Afterwards Flor remained head of intelligence of the IRA during the Irish War on Independence.
Family notes left by Patrick O'Sullivan of Bantry and the Silver Key Public House in Ballinlough (thanks to his daughter Clare O'Sullivan Herlihy) outline that during the period from 1 April 1920 to 21 March 1921 he was operating with C Company, 2nd Battalion, Cork No. 1 Brigade. He was picked to take part in the funeral of Tomás McCurtain from Blackpool to City Hall and was also a member of the bodyguard at the lying in state.  Patrick was a member of the Volunteer firing party who in full uniform, fired the volley over his grave. He became a member of the inquiry into the murder of Tomas McCurtain acting on orders from his superior officer.
   Patrick noted: "The official Jury summoned by the RIC were evidently afraid to put in an appearance when the Coroner called them together. Commandant Jerome O'Donovan then took the initiative and selected a republican Jury. The inquest lasted three weeks and during that time we were constantly under the observation of the RIC until we were known by sight to every constable in the City. Consequently, after the inquest I was a marked man and suffered the usual handicap of notoriety at that time. Namely, constant, surprise raids on my digs in Wallace's Avenue, until finally I was forced to go on the run completely in May 1920. Maddened by their repeated failure to catch me they raided my digs at night and when I wasn't there, they lay in ambush hoping I'd return. They raided my digs again and snatched my belongings and ruined two suitcases of clothes, which I didn't have time to remove. They told my landlady that they would riddle me on sight".
Tadgh O'Sullivan was reared on a farm north of the village of Barraduff, Co. Kerry and was passionate in the study of Irish being inspired by his national school teacher. He joined the IRB and found himself in Cork City. As a volunteer and officer of C Company, 2nd Battalion, Cork No.1 Brigade, he was constantly on duty and participated in many major operations in the City. He participated in the attack on Farran RIC Barracks and also in the Barrack Street Ambush on 9 October 1920. On 19 April 1921, whilst coming out of a house in Douglas Street he was intercepted by the Black and Tans and shot down in the street. There is a plaque on the wall of the house in 82 Douglas Street and a monument in Rathmore on which he is remembered along with others.
If anyone has information on the jury members, I have flagged that have no information surviving on them, please get in contact with me at 087 655 3389 or email mccarthy_kieran@yahoo.com.
Caption:
1045a. Picture of Inquest Jury of Tomás MacCurtain, 1920; Back row: Daniel Barrett, David Hennessy, Pádraig O'Sullivan, Patrick McGrath, Peter O'Donovan, Thomas F O'Shaughnessy; Sitting: Richard Barrett, Jeremiah O'Callaghan, William J Barry (foreman), Michael J Grace, Florence O'Donoghue, Melville McWilliams, Harry Loreton, and inset Tadgh O'Sullivan (source: Cork City Library).