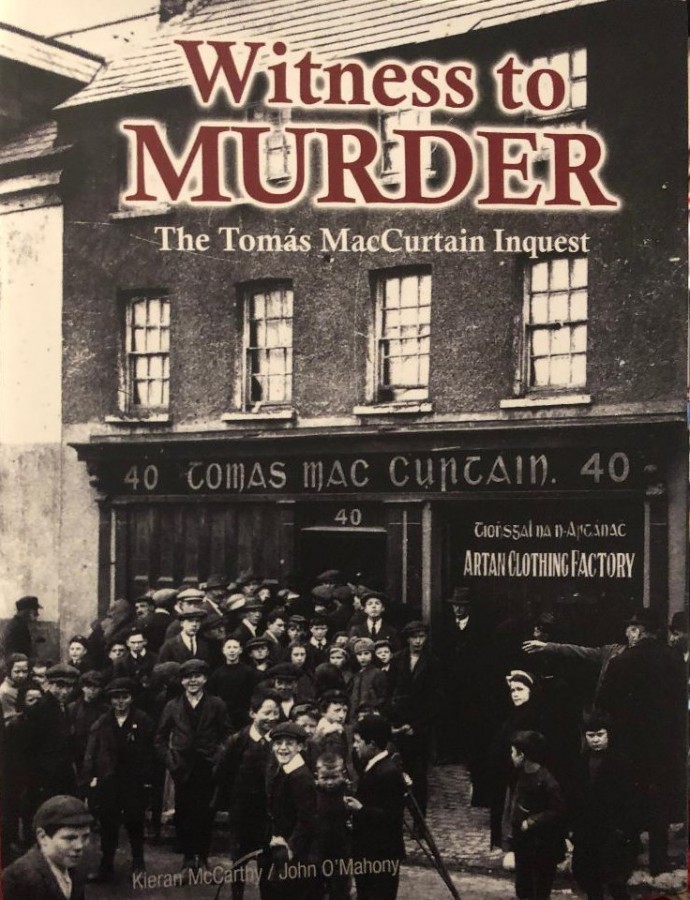 The new book 'Witness to Murder' by Cllr Kieran McCarthy and John O'Mahony, and published by the Irish Examiner, has been launched. It is a transcript of the Tomás MacCurtain inquest one hundred years ago following his murder on 20 March 1920.
    The last time Tomás' inquest in full was published was in the Cork Examiner between 23 March 1920 and 18 April 1920. Despite the ordeal and daily fallout, over time the fourteen hearing sessions have not overly been revisited by scholars of the Irish War of Independence.
   The verdict has been highlighted on many occasions by many historians, but the information of the inquest has never been overly written about or the narratives within it championed. So, this book brings together the inquest data into one source. It is about giving a voice to the solicitors, jury and those interviewed
    The transcript of the newspaper text will help scholars of the War of Independence in their research to mine down further into the complexities of the time but also to keep the human dimension at the heart of new emerging research. This transcript in particular is inspired by the epic 'Atlas of the Irish Revolution' and the ongoing digitisation of State files and interviews of veterans of the War of Independence held at the Bureau of Military History in Cathal Brugha Barracks, Dublin– both sources, the Atlas and the Bureau try to bring a holistic perspective to what narratives, sources and memories have survived.
   Cllr McCarthy notes: "Tomás MacCurtain (1884-1920) is truly a colossus in Cork history who has attracted many historians, enthusiasts and champions to tell his story. His story is peppered with several aspects – amongst those that shine out are his love of his family, city, country, language comradeship, and hope – all mixed with pure tragedy. In many ways, the murder of Tomás MacCurtain on the night of 19-20 March 1920 changed the future public and collective memory narrative of Cork history forever".
   Cllr McCarthy continued; "One hundred years on after his murder, the memory of Tomás and his life and times and works are a central part of the history of politics in the city and the city and region's role within the Irish War of Independence".
At this moment in time Witness to Murder by Kieran McCarthy and John O'Mahony is only available to buy online at www.examiner.ie.