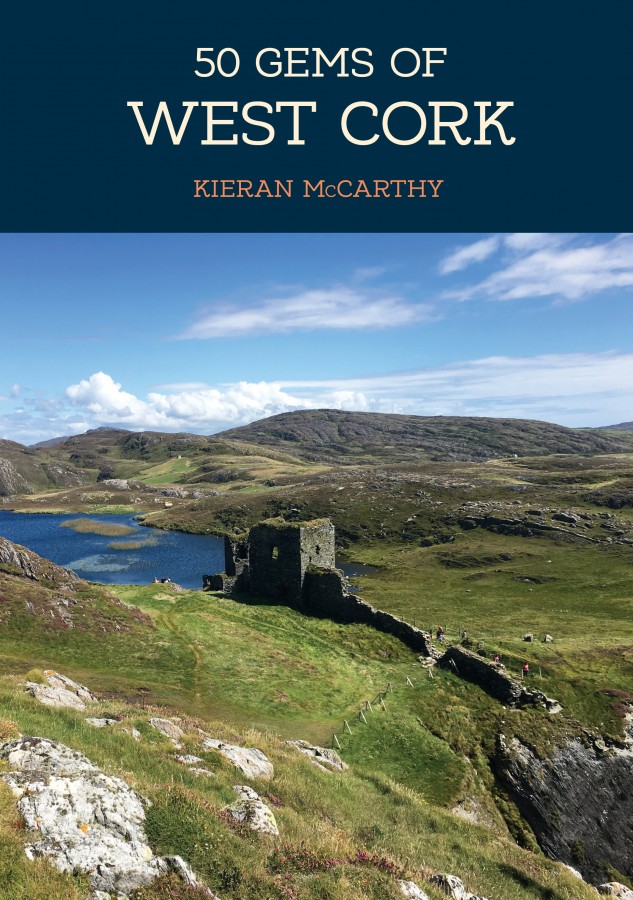 Kieran's Our City, Our Town Article,
Cork Independent, 28 November 2019
Kieran's New Book, 50 Gems of West Cork
    There were two words – raw and epic – which constantly came to mind as my 400cc scooter motorcycle traversed the roads and byways of West Cork whilst researching this new book in the past year. Both words came to mind as I felt almost swallowed up on my small bike disappearing on routeways, which duck and weave through hollowed out rock scarred by glaciation movements 20,000 years ago or parked up on coastal beaches where the folding of the rock can be seen from near the origins of the universe.
     This new book, 50 gems of West Cork, builds on a previous publication called West Cork Through Time (Amberley Publishing 2015), which explored the fascination by post card makers one hundred years ago of West Cork in its scenery, its culture and its people. This new book returns to some of those sites chosen and details new ones exploring how these key sites became the focus of attention and development – and how their stories, memories and the making of new narratives were articulated in an attempt to preserve an identity and/ or communities locally and nationally at sites or to create new identities and communities.
    Several sites in this book came into being in the fledging years of the Irish Free State where tourism and story-telling about the nation's history were highlighted or some sites were created from the burgeoning boom time of 1960s Ireland, where the focus was on developing industry and recreational amenities. For example, the promotion of areas such as Inchidoney Island for more tourism was driven by the Irish Free State's Irish Tourist Association (ITA), which was established in 1925 to market the young Irish Free State as a tourist destination internationally. Small resorts along the West Cork coastline were developed simultaneously at sites such as Courtmacsherry, Glandore, Bantry Bay, Glengarriff and Berehaven.
   The title book explores 50 well-known gems of the West Cork region. It brings their stories together in an accessible manner. It is not meant to provide be a full history of a site but perhaps does try to provide new lenses on how heritage is looked at and the power of narrative construction and collective memory in West Cork. The book takes the reader from Bandon to Dursey Island, from Gougane Barra to the Healy Pass.
    Researching West Cork, the visitor discovers that each parish has its own local historian, historical society, village council, sometimes a library, tidy towns group, community group and business community who have inspired the collection of stories, the creation of heritage trails and information panels, and the championing of a strong sense of place and identity. Relics from the past also haunt the landscape with prominent landmarks ranging from Bronze Age standing stones to ivy clad ruined houses and castles, churches and old big houses, to beacons, cable cars and lighthouses. All add to the narrative of the spectacle that is West Cork.
    The origins of the beautiful towns of the West Cork can vary from medieval times to the early twentieth century. On walking around them what is particularly impressive is the nineteenth century fabric, which make for very photogenic spaces to capture. There are old and colourful shopfronts, old narrow laneways and streets, ornate water pumps, cobbled surfaces, historic market places, eye catching churches as well as two hundred year-old bridges and older bridges. These latter traits define the look of and layer with stories much of West Cork's towns. For example, on a sunny day as the sun sets, the colourful shopfronts of Bandon's Main Street with its stone-built fabric bridge are illuminated.
    Where much is written down and attempts made at compiling local histories in West Cork, there is a need to compile the macro historical picture of West Cork. Certainly, the work of Fáilte Ireland's Wild Atlantic Way has been key in bringing many threads of stories together, kickstarting long forgotten traditions and empowering communities to present their story to the visitor. In particular, this book draws on the brilliant Irish Newspaper Archive where the past editions of the Cork Examiner and the Southern Star are digitised and provide much information at different points of a site's evolution. With a building, statue or a view, looking closely at the human detail can reveal nuances about how places are seen and understood and ultimately can be championed going forward into the future.
    In all, this book comprises a myriad of stories of different shapes, patterns and colours just like a painter's palette of colours. Every site or gem presented is charged with that emotional sense of nostalgia – the past shaping and inspiring present thoughts, ideas and actions. However, this book only scratches the surface of what this region has to offer. West Cork in itself is a way of life where generations, individuals and communities, have etched out their lives. It is a place of discovery, of inspiration, a place of peace and contemplation, and a place to find oneself in the world. What's the best way to see West Cork – travel through it, sense it and enjoy it!
50 Gems of West Cork by Kieran McCarthy is available in good Cork bookshop.
The book is being launched at a book signing by Kieran in Waterstones, St Patrick's Street, Saturday 30 November, 3-5pm. All welcome.
Captions:
1025a. Front cover of 50 Gems of West Cork by Kieran McCarthy
1025b. Main Street, Bandon, present day (picture: Kieran McCarthy)