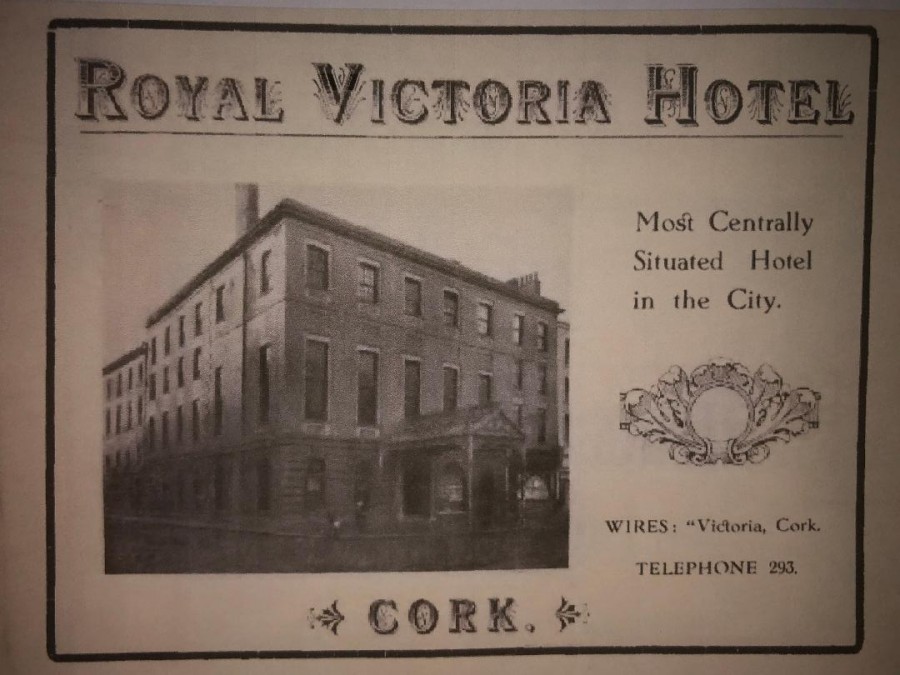 Kieran's Our City, Our Town Article,
Cork Independent, 21 November 2019
Kieran's New Book, Championing Cork, Cork Chamber of Commerce, 1819-2019
   Championing Cork, Cork Chamber of Commerce, 1819-2019 is my new book and has been funded and published by the Cork Chamber of Commerce. Following on from last week, below is another snippet from the book– focussing on some aspects of its early history and the creation of its commercial hotel, which became known as Royal Victoria Hotel.
   Circa 1819, the Committee of Directors of the Cork Commercial Buildings Company made a rule banning campaigning on political or religious matters and possibly Catholic Emancipation. This displeased many of the subscribers who left and formed the Cork Chamber of Commerce. On 8 November 1819 a meeting of subscribers of the new chamber met at Mr Shinkwin's Rooms (later the site of the Victoria Hotel on St Patrick's Street) to discuss the rules of governance, to be based on "liberal principles". The meeting was chaired by Mr Murphy while Mr Alex McCarthy presided at the inaugural General Meeting of 13 November.
   A set of rules for the organisation was drawn up and it is significant the word "chamber" was used in the antique sense, it being the intention of the organisation to provide literally a room where merchants, local and visiting could assemble to conduct business. It was also envisaged that the Chamber would act as a repository of commercial intelligence and accordingly newspapers were provided daily.
   The early minute books of the Chamber indicate that the committee members were designated and did not appoint a chairman in the modern context of the word. It appears that the chairmanship alternated between the members, each one taking it in turn to chair meetings. Such was the degree of stability between 1819 to 1831, the same members were returned by ballot at each succeeding annual general meeting, and so not more than nineteen chairmen officiated. These comprised James Daly, Martin Mahony, Richard Ronayne, David Baldwin, Thomas Fitzgibbon, Richard O'Driscoll, Robert Honan, James Hackett, Charles Sugrue, Joshua Hargreaves, George Waters, Daniel Murphy, Denis Mullins, John O'Connell, Dan Meagher, J Barry, Paul McSweeney, Thomas Lyons and Edward Penrose. It should be noted that this list is not in chronological sequence.
   An examination of the occupations of the members reveal that practically all were involved in trade as opposed to the professions and many of their domiciles and/or business premises were situated in the centre of the city. They were glass manufacturers, distillers, butter and tallow chandlers, woollen manufacturers and food processors.
   Policy papers didn't get published straight away – their first forays into galvanising support was through hosting networking dinners, setting up a reading room where all the weekly newspapers of the day could be read, honouring notable Cork emigrants abroad such as Daniel Florence O'Leary, an aide de Camp in Simon Bolivar's government in South America, honouring the Catholic Emancipator Daniel O'Connell and his diplomatic work in Westminster, and interviewing prospective candidates for membership of Westminster and asking them what their policies were.
   From the earliest minute book of the Chamber it appears that no president was elected. For several years, the Chair was taken by various members of the committee, who were elected each year. In 1822, Thomas Worthington was President. He had an eminent position in the city as Surveyor-General of Customs of Goods. By 1832 Mr D Meagher generally presided, and from that date until 1838 he is described as president. Then Mr Thomas Lyons was elected president, and he continued in this role until 1850. Thomas Lyons was active in local politics. He became an Alderman in Cork Corporation and became the first Roman Catholic mayor of Cork since 1688 after the Municipal Corporations (Ireland) Act of 1840 reformed the system of local government. He took a dynamic role in the early 1840s in promoting campaigns by Daniel O'Connell on the ongoing repeal movement of the Act of Union and Fr Theobald Mathew's Temperance campaign. The firm T Lyons and Co was a major commercial drapery factory located on Cork's South Main Street.
   In the early 1830s, the Chamber wished to have its own property and on 25 March 1831 two leases of property were taken out. One lease was for 479 years – the premises being described in the lease as containing 35 feet in front, 35 feet in width at the rear and 67 ½ feet from St Patrick's Street down Cook Street. The other lease was for 649 years and was described as the ground on which the dwelling house of Catherine Anne Barrett stood and also its back yard and back kitchen. From 1834 onwards, the Chamber built a hotel and reading room at the corner of Marlboro Street and 104 St Patrick's Street under a trust deed led by James Daly, Thomas Lyons, Charles Sugrue and various shareholders.
  The overall Chamber building facing onto St Patrick's Street was a plain unornamental building, faced with cut limestone. Its reading room was described as a spacious apartment. The lower portion of the building was let into shops, and the rere was occupied as a Hotel.
  In 1838, the Chamber of Commerce Hotel was renamed the Royal Victoria Hotel, on the occasion of the accession of Queen Victoria to the throne by Mr Thomas McCormick, senior. The Royal Victoria was patronised by the Royal Families of England, France, and Prussia, by the Grand Duke and Duchess of Saxe Coburg and Gotha, his Royal Highness Prince Phillippe, the Princesses Amelia and Clotilda, and other Royal personages.
Text Extract from Championing Cork, Cork Chamber of Commerce, 1819-2019 (2019) by Kieran McCarthy and published by Cork Chamber of Commerce. The book is available from Vibes and Scribes on Lavitt's Quay or the Nano Nagle Centre Book Shop on Douglas Street or through the Cork Chamber of Commerce, 021 4509044 or info@corkchamber.ie.
Captions:
1024a. Advertisement for Royal Victoria Hotel, 1919 (source: Cork City Library).
1024b. Front cover of Championing Cork, Cork Chamber of Commerce, 1819-2019 by Kieran McCarthy and published by the Cork Chamber of Commerce (2019).