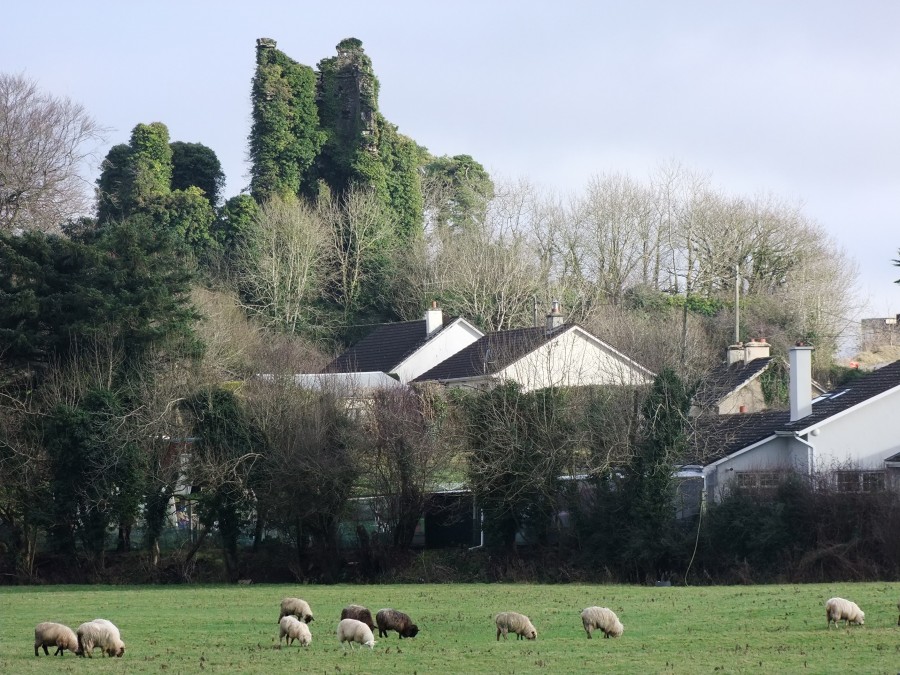 Kieran's Our City, Our Town Article,
Cork Independent, 9 May 2019
Tales from 1919: Ms Sheehy Skeffington's Plea
    On the 1 May 1919 a Sinn Féin aerideacht or cultural gathering/ rally was fixed for Coachford. It was proclaimed as an illegal activity by the military authorities. The fixture was advertised by distributing small posters and in the press – the speakers announced being Mrs Hannah Sheehy Skeffington, Mr Terence McSwiney, MP, and Mr Liam de Róiste. The Brian Boru Pipers' Band was also billed. It attracted a good deal of attention, for the village of Coachford, which was the centre of a populous and important area in Mid-Cork. It was on Saturday evening that the proclamation was served, and in a short space of time the organisers had to make other arrangements.
   The organisers decided to hold the aerideacht at Crookstown and at Clonmoyle, which is about five miles to the north of Coachford – Crookstown being about seven miles to the south. This change was conveyed to the public by word of mouth through the surrounding districts. Both were well attended. There were contingents on traps, cars, wagonettes and bicycles arriving from districts from Macroom, Ballyvourney, Canovee, Ovens, Srelane, Farran and Coachford. The Canovee Fife and Drum Band marched to the venues and added to the enjoyment of the general programme at the aerideacht of songs, dancing and recitations.
   Meanwhile the military and police made arrangements to deal with any attempt to ignore the proclamation. According to the Cork Examiner of the day, companies of soldiers fully armed and wearing trench helmets cycled to Coachford. For a good distance on the road they were almost in company with the wagonette conveying the Brian Boru Piper's Band. However, Mrs Sheehy Skeffington and Mr McSwiney, accompanied by the Ms Muriel McSwiney, motored to Crookstown via a circuitous route arriving there about 3 o'clock. No attempt was made to hold a fixture in Coachford, where the military and police remained on duty during the day.
            During an interval in the proceedings at Crookstown Terence McSwiney, who first addressed the meeting in Irish, was received with cheers. With reference to Mrs Sheehy Skeffington, he detailed that she had made a big effort to be in Cork, and he extended to her on behalf of the crowd a hearty welcome noting –"she deserves that from them not only on account of her own great work for Ireland, but out of respect to her brave husband who gave his best services to Ireland while he lived, and who died in the vigour of life for Ireland's sake".
   Mrs Sheehy Skeffington, who was most cordially received, declared her pride in being able to call herself a Cork County woman, as she was born in Kanturk. On evading the military authorities, she noted; "we concentrated ourselves that if our meeting was proclaimed that we did not go home…the result is that you have two meetings, one in the north and the other in the south. That is the spirit I would recommend to all districts where meetings are proclaimed. If one is proclaimed, hold two; if two are proclaimed, hold four, then getting the military on the run keep them on the run".
     Mrs Sheehy Skeffington congratulated the people of the districts on their wonderful organisation of the meeting and to see much of the population present. It was a long time she noted since she spoke, at a meeting unadorned by the presence of the Royal Irish Constabulary (RIC). She commented that the movement in Cork is healthy and she hoped that it would continue; "Ireland at present and probably for some time to come will be living through very critical periods, and you will need every bit of the strength of our organisation. You must be on the alert and keep steadily in mind your objective".
   Mrs Sheehy Skeffington charged that Ireland was kept in subjection to the British Empire mainly by a garrison of 12,000 Irishmen namely the RIC. She referred to the visit of the American delegates and the military display at the Mansion House after the sessions of Dáil Éireann. She noted that the people had to realise that "they were up against forces, which made their lot unsafe…Ireland had declared her self-determination by returning 73 members to Dáil Éireann for an Irish Republic". She deemed that Ireland was suppressed by Great Britain more strongly than ever. She shared her experience of British militarism through recalling the raiding of her house in Dublin after the murder of her husband in Portobella Barracks.
            To her Sinn Féin had shown that even prisons could not keep Irish men or women locked up when they made up their minds. They had also shown that Ireland was an international question and England would learn that firm governance in Ireland is a policy that will not pay in the long run; she commented that "England no longer had the ear of the world exclusively. The voice of Ireland is today heard everywhere – in Paris, America, Russia and elsewhere".
Ms Hannah Sheehy Skeffington, Mr Terence McSwiney and party then motored by a long route to Clonmoyle to address a meeting there.
May Walking Tours with Kieran:
Sunday 12 May 2019, Stories from Blackrock and Mahon, meet at entrance to Blackrock Castle, 2.30pm, (free, 2 hours, finishes near railway line walk, Blackrock Road).
Saturday 19 May 2019, Douglas and its History, meet in the carpark of Douglas Community Centre, 11am (free, duration: two hours, circuit of village, finishes nearby).
Captions:
996a. Castlemore, Crookstown, present day (picture: Kieran McCarthy)
996b. Hannah Sheehy Skeffington, 1916 (picture: Cork City Library)