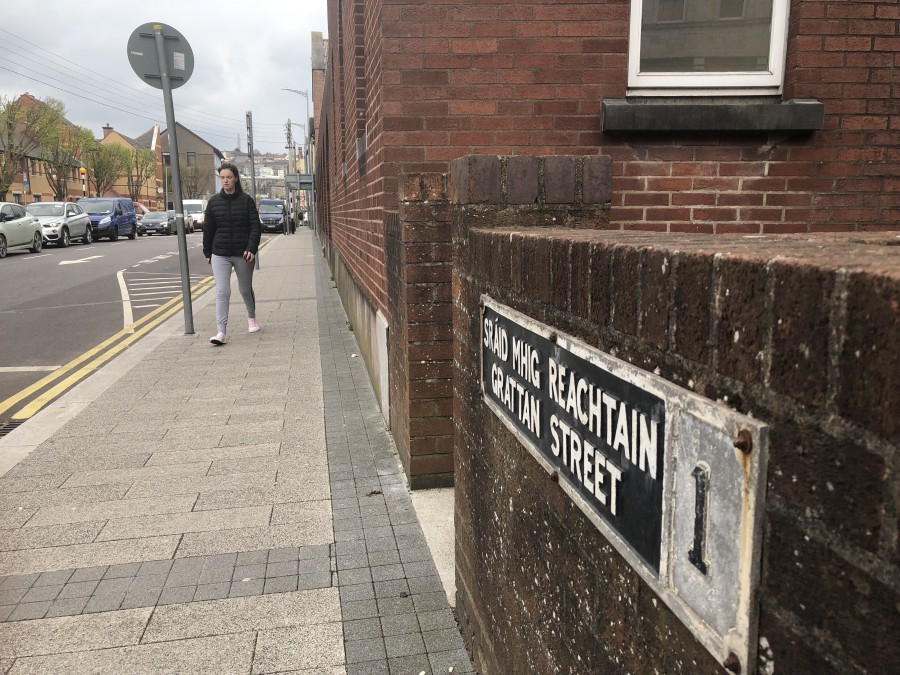 Kieran's Our City, Our Town Article,
Cork Independent, 25 April 2019
Tales from 1919: A Bomb Factory Explosion
    On the morning of 28 April 1919, the site of a Volunteer secret bomb making factory at 33 Grattan Street was rocked by an explosion. It was the location of a three-storey tenement house and of a boot shop run by Andrew Ahern on the ground floor. Michael Tobin, aged about 26 of 15 Batchelor's Quay, died at the Mercy Hospital on 20 May 1919 as a result of serious burns and shock sustained in an explosion. The wounded Volunteers were Captain Richard Murphy, Quartermaster Seán O'Connell, Paddy Varian, Timothy Hegarty and Jeremiah Downey. Miss C (Bessie) Moore of Anne Street was the wounded Cumann na mBan member. At this facility haversacks were made, gunpowder was ground, and bombs were assembled.
   On 21 May 1919, an inquest was held at the Mercy Hospital where Coroner William Murphy outlined the circumstances of death of Michael Tobin. The results were published in the Cork Examiner. The police authorities and the next of kin's solicitor appeared. Drs Crosbie and J B O'Regan were present on behalf of the Mercy Hospital medical staff. A jury was also sworn in. Timothy Ring, of the fire station at Grattan Street, was sworn in. He related that he was on duty next to 33 Grattan Street and at about 8pm he heard the crash of glass and an explosion about 50 yards away. He observed that four or five men passing by seemed to be thrown to the other side as a result of the explosion. He at once rang up headquarters, and having notified them, took a fire reel to the scene of the explosion. He saw through the smoke four or five men, one of whom seemed to have his clothing on fire.
   Head Constable William Butler on Corn Market Street went to the house and made an examination of the scene and found a quantity of chemicals and explosives, such as gelignite, and chemicals for making percussion caps and gunpowder were there. The ceiling and walls of the inner room were burned and black, and the glass blown out of the back window.
   Dr J B Regan, house surgeon, stated that the deceased, Michael Tobin, on his admission to the Mercy Hospital was extensively burned over the face, arms, and legs, and was suffering from shock. He died at 1.15pm from heart failure, from burns, shock and sepsis.
   Seeking out further bomb making facilities and ammunition hoarding, early in the morning of 12 May 1919, a force of 10 police and a detachment of 30 military under the direction of Head Constable William Butler carried out a number of wholesale raids for arms and ammunitions in various parts of the city. Four arrests were made in the course of the raids. In all eleven houses were searched in the southern police side of the city, and about the same number in the northern district. In some instances, the police were accompanied by the military with full military equipment, including a supply of trench implements. In most instances, the raids were conducted without opposition or incident, but in some cases, there was a good deal of booing and jeering at the police. In at least one instance stones were thrown at the search parties but nobody was injured. The raids began at 8am and continued well into the afternoon. In the Southern Police District amongst the houses searched were those of Jeremiah and Michael O'Sullivan, father and son, residing in Kyle Street, and Jeremiah Hurley and Cornelius Hurley, brothers, living at 62 St Mary's Terrace, Greenmount. They were placed under arrest for possessing several rounds of ammunition and military equipment. At 9pm the prisoners were conveyed from the Bridewell to the Cork Male Prison. The four men were to be court-martialled.
   In the city centre, the search for arms also took place in houses in Peter Street, Grattan Street, Paul Street, Hanover Street, Anne Street, Merchant's Quay, Douglas Street and Evergreen Buildings. In the northern district housing was searched in Blackpool, Blarney Street, Shandon Street, Pope's Quay, Leitrim Street and the Lower Road.
   At 11pm on 16 May 1919, a party of about half a dozen men entered the North Infirmary and took it upon themselves to remove Timothy Hegarty, a young man who was detained in the institution since Monday 5 May. According to interviews archived on the Bureau of Military History, his fellow injured Volunteers had been brought out and hid by fellow Volunteers in the closing two days of April. On this 16 May occasion the party of men did not wear any disguise. When challenged by staff as to their activity, they replied by producing revolvers but did not intimate any further.
   The two resident doctors, Dr Sheehan and Dr Galvin, were engaged in the female ward above the one in which Timothy Hegarty was. On the ground floor was Resident Student Mr Walsh in the pharmacy, which was closed off from the extern hospital by a locked door. Hearing commotion in the extern he opened the door and was met by the party of men. The student protested against their behaviour and went to inform the doctors. Dr Galvin arrived and warned about the health risks of removing Timothy. One of the party of men asked him to stand aside. Subsequently the men pushed on and went into the ward where Timothy Hegarty was and dressed him a in a big coat, boots and a cap on. On leaving they apologised to the night nurse on duty and to Dr Galvin. They left the scene in a covered-in car. Two were left behind to make sure no telephones were used to alert the police. One of those who left even returned later to get a watch that Timothy had left behind and a book he had lent to another patient in the ward a few days previously.
May Walking Tours with Kieran:
Bank Holiday Monday 6 May 2019, Ballintemple Historical Walking Tour; meet in old Ballintemple graveyard, Templehill, opposite O'Connor's Funeral Home, 2.30pm (free, duration: 2 hours, finishes on Blackrock Road).
Sunday 12 May 2019, Stories from Blackrock and Mahon, meet at entrance to Blackrock Castle, 2.30pm, (free, 2 hours, finishes near railway line walk, Blackrock Road).
Saturday 19 May 2019, Douglas and its History, meet in the carpark of Douglas Community Centre, 11am (free, duration: two hours, circuit of village, finishes nearby).
Captions:
994a. Grattan Street, present day (picture: Kieran McCarthy)
994b. Mercy Hospital, former Mansion House, present day (picture: Kieran McCarthy)