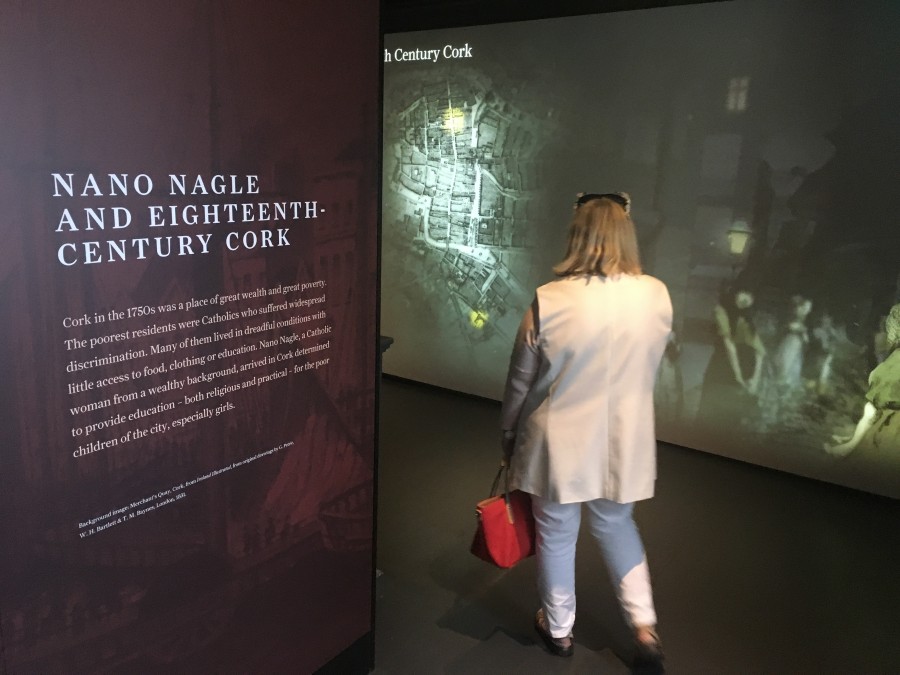 Kieran's Our City, Our Town Article,
Cork Independent, 16 August 2018
Cork Heritage Open Day, 18 August 2018
     Cork Heritage Open Day takes place this Saturday 18 August with over 40 buildings and nearly 100 associated events happening. As a way of referencing the buildings' locations, five themed self-walking routes throughout the city are suggested on the map on the guide you can pick up at venues or online at www.corkheritageopenday.ie. But one can make up your own route as well. It took me a few years to get to all of the buildings and even now returning to many of them, the non-rush makes for a more savoured approach. You can revel more in the detail of buildings and their historical context and nuances through displayed old documents, objects and pictures. Some buildings cross many timelines in their development and there is no better guide than to chat to building owners.
   The team behind the Open Day at Cork City Council group the buildings into general themes, Steps and Steeples, Customs and Commerce, Medieval to Modern, and Life and Learning and Saints and Scholars – one can walk the five trails to discover a number of buildings within these general themes.
    On the Saints and Scholar's route is the Nano Nagle Place. Like many other heritage buildings in Cork City, it an unexpected oasis in the centre of bustling Cork City. It is a place that celebrates Nano Nagle's vision of empowerment through education, community inclusion and spiritual engagement for a contemporary world. The complex houses a heritage centre, gardens, a café, and shop. The beautifully regenerated convent buildings are home to several educational charities.
    The heritage centre opens with a late eighteenth century John Rocque map of Cork City, which is one of my favourite maps to study. The era is interesting to study from a city, trade and population expansion to the social challenges problems within Cork. Nano Nagle was born in Ballygriffin townland, twenty miles north of the city in the parish of Killavullen in 1718. She was the eldest of seven children of wealthy, well-connected parents. At ten years of age, she left country to go to school in Paris with her sister Anne. This was the custom at the time of all well-to-do families Catholic families.
    Nano remained in Paris after her schooling but was brought back to Ireland when her father died. She subsequently went to live with her widowed mother in Dublin. However, a double tragedy struck soon after when her mother died in 1748 and Anne died a year later. Grief-stricken, she returned to Paris where she entered a convent.
   After several years of training in Paris, Nano heeded the advice of a Jesuit priest to return again to Ireland. Her aim was to help the crucial plight of the poor children in the country of the time. Returning in 1754, she lived with her brother Joseph and his wife Frances. In Cork, Nano Nagle provided her own wealth in helping poor Catholic children in the city. Among the backdrop of influential charity schools in the city for Protestants, she particularly wanted to provide education and instruction in the Roman Catholic faith.
   Nano's first school was in a little rented cabin on Cove Street, now Douglas Street. This school was established in a time when the Penal laws against Catholic worship were not fully in force. Public teaching of the Catholic religion did carry a large fine plus jail for three months jail for each offence. She also ran the risk that the political climate could change, and the penal laws could be tightened up.
   Such was Nano Nagle's presence in the city that she established her own congregation of sisters in 1776. This was her way of establishing a more permanent basis for her schools. Her foundation was named "Sisters of the Charitable Instruction of the Sacred Heart of Jesus" (which became the Presentation order in time). Nano died on 26 April 1784 aged 65 years.
   As Nano Nagle was consolidating her first school in the 1760s, the topography of the city was gearing up for further changes. In 1761, new by-laws were passed which aimed at collecting more taxes from citizens to enable improvements in public 'wick in oil' lighting in the city, in creating a new water pipe supply and building two new bridges. The first bridge was to span from Princes Street to Lavitt's Island (later Morrison's Island). The second was from Lavitt's Island to Red Abbey Marsh. This is now the site of present day Georges Quay. In otherwords the second bridge proposed was the forerunner of present day Parliament Bridge (built 1806).
    In 1763, the first bridge occupied by St Patrick's Bridge was proposed. At the time, North Gate Bridge still was the only crossing point over the north channel into the city. An increase in the number of inhabitants using Mallow Lane (now Shandon Street) to gain access to North Gate bridge was prevalent. Carriages and foot passengers are described as too many making movement for pedestrians dangerous on Mallow Lane. In addition, the growing butter trade in the city in the area of present day Shandon meant that a large number of merchants were living in Blackpool, who required better access to the city centre and docks areas.
Kieran's Cancelled Tours:
Unfortunately, due to surgery on a herniated disc, I am unable to conduct tours for National Heritage Week next week. My tours, which appear on Cork City Council's brochure are all cancelled. However, there are many other talks and walks, which appear on the brochures, and this information can be picked up from Cork City Hall, the libraries or viewed online.
Captions:
959a. Entrance to Nano Nagle Place Heritage Centre, present day (picture: Kieran McCarthy)
959b. Restored convent building, Nano Nagle Place, present day (picture: Kieran McCarthy)
959c. Presentation Sister graveyard, Nano Nagle Place, present day (picture: Kieran McCarthy)