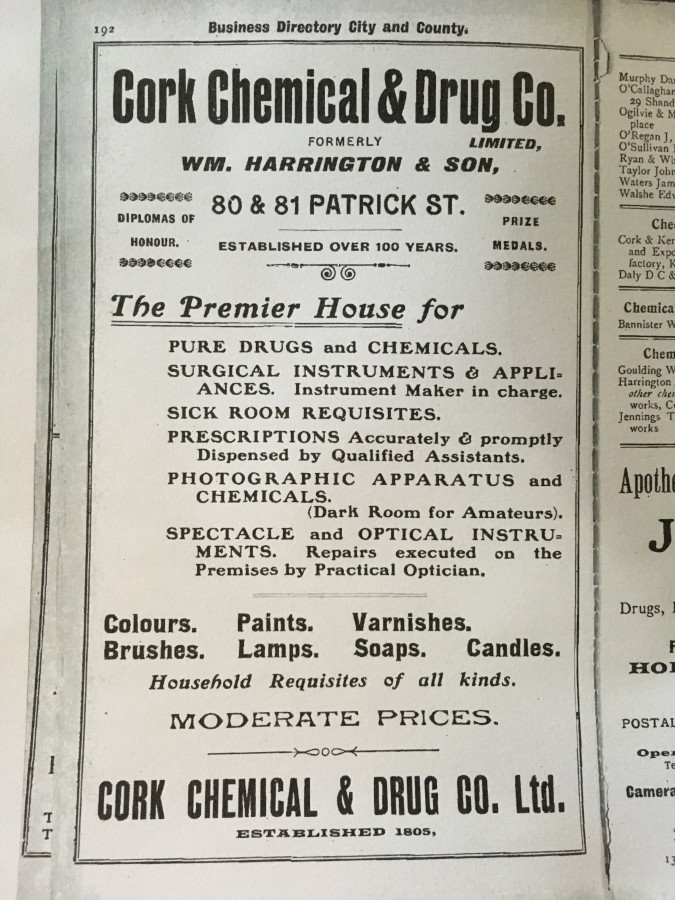 Kieran's Our City, Our Town Article,
Cork Independent, 5 July 2018
Stories from 1918: Showcases at Cork Summer Show 1918
     Cork citizens looked forward to the Cork Summer Show at the Cork Showgrounds in early July 1918. The event received a two-page spread in the Cork Examiner highlighting the prominent exhibits. Several challenges were alluded to in particular the transit of animals and sales of them. Arising from World War I, the archived minute books of the Munster Agricultural Society reveal there was a high dependency on exporting livestock, dairy and poultry produced to Britain. In 1915 the detained cattle at the ports was of serious concern for agriculture creating serious hardships for farmers across the country. The previous agricultural boom was reversed as declining prices set in.
    The war brought unemployment amongst agricultural labourers and less work for small farmers. The society struggled during the war years to attract farmers to their shows and sales. As an incentive, in year 1915 a sale of bulls was introduced into the spring show of cattle. In the year 1917 it was decided to amalgamate the cattle and horse shows and to hold it in the summer and to hold a show and sale of bulls and pigs in the spring.
    The 1918 summer show aspired to showcase a number of innovative Cork based companies in the Cork region. Rural innovation had a particular focus especially on companies who were developing new products in veterinary medicine and animal feed. The Cork Chemical and Drug Company (established in 1805, run by Harringtons in 1918 and based at 80-81 St Patrick's Street) was prominent amongst the exhibits of the Show and was situated at the main entrance. Harrington's extra superfine oat meal, a preparation prepared from the finest flesh and bone forming foods based on scientific experiments, was on display. The food had an exceptionally high percentage of oil, which was ideal to induce health animal metabolism. The firm had already received large orders from stockholders for this food, which was finding a high place in public favour. Their products were approved by the Department of Agriculture and were extensively used by County Councils and large stock breeders in Ireland.
   There were many veterinary medicines on view at the stall of the Cork Chemical and Drug Company. Visitors could peruse a useful booklet, Harrington's Practical Handbook for Farmers. At this stall as well a great variety of brushes were also shown, all of which had been manufactured in Harrington's Brush Factory. The company was started six years previously by Messrs Harringtons. The brushes were sold in Ireland, England and Scotland.
   E Love and Sons was also a popular stand just inside the main entrance. They had an extensive display of feeding stuffs for all classes of stock. Messrs Love made a special effort to meet the animal food shortage situation and introduced several new methods to distribute in large quantities all over the South of Ireland. Special attention was directed to their No. 2 Feeding Oatmeal, which was on par to Indian Meal for fattening pigs. In addition to this, they displayed special meals arid grains for horses, cattle, pigs and poultry.
    J Atkins and Company Ltd had an exhibit from the UK division of Iowa, USA's Amanco of paraffin engines. They were pitched as being simple and economical, were suitable for naming, grinding and food preparing machinery and also for pumping and sewing. A special exhibit of the Bamford rapid grinding mill was on display as well as the Hinman milking machine. The exhibit put a focus on work efficiency and the fact that a child with the latter milking machine could milk 25 cows per hour, or a farmer could milk 30 cows per hour with four machines. There were over 30,000 of these machines in successful operation, and the Hinman has won all the competitions in which it has been entered, including the Panama-Pacific Exhibition, where they won the gold medal.
   In a central position at the show, was the engineering and agricultural implement works of William McBride and Sons Ltd, Merchant's Quay, Cork. The firm had a well-arranged display of the most up-to-date farming machinery. The company, which was founded in the late nineteenth century was well-known. Special prominence was given to the McBride patent thistle cutter, of which close on 5,000 machines were now manufactured at the Merchant's Quay Ironworks. The thistle cutter was not only a favourite in Ireland, but was also exported in large quantities to England, Scotland and Wales. They held two gold medals, awarded at English shows. The harvesting machinery comprised a very fine collection of binders, mowers, reapers, wheel rakes and swath turners. Many of their man-hole designed covers for Cork Corporation in Cork City over time have also survived.
     Prominent as well on display was a fine selection of Cork-made solid silver cups and bowls shown by Messrs William Egan and Sons Ltd. This old established firm had resuscitated the old Cork industry of silver-making. Orders for their manufactures came from all parts of the country, and a great many from Irish priests in America and Australia, for chalices, ciboria, and other sacred vessels. Egans were also makers, on a large scale of all manner of church embroideries, etc., Irish poplin vestments, lace, albs, surplices, oak altars, pulpits, brass candelabra, gongs, sanctuary lamps, religious and sporting medals in gold and silver, which they supplied in large quantities, to all parts of Ireland.
For more information on the Munster Agricultural Society, check out Munster Agricultural Society: The History of the Cork Showgrounds (2011) by Kieran McCarthy
Captions:
953a. Advertisement for Cork Chemical and Drug Co. 1907 from Guy's Directory of Cork City and County (source: Cork City Library)
953b. Advertisement for William McBride & Sons Ltd, 1919 from Cork: Its Chamber and Commerce (source: Cork City Library)