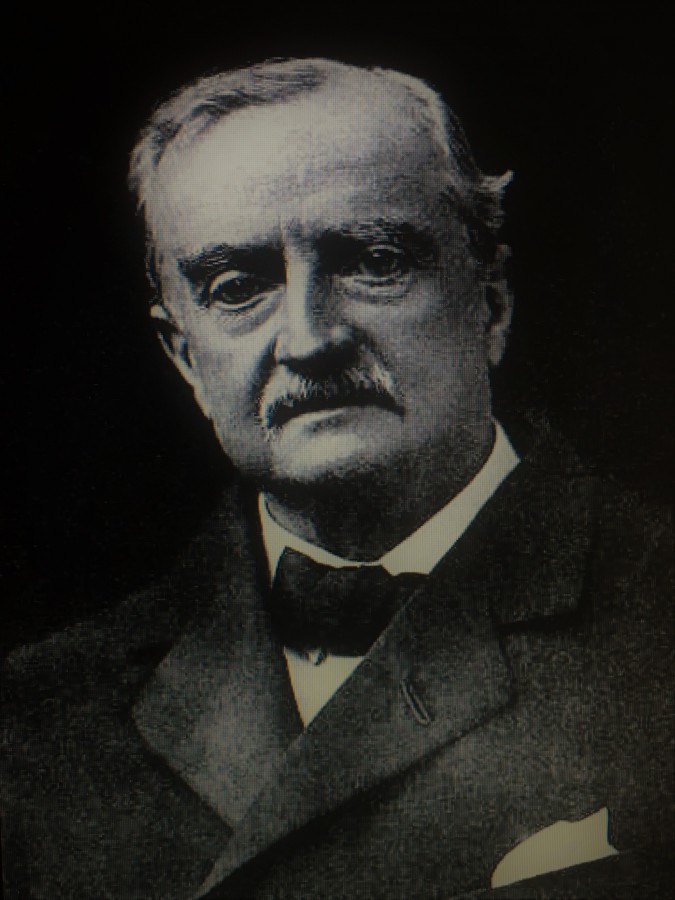 Kieran's Our City, Our Town Article,
Cork Independent, 15 March 2018
Stories from 1918: Death of John Redmond
    News of the death of Irish Nationalist leader John Redmond reached Cork on Wednesday 6 March 1918 with a heavy sense of shock. His last visit to Cork was towards the end of September 1917 when the Irish Convention sat for three days in Cork. The flags over Cork City Hall, the Harbour Board, and the several public buildings and clubs in the city, as well as some ships in the harbour.
    John Redmond (1856-1918) was born in Wexford into a Catholic gentry family, he was educated at Clongowes Wood College, Clane Co. Kildare and at Trinity College, Dublin. After graduating he became a clerk in the House of Commons and devoted his life to politics. Young John Redmond was returned unopposed for New Ross, early in 1881. Very soon Charles Stewart Parnell appointed him as party whip, with the special duty of organising the Irish vote in the industrial cities of Britain. The Irish voters became a decisive factor in many such places. In the following years Redmond's command of the Irish vote in Britain, reinforced by his own persistent and convincing narrative for Home Rule, counted enormously.
    John Redmond continued as leader of the Parnellites until the re-union of the Nationalist Party in 1900. He lost his former seat in County Wexford, but he soon won Waterford City as a Parnellite. He continued to represent Waterford until his death in 1918.
   As the young leader of the Parnellites, John Redmond also began to show remarkable abilities as a debater and as a parliamentary tactician. For five years, between 1909 and 1914, John Redmond attained a position of almost unchallenged authority as leader of the Irish nationalist forces both at home and overseas. It was a position that even Daniel O'Connell and Parnell had never occupied. He counted on the support of highly organised Irish associations all over Britain and the USA, and in Australia and other countries.
   By the summer of 1914 John Redmond had reached a point at which self-government for Ireland, without Partition and with full scope for future enlargement of its powers, was accepted as inevitable within a matter of months. However, the outbreak of World War I scuppered these plans.
    June 1917 coincided with the ground being laid for further national discourse on the future government of Ireland in the form of the Irish Convention. In a letter dated 16 May 1917 and addressed to Mr John Redmond, leader of the Irish Parliamentary Party, the Prime Minister Lloyd George expressed his hope that "Irishmen of all creeds and parties might meet together in a Convention for the purpose of drafting a constitution for their country which should secure a just balance of all the opposing interests". Invitations were extended to the Chairmen of the thirty-three County Councils, the Lord Mayors or Mayors of the six County Boroughs. The Chairmen of the Urban Councils throughout Ireland were requested to appoint eight representatives, two from each province. The Irish Parliamentary Party, the Ulster Parliamentary Party and the Irish Unionist Alliance were each invited to nominate five representatives. The report of the outcomes of the Convention were compiled and published by Horace Plunkett in 1918 but came too late as the conscription crisis overshadowed its release and Sinn Féin continued their re-organisation.
      On Saturday 16 March 1918 the remains of John Redmond were laid to rest in the family vault in his native Wexford. On Friday his exiled compatriots in London, and representatives of the British, French, Belgian, Italian and American nations, joined together in praying for the soul of Ireland's dead Leader. It was not until the remains of Ireland's great political Leader had been borne across the Irish Sea and had touched Irish sort that the full fervour of his countrymen's respect were made manifest. People gathered from all parts of Ireland to mark their appreciation of his life work. Beside his grave, Mr John Dillon, his successor, gave the oration. Mr Dillon came of a patriotic stock, and his father, John Blake Dillon, was a follower of Daniel O'Connell, and subsequently of Smith O'Brien, and later became one, of the founders and proprietors of The Nation newspaper. He was also MP for Tipperary for a time. Mr Dillon represented East Mayo in the British Parliament since 1885 – a record of continuous service. He was also a leading land reform agitator as member of the original committee of the Irish National Land League spearheading the policy of "boycotting" advocated by Michael Davitt with whom he was allied in close friendship.
     John Redmond was honoured in name in a prominent Cork street and a sporting Club. In 1902, to mark John Redmond's achievements, Mulgrave Road in Shandon was renamed Redmond Street. In the late 1830s, Mulgrave Street was developed to provide more direct access between‌‌ the Butter Exchange and the docks on the east side of St Patrick's Bridge. The project was financed by Cork butter merchants and named after the Earl of Mulgrave, Lord Lieutenant of Ireland. Redmonds GAA club was founded in 1892. In the early years of the GAA, clubs represented their county in the All-Ireland championships. Redmonds were involved in the Senior Hurling Championship finals ten times from 1892 to their last finals appearance was in 1927.
Captions:
937a. John Redmond, leader of the Irish Parliamentary Party (source: Cork City Library).
937b. John Redmond (centre) in 1912, with his brother Willie (left) and son, Capt. W.A. Redmond (right) (source: National Library of Ireland).