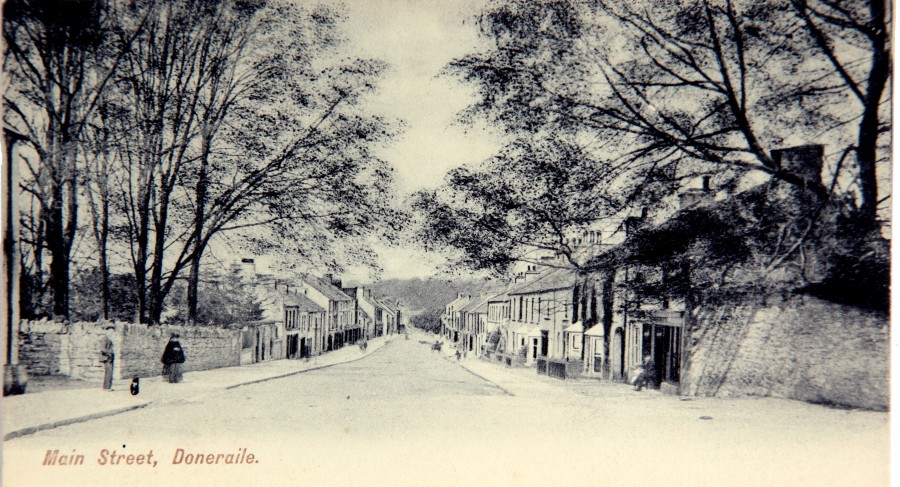 Kieran's Our City, Our Town Article,
Cork Independent, 19 January 2017
The Wheels of 1917: Made in Cork
    This week's article is inspired by a summary report, 100 years ago today, in the Cork Examiner on 19 January 1917. The article addressed the activity levels of technical instruction in County Cork and the educational, arts and crafts activities associated with it for the season 1915-16. The article is also inspired by the current and great exhibition in the Crawford Art Gallery called Made in Cork, it celebrates the unique history of the arts and crafts movement in the County and city of Cork from the early twentieth century. The collection of 70 beautiful examples of the finest crafts Cork has to offer is curated by art historian Vera Ryan. The exhibition runs till 25 February 25 and commemorates both the centenary of the Honan Chapel, which was opened in 1916 and the centenary of the 1917 Arts and Crafts Society exhibition in Cork, which took place in the Crawford Art Gallery, then Cork School of Art.
    The meeting of the County Cork Technical Committee was held on the third week of January 1917. It was a monthly meeting and was chaired by Canon Thomas Barrett, Parish Priest in Passage West. He had deeps interests in promoting community life and education and also had fundraised successfully monies for the construction of the Catholic Young Men's Society Hall in Passage. The committee, Canon Barrett chaired, had been created some years previously, under the banner of the Agriculture and Technical Instruction (Ireland) Act in 1899. The act recognised the need for an Irish framework for technical education in an attempt to halt industrial and manufacturing decline and provide employment. Technical instruction was re-organised under local authorities and committees were funded to run local programmes. County Councils also had to rent schools, and in many instances had to also build them. A system of instruction outreach was planned in experimental science, drawing, and manual work, and domestic economy in day secondary schools.
    At the January 1917 meeting a summary of Technical Instruction Inspector, Mr J J McCaffrey's report was read out on the scheme of technical instruction in County Cork during the session 1915-16. He praised the work of the instructors but as per the national mantra in technical instruction he pressed to have them work longer hours. The committee was quick to note that it's finances were at breaking point, was struggling to rent appropriate spaces for instruction and was finding it difficult to provide twenty hours of teaching for instructors in some of the outlier districts. The debate and results do offer an insight into the nature of arts and crafts in Cork and its geographic spread in 1917 and the underpinning of the importance of local industry to provide personal opportunity one hundred years ago.
   During the winter session, the work of the eight manual instructors employed under the technical instruction scheme were organised in elements such as woodwork, domestic economy, embroidery, needlework, commercial work, and art classes. Classes were about to be arranged in farriery for blacksmiths and in rural science and school gardening for National school teachers. From late Spring the eight technical instructors were occupied five days weekly and taught on an average for eighteen hours a week. McCaffrey, the inspector, noted that the results from the classes in manual instruction work were excellent in the Charleville, Doneraile, Youghal and Passage West. Several tradesmen received instruction in carpentry and joinery in Kanturk, and there was a small day class for apprentices in Fermoy. A small first year building construction class was taught in Youghal. McCaffrey noted that instruction in Baltimore in manual instruction, practical geometry and several stages of boat-building drawing were taken concurrently with the students meeting in three different classrooms. Under such circumstances progress was not being made.
     Syllabuses were followed in domestic economy, and in many of the centres the number of students enrolled was quite large. The classroom used at Killavullen was deemed by McCaffrey as satisfactorily lit, but stood in need of repairs, whilst that at Ballyhooly the room gave a very good floor space, but was also poorly lit. Courses in cookery were held in two permanent centres – Mallow and Youghal. The Mallow class suffered from oversubscription. The teaching of needlework was deemed satisfactory in many centres. At Macroom, instruction was given in various kinds of plain needlework. At Ballineen the accommodation was reported as quite unsuitable as seats were not provided. An instructress in crochet work conducted courses in temporary centres. McCaffrey highlights that the accommodation at Knockavilla was deemed satisfactory, but that at Crossbarry was unsuitable and that the work-room needed to be more comfortable.
     The commercial courses were deemed well conducted at all centres from Bantry to Charleville. The accommodation provided though was deemed not suitable for commercial students. Art classes for teachers were satisfactorily conducted at Mallow and Bantry. Art classes for ordinary students were held in Fermoy. At Passage West, classes were held in three science subjects under part-time teachers. In each of these, parallel instruction was given in two or more syllabuses, much to the detriment of students who wished to attend all the classes. McCaffrey's report offers an interesting light into arts and craft education in County Cork but check out Vera Ryan's Exhibition, Made in Cork in the Crawford Art Galley to discover more on the production of some real treasured and local crafted work from circa 1917.
If you missed one of the columns in 2016 and before, check out the Our City, Our Town index at my website, www.corkheritage.ie
Cork 1916, A Year Examined (2016) by Kieran McCarthy & Suzanne Kirwan is now available in Cork bookshops.
Cork City History Tour (2016) by Kieran McCarthy is also available in Cork bookshops.
Captions:
878a. Main Street, Doneraile, c.1910 (source: North Cork Through Time by Kieran McCarthy & Dan Breen)
878b. New Street, Bantry, c.1910 (source: West Cork Through Time by Kieran McCarthy & Dan Breen)