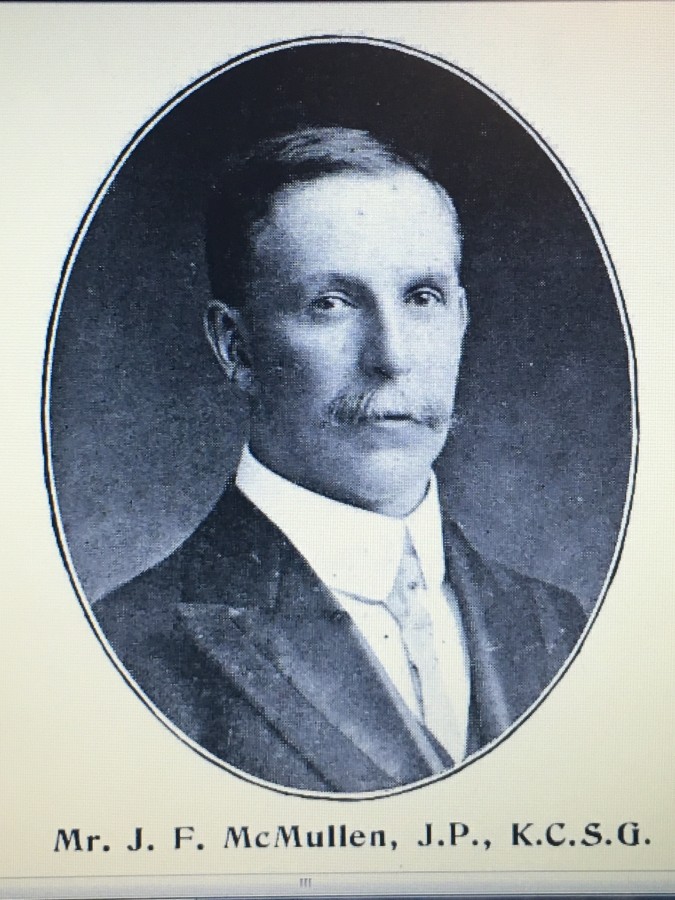 Kieran's Our City, Our Town Article,
Cork Independent, 10 November 2016
Remembering 1916: McMullen's Genius
   The Honan Chapel celebrates its centenary this week. It opened officially on 5 November 1916. It is unique of its kind and John O'Connell, solicitor and distributor of Isabelle Honan's will lavished much care as well as imagination on the church's construction and fitting out (see last week's column). John O'Connell was a great expert on ecclesiastical archaeology. He wrote many books and papers including "The Honan Hostel Chapel", which can be read in local studies in Cork City Library. He also gave the site of the Turners Cross Schools in 1932 to Bishop Daniel Cohalan. He was also a descendent of Daniel O'Connell; hence the place name connections to Daniel O'Connell in Turners Cross.
   On 18 May 1915, the foundation stone of the Honan Chapel was blessed and laid by the Bishop of Cork Dr Thomas Alphonsus O'Callaghan, and work progressed steadily on it. The new chapel was intended to be a real work of art. The architect James F McMullen planned a very beautiful structure in the Hiberno-Romanesque style, a style, which prevailed nine centuries previously. The Irish Architectural Archive in their Dictionary of Irish Architects denotes that architect and civil engineer James Finbarre McMullen (1859-1933) was born in 1859. He was the youngest son of Barry McMullen, a well-known Cork builder. After attending St Vincent's School, James entered the arts faculty of Queen's College, Cork, in 1875. At some stage he evidently decided to take up engineering as a career and served an apprenticeship with his elder brother Michael Joseph. In 1882 he exhibited a design entitled 'What the Farm Labourers require' at the Irish Exhibition of Arts & Manufactures, Dublin. He opened his own office in Cork c.1886.
   James McMullen's practice was a varied one, including ecclesiastical, hospital, industrial, commercial and domestic work, primarily in the city and county of Cork. He was architect to the South Infirmary, Cork, for some thirty years and was appointed local engineer and valuer for the Cork Junction Railway in 1904. Some of his largest and best known works apart from the Honan Chapel included Marina Flour Mills on Victoria Quay (1890-92), the Eye, Ear and Throat Hospital on Western Road (1895-97), the Fr Mathew Pavilion Museum at the Cork International Exhibition (1902), additions to the sanctuary for the Capuchin Fathers at Holy Trinity Church (1906) and the restoration after destruction by fire of Castle Freke House (with architect, Kaye-Parry & Ross) in 1910-12.
In addition to running a successful practice, James McMullen played an active part in the life of the community, devoting much time to city hospital work. Living in Trabeg in Douglas, he was appointed a magistrate for the borough of Cork in 1903 and High Sheriff in 1908. In 1910 the honour of Knight Commander of the Order of St Gregory the Great was conferred on him by Pope Pius X. According to his obituary in the Irish Builder, he acted as City Engineer for Cork for some years. He died in 1933, leaving an estate valued at £23,729. He had married Margaretta, daughter of J T Murphy, of Macroom, in 1907. His son James carried on the practice.
    The Honan Chapel is based on the most famous Irish church of Hiberno Romaneque style that of Cormac's Chapel on the Rock of Cashel. It was not the first Cork Chapel to adapt its design in the early twentieth century. St Finbarr's Oratory in Gougane Barra, opened in 1902 and its architect Samuel Hynes was also inspired by Cormac's Chapel. Cashel constitutes the most famous architectural assemblage to survive from Medieval Ireland. The entire summit of the Rock has a very complex mix of ideas about history, architecture, public space and meaning. The place is tied to a sacred history – the legend of St Patrick converting the Munster Gaelic kings of old. The information panels at Cormac's Chapel detail that it was begun in 1127 and consecrated in 1134. At that time, Cormac's Chapel was a political statement. The act of building it was a political act asserting identity. On the eve of Church reform, architecture became a form of dialogue of contestation. King Cormac MacCarthy, founder of the Chapel at Cashel, was a supporter and patron of the reform movement. The chapel was deemed a metaphor for his kingship, and religious interests and attached to influences of the renaissance in the way of life of the church.
   The course of stone in Cormac's Chapel was so correctly laid, that the joints escaped the eye so that it seems the whole wall is composed of a single block. The impact of such a church building was not seen before. Archaeologist Tadgh O'Keeffe in his book Romanesque Ireland, Architecture and Ideology in the Twelfth Century (2003) highlights that the architects of the Romanesque style were also occupied with great master-pieces. Sculptors and architects were moulded by European Art. The idea existed that Romanesque had form and meaning and thus became fashionable and sophisticated. Cormac's Chapel as a memorial relied on the permanent qualities of architecture, scale, mass, spacing, proportion, utmost simplicity, and memory. These latter ideas also imbue the Honan Chapel and make it stand out as architectural structure of beauty.
Honan Chapel Symposium, Saturday 19 November, Aula Maxima, UCC, 9.15am-6pm, programme and registration at niamh.mundow@ucc.ie
Cork 1916, A Year Examined by Kieran McCarthy & Suzanne Kirwan is now available in Cork bookshops.
Captions:
869a. James F McMullen, architect of the Honan Chapel, UCC (source: Pike's Contemporary Biographies)
869b. Interior of Cormac's Chapel, Rock of Cashel, inspiration for Honan Chapel (picture: Kieran McCarthy)
896c. Honan Chapel, 1916 (source: J O'Connell, The Honan Hostel Chapel, 1916)