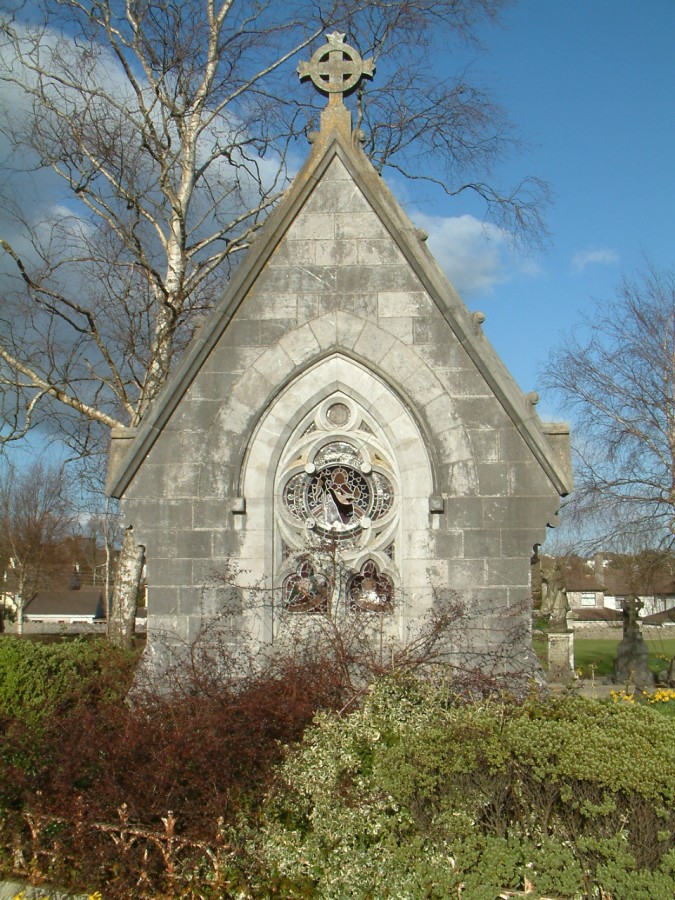 Kieran's Our City, Our Town Article,
Cork Independent, 3 November 2016
Remembering 1916: Honan Chapel Celebrates its Centenary
   One hundred years ago this week on 5 November 1916, the amazing architectural structure of St Finbarr's Chapel at UCC or the Honan Chapel had its official opening. The Cork Examiner noted in its editorial the day after the opening the thought and work that went into planning its construction; "the provision of a chapel out of the Miss Isabella Honan Trust Fund was a happy thought on the part of Sir John O'Connell, her executor [of her will], who is himself a lover of Celtic art…it is only right to say that Sir John O'Connell took the utmost pains that everything in connection with the building of the chapel, materials, equipment, as well the carving and stained glass, should be the work of Irish artists".
   Isabella Honan of 26, Sidney Place, had died on 8 August 1913. Her obituary in the local newspapers recorded that she had belonged to an old Cork family, which had long been associated with charitable organisations in the city. The Honan Home (founded as a charitable trust in 1896 to host 12 aged and impoverished men) and the extension of St Patrick's Church, were well known monuments of the religious and charitable zeal of her brother, Matthew Honan. Isabella herself had given £10,000 for scholarships to University College Cork. On her death, Isabella left a personal estate valued at £153,331 8s 5 ½ d. The distribution of her will was granted to John Robert O'Connell, of 24, Kildare Street, Dublin. Over 22 charitable organisations in Cork were allocated monies in her will ranging from £500 to £1,500. All were delighted with their funding and they sent several letters to editors of newspapers giving further insight into their work but also respect for the Honan Family. Trust funds representing the residue of her other brother's Robert estate, totalling £40,000, were also granted to John O'Connell to distribute at his discretion to charitable purposes.
   In an open public later to President Bertram Windle, UCC on the Cork Examiner on 6 April 1914, John O'Connell expressed concern that the Honan Hostel called St Anthony's Hall, under the General Order of Friars Minor would sever their connection. The hostel was the house of residence for students at University College, Cork. It has been initially established in 1884 for Protestant students attending the college but began to house Catholics from 1909 onwards. John O'Connell in 1914 wrote about reconstituting it under new management; "it occurred to me that the reconstitution of this hostel, under a permanent Catholic Governing Body, would be of an immense benefit to the Church, and to the entire Catholic population of Munster, and one which would have been peculiarly pleasing to Miss Honan herself". His idea was that the business side of the institution and the discipline of the students should be looked after by a warden, who for obvious reasons, should be a married man. He also noted that part of his scheme should be a proper chapel "suitable to the dignity of a university, with a chaplain resident in the Hostel, responsible for the spiritual welfare of its inmates, and provided for by endowment". Bishop of Cork O'Callaghan agreed to John O'Connell's requests for a governing body and a chapel.
     As a further contribution, John O'Connell arranged to allocate to University College, Cork, a sum of £3,000 for the completion of a Biological Institute, dealing with the subjects of botany, agriculture, zoology, and geology. He was convinced that the training in agriculture afforded by UCC to the students of Munster would be rendered "more efficient and successful". He also asked that St Anthony's Hall should be called the Honan Hostel and that the Biological Institute in future should be known as "The Honan Biological Institute".
    John O'Connell was the driver of the Honan Bequests. In his obituary in the Cork Examiner on 29 December 1943, it was noted that he was born in Dublin on 12 February 1868, and was educated at Belvedere College and Trinity College, Dublin. He was admitted a solicitor (Ireland) in 1889 and was head of the firm of Thomas F O'Connell and son solicitors, Dublin. He was knighted in 1914 and in 1924 was made Commander of the Order of St Gregory the Great by Pope Pius XI. During his lifetime he was a member of the Senate of the University of Dublin, member of the Governing Body of UCC, a fellow of the Royal Society of Antiquities of Ireland and Vice President of the Incorporated Law Society of Ireland. In 1901 he married Miss Mary Scally of Dublin and following her death he sold his house at Killiney, Co Dublin, and spent some time with the Benedictine Monks. He decided to become a secular priest and was ordained for the Diocese of Westminster.
    John O'Connell was a great expert on ecclesiastical archaeology. The Honan Chapel is unique of its kind and John lavished much care as well as imagination on its erection and fitting out. He wrote many books and papers including "The Honan Hostel Chapel", which can be read in local studies in Cork City Library.
Honan Chapel Symposium, Saturday 19 November, Aula Maxima, UCC, 9.15am-6pm, programme and registration at niamh.mundow@ucc.ie
Cork 1916, A Year Examined by Kieran McCarthy & Suzanne Kirwan is now available in Cork bookshops.
Captions:
868a. Honan memorial, St. Finbarre's Cemetery; the back stained glass window of the memorial needs to be urgently fixed (picture: Kieran McCarthy)
868b. Honan Chapel, 1916 (source: J O'Connell, The Honan Hostel Chapel, 1916)