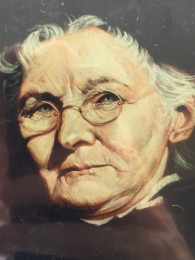 Kieran's Our City, Our Town Article,
Cork Independent, 28 July 2016
 Mother Jones Festival, 28 July-1 August
    The 2016 Spirit of Mother Jones Festival/ Summer School will be held in Shandon over five days in Cork city from today, Thursday 28 July until Monday 1 August 2016, designated by Cork City Council as Mother Jones Day. This event celebrates trade union activist, Corn born Mary Harris, known as Mother Jones, and it is "dedicated to inspirational people everywhere who fight for social justice".
    This is the fifth annual summer school/festival organized by the Cork Mother Jones committee since 2012, when the committee erected a plaque in Shandon to honour "the most dangerous woman in America". She was born in Cork in late July 1837 and baptised in the local North Cathedral on 1st August that year. She lived through the famine in Cork and later left with her family for Canada. She later emerged as one of the most celebrated and feared union leaders in the USA and was a passionate defender of miners and the rights of workers and those discriminated against everywhere.
    The 2016 Summer School will be spread over five days with talks, discussions, films and music each evening. According to Jim Nolan of the Cork Mother Jones Committee; "The 2016 festival and summer school will again see a wide variety of talks, films and music associated with social justice issues, the history of the labour movement, and human rights. We are extremely proud that this is the fifth festival and we have managed to retain the unique, convivial and informal character of the summer school located as it is in Shandon the very heart of Cork city. These two speakers will recreate the atmosphere of Cork city at the time a young Mary Harris lived here. Our full five day programme of talks, films, music and exhibitions will be announced shortly".
    The Cork Mother Jones Committee is delighted to confirm the attendance of author Laurence Fenton, who has written an account of the visit of Frederick Douglass to Cork in 1845, when a young Mary Harris lived in the city. Frederick Douglass, a former slave and later anti-slavery campaigner spent 3 weeks in Cork city in October 1845. It is certain that the later Mother Jones would have been influenced by Douglass in the USA afterwards. Laurence Fenton will present a lecture on the visit of Frederick Douglass to Cork also at the Maldron Hotel on Friday morning 29 July at 11.30.
   The Cork Mother Jones Committee is also delighted to announce that the historian Dr Sean Pettit will appear at the 2016 Spirit of Mother Jones festival and summer school. Sean will speak about the Cork in the eighteenth century and also Shandon, at a time when the young Mary Harris was born and who afterwards became the trade union leader Mother Jones. Sean will speak on Friday afternoon 29 July at 2.30 at the Maldron Hotel.
   The programme of events begins on this evening, Thursday 28 July at the Firkin Crane in Shandon when the President of SIPTU, Mr Jack O'Connor will deliver the 2016 Mother Jones Lecture entitled "Organising to win – what is to be done!" Jack O'Connor is probably the best known trade union spokesperson in Ireland and is a passionate and straight talking speaker. He will discuss the future of the trade union movement.
    Among the confirmed participants for 2016 are journalist and author Justine McCarthy, who argues passionately for the underdog in her newspaper columns and in her television appearance. Writer and BBC correspondent and award winning journalist Fergal Keane, and former Cork resident, will discuss human rights across the world. historians such as Luke Dineen and Laurence Fenton will also contribute to various topics.
   Former Supreme Court Justice Catherine McGuiness will debate the ongoing use of Direct Provision, where over 4000 people still remain trapped in a lecture entitled "Direct provision – not the Answer!" Mrs Catherine McGuinness will speak at the Firkin Crane on Friday 29 July at 7.30pm.
    The story of extraordinary Wallace Sisters will be told by Anne Twomey of the Shandon Area History Group on Saturday 30 July at 2.30pm at the Maldron Hotel. Now a lifeless vehicular short cut, St. Augustine Street in Cork City is barely noticed by many people these days. One might be surprised to learn that many of the most famous names in the revolutionary Ireland 1915 to 1922 came and went with regularity through this street. For at number 13 Brunswick St (later 4 St. Augustine St.) was located the small shop of Sheila and Nora Wallace. During the War of Independence these firm engaging sisters went about their day to day shop keeping business and provided a perfect cover for what was a vast beehive of revolutionary activity emanating in their shop.
   Located behind their small traditionally fronted tobacconist and newspaper shop with holy pictures and statues in the window and labour pamphlets on the shelves lay nothing less than the Head Quarters of the Cork No 1 Brigade of the Irish Volunteers and I.R.A. It was effectively the intelligence centre of the IRA where messages were efficiently received and delivered by a huge network of women and men – it was in effect an IRA intelligence General Post Office!
Events as they are confirmed can be viewed on www.motherjonescork.com
Captions:
854a. Mary Harris, aka Mother Jones (source: Cork City Library)
854b. View from St Anne's Church Shandon of Firkin Crane and Shandon area, present day (picture: Kieran McCarthy)