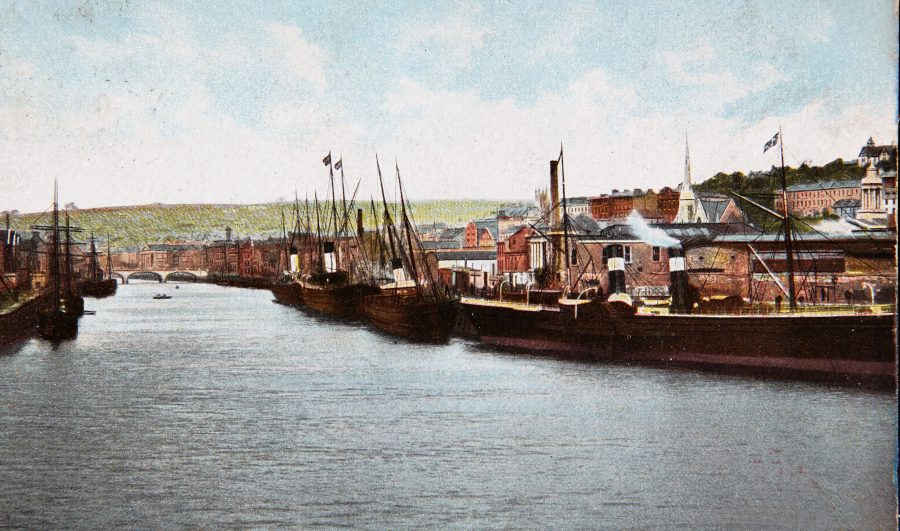 Kieran's Our City, Our Town Article,
Cork Independent, 3 December 2020
Remembering 1920: Arson, Ammo and Retaliation
In late November 1920, the fallout of events such as Bloody Sunday and the Kilmichael Ambush led to the further use of arson by Crown Forces as a common retaliation tool. Newspapers such as the Cork Examiner are full of accounts of arson against Sinn Féin clubs, Sinn Féin connected shops and random premises.
About 2am on 23 November 1920 the first of the Sinn Féin clubs were targeted. The fire brigade under Captain Hutson, Superintendent, was called to an outbreak at Watercourse Road. Proceeding there with firemen from Sullivan's Quay, Grattan Street and Shandon Street Stations. They brigade found that the upper of 35 and 36 Watercourse Road was well alight. Much damage was done to the club premises, but the fire was got under control within half an hour. As the days progressed, Sinn Fein Clubs on Hardwick Street (24 November), Grand Parade (25 November), North Main Street (27 November) and were also targeted. In Dublin acting President of Sinn Féin was arrested by members of the auxiliary police force.
Michael Murphy was a Commandant of the 2nd Battalion of Cork IRA Brigade No.1. In his witness statement (WS1547) within the Bureau of Military History he recalls that on 25 November 1920, following a Volunteer meeting in the Sinn Féin Club within Thomas Ashe Hall on Fr Mathew Quay, five men of the 2nd Battalion were standing at the corner of Princes Street and St Patrick's Street having a chat, when a Black and Tan in civilian dress came along and threw a grenade into the group. As a result, three lads were killed outright – Paddy Trahey, Vice-Commandant of the 2nd Battalion; N. Donohue, 2nd Battalion, and Volunteer Mehigan. Of the two others, Volunteer Sean Bawn Murphy had his arm shattered and Volunteer Reynolds had his thigh fractured.
In anticipation of an attempt being made by the enemy to burn the Thomas Ashe Hall, Michael and his company decided to prepare a surprise for the Black and Tans in the shape of a 'trap' mine inside the door of the Hall. The trap mine was laid for three days and nights before the Tans arrived and blew themselves up. It was necessary, therefore, to put a Volunteer guard on duty near the Hall. During the day to warn those of our men who might go into the Hall.
Michael obtained about three cwt. of gelignite and placed it immediately inside the Hall and against the outer wall. The gelignite was then well tamped with clay. Six electric detonators were fixed to the charge of gelignite and connected with electric wires attached to a switch at the inside of the front door; the switch was so arranged that it came into operation and fired the charge of gelignite when the front door was opened. They also loosened the 'keeper' of the lock on the front door, so as to make it easy to be broken, which, they anticipated, the Tans would do.
Shortly after midnight, on 30 November 1920, about twenty Black and Tans came to the Tomas Ashe Hall. Two of them hammered on the front door with the butts of their rifles while the remainder lined the wall just outside where the trap mine was laid. Eventually, the Tans burst in the door and a large explosion took place.
On 29 November 1920 the Transport Worker's Union hall on Camden Quay was fire bombed. Cork City Hall was bombed and fired again on 30 November with much damage inflicted. Across the city centre, large shops became targets by Crown Forces. Messrs Dwyers on Washington Street (21 November), Forrest's on St Patrick's Street (27 November), Cahill and Co., American Shoe Co. and Blackthorn House on St Patrick's Street (27 November) Egan's St Patrick's Street (30 November), O'Gorman's and Dalton's on MacCurtain Street (1 December), Confectionary Shop and Irish National Assurance Company on Marlboro Street (2 December).
Early in the month of December 1920, Michael Murphy was instructed by the Brigade Officer-in-Command to go to London to purchase arms. In London, the contact man was Mick O'Brien, a Cork Volunteer who was then representing his firm, Messrs. Dowdall O'Mahony & Co. in London. Mick had written to Seán Hegarty, the Brigade Officer in Command telling him that guns could be bought in London, and Hegarty sent Mick O'Brien a sum of money to purchase the guns. Mick O'Brien, however, would not do any buying requesting Hegarty go over to him. Hegarty sent Michael Murphy to London with £150 or so to meet Mick.
At this particular period, in order to build up a strong arms fund, the brigade 'levied' each company in the battalion to the extent of £150. This money was to be collected in each company area. When Michael arrived in London, he met Mick O'Brien by arrangement, and he brought him around to second hand gun shops where he inspected and bought a quantity of revolvers and ammunition. Michael purchased two Lewis guns and a good supply of ammunition. In all, when packed there were two filled barrels.
Before leaving Cork, Michael had got an touch with Sean Óg Murphy who was a clerk at the Cork Steampacket Company, and told him to expect a consignment addressed to Messrs. Swanton & Co., North Main St. Cork. This was a fictitious name; there was no such firm in Cork. On the arrival of the goods by boat in Cork, Sean Óg was to notify Michael and he would arrange to collect them.
When the two barrels of ammo came to Cork (Michael had returned to Cork by this time), they were taken out of the Cork Steampacket Company's store for delivery to Swanton's unknown to Sean Óg. When they were returned to the store, undelivered, somebody there opened the barrels, discovered their contents, and notified the police at Union Quay Barracks.
Somehow or other, Sean Óg got news of what was happening and immediately sent word to Michael. He went in haste to a haulage contractor who gave him a horse and car, and armed with a revolver, he proceeded to the Steampacket Company's store. Producing the revolver, he ordered the barrel to be loaded on to the cart and made a hurried departure with my precious cargo. On his way back, he passed a party of detectives from Union Quay Barracks who were en route to Penrose Quay.
Kieran's latest book Witness to Murder, The Inquest of Tomás MacCurtain is now available to purchase online (co-authored with John O'Mahony 2020, Irish Examiner/www.examiner.ie).
Captions:
1077a. Steamships at Penrose Quay, c.1910 (source: Cork City Through Time by Kieran McCarthy and Dan Breen).