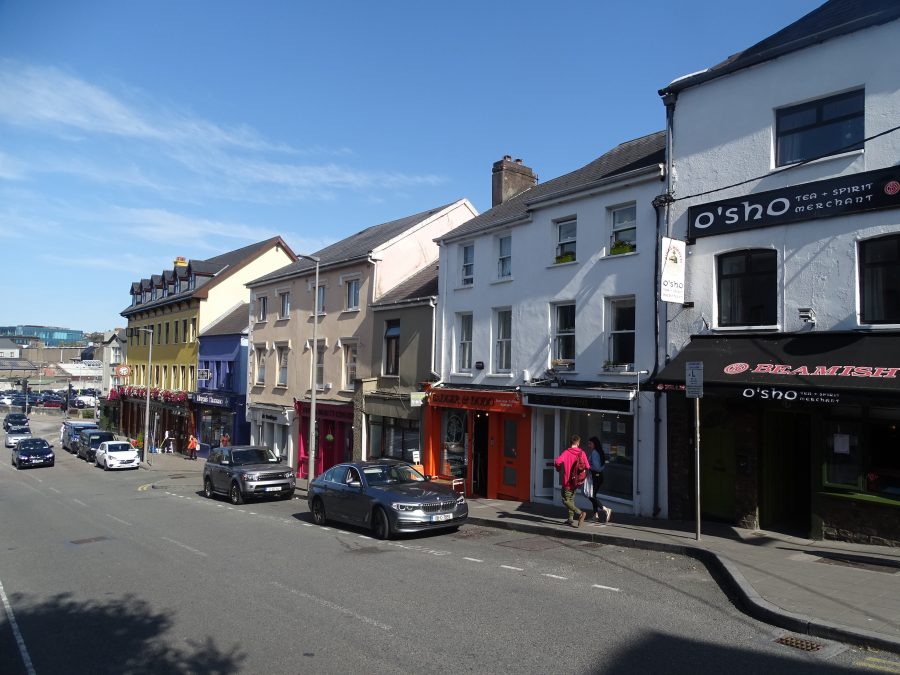 Kieran's Our City, Our Town Article,
Cork Independent, 1 October 2020
Remembering 1920: The Barrack Street Ambush
As the War of Independence intensified, the tit-for-tat violence continued in late September and into October 1920. Engineer Officer of the 2nd Battalion, Cork No.1 Brigade Michael O'Donoghue in his witness statement (WS1741) in the Bureau of Military History records he was twenty years of age running the intelligence, engineering and the signals and communications services. A Special Services unit was also organised and trained in Cork City. A small group of the latter group were trained in machine gun use and assembling. These skills were put to full use during the autumn of 1920.
At the end of September 1920, an attempt was made by men of the 1st and 2nd Battalions of Brigade No.1 to assassinate the British General Peter Strickland who, at the time, had his quarters in Cork Barracks, Cork. Occasionally at irregular tames, Strickland left the barracks in a motor car accompanied by an armed escort.
Michael Murphy, who was Commandant of the 2nd Battalion in his witness statement (WS1547) notes that in late September 1920, he and others watched for his arrival. Every day, different Volunteers took up duty at various street corners in the vicinity of the barracks. All were armed with revolvers and some with grenades. On 25 September 1920, Strickland's car appeared, travelling at a fast pace along King Street. Volunteers were taken somewhat by surprise but opened fire on him and his escort with revolvers and grenades. However, the attack was not a success. The convoy got through safely with Strickland.
On the night of 7 October 1920, Michael recalls a further ambush scenario on Barrack Street. He happened to be in the shop owned by sisters Nora and Sheila Wallace in Cork's St Augustine Street. This shop was used as a clearing house for IRA dispatches and was a regular meeting place for IRA men generally. The Wallace sisters were active Cumann na mBan figures and were well respected in their collaboration with the brigade officers.
On the night in question whilst in Wallace's with Seán Hegarty, Brigade Officer in Charge, an IRA member came into the shop. He was a civilian employee in the military barracks, Cork, where he worked as a clerk in the British Military Intelligence office. On many occasions he had passed on information of very great value. He told those present that a lorry of armed soldiers would be leaving Cork barracks the following morning about 9am and would proceed across the city to Elizabeth Fort, off Barrack Street. Michael Murphy discussed the possibility of attacking the lorry with Seán Hegarty and it was agreed that Michael himself should undertake the job on the following morning, 8 October 1920. That night, after curfew, Michael contacted about 20 men from his battalion area and told them to be at the Thomas Ashe Hall, Father Mathew Quay, the following morning about 8am. They were to come armed with revolvers and grenades.
On the morning of 8 October Michael met the men in the Hall as arranged and explained his proposed attack strategy on the military lorry. It was his intention to attack the military lorry himself along with Tadhg Sullivan, one of his company captains. They were to engage them with grenades and revolvers. The remainder of the party were then dispersed to positions covering the British military garrison at Elizabeth Fort and the police barracks at Tuckey Street and Union Quay. All of these posts were within a couple of hundred yards radius of the point in Barrack Street where the proposed attack was to take place.
Michael and Tadhg took up position at a corner on the junction of Barrack Street and Cove Street where there was a steep incline. They knew the lorry would have to slow down to get in gear when it reached that point. At about a quarter to nine the lorry came into view. As expected, the lorry slowed down, and Michael saw that it contained three soldiers in the driver's cab and eight to ten inside in the open lorry section. He threw the first grenade, which hopped off the side of the lorry and exploded wounding Tadhg and himself but not seriously. Tadgh and Michael then hurled grenades into the cab killing one of the private officers. The third grenade got into the back of the lorry causing casualties amongst the soldiers there.
The lorry continued on up the hill and was met by a volley from revolver-men stationed further up the road. Those soldiers who were not wounded now jumped out of the lorry and took refuge in nearby houses. The ambush lasted about fifteen minutes when Michael ordered the lads to break off the attack due to a lack of ammunition and they scampered.
William Barry, Captain of D Company of the 2nd Battalion in his witness statement (WS1708), notes that the Barrack Street action was a short one by reason of the fact that military and police garrisons were within a couple of hundred yards of us and were stationed at Elizabeth Fort, Tuckey Street RIC Barracks and Union Quay RIC barracks. He further notes that that his side suffered no casualties on that occasion and records that the arms and ammunition used by them on this occasion were kept in a large box in Hosford's Bakery, South Terrace, Cork, where Commandant Michael Murphy and himself were engaged building the premises.
Kieran's new book Witness to Murder, The Inquest of Tomás MacCurtain is now available to purchase online (co-authored with John O'Mahony 2020, Irish Examiner/www.examiner.ie).
Captions:
1068a. Cove Street and Barrack Street junction, 2020 (picture: Kieran McCarthy).
1068b. Present day interior of Elizabeth Fort – former site of RIC Barracks 1920 (picture: Kieran McCarthy).