There are a number of high-profile heritage sites and monuments within the south east ward. However, there are also a number of sites and plaques that remain forgotten, not to mention the limitless oral histories of the ward's residents, many of which are very relevant in understanding how the ward came into being – in fact I always think that by understanding the past, we can promote and think about the future.
My walking tours of the ward have now been developed for 12 locations in the ward itself and at other sites across the city's suburbs. When these tours are on are listed on my "walking tours" section on this website. Kieran's Walking Tours/Events | Cllr. Kieran McCarthy
List of Tours for the South East Ward:
– Ballinlough (from 'Big houses' to market gardens to Free State housing estates, also now in book format, Journeys of Faith, Celebrating 75 Years, Our Lady of Lourdes Church, Ballinlough)
– Ballintemple, From Knights Templars to Victorian splendour
– Blackrock Village, From Big Houses to Fishermen)
– Cork City Hall (history of the building)
– Cork Docks (From Jewtown, to Fords to Kennedy Park), check out my history trail here,
History Trail, Cork Docks | Cork Heritage
– Douglas Village (from Huguenots to woollen mills)
– Mahon, Where the Past and the Present meet (Dunlocha to Lakelands estate)
– Old Cork Blackrock and Passage Rail Line (1850 to present day)
– St Finbarr's Hospital (from workhouse to hospital)
– Rochestown, The Battle of Douglas, 1922
– The Marina, Where History Meets the River, check out my history trail here:
History Trail, The Marina | Cork Heritage
– Views from a Park, A walking tour across Tramore Valley Park on the old Kinsale Road landfill, includes a history of South Douglas Road & its environs
(Also see www.corkheritage.ie for Kieran's heritage website and resources on researching Cork's local history and heritage)
– Ballinlough (from 'Big houses' to market gardens to Free State housing estates, also now in book format, Journeys of Faith, Celebrating 75 Years, Our Lady of Lourdes Church, Ballinlough)
Some trail notes:
Ballinlough has a rich variety of heritage sites that provide an understanding into the development of the city and region and connections between both.
The rock-formation beneath Ballinlough is an expansive layer of fine, carboniferous limestone, rich in crinoidal fossils. The rock is potentially 300,000,000 years old.
A standing stone survives in Ardmahon Estate. It was visited by antiquarian Thomas Crofton Croker in 1815. It measures 4 feet, 10 inches high and is a limestone block. Local folklore says it may have been part of a missile cast by Fionn MacCumhall to discommode his enemies!
The area's first recorded resident to settle in the area was Patrick Meade. In records from 1641, Ballinlough was written as Ballynloghy and Patrick, a Catholic, had 144 acres of profitable land. The Meades were originally from the west coast of England.
In 1792, when Beamish & Crawford was first established, William Beamish resided at Beaumont House, which was then a magnificent period residence situated on Beaumont Hill . The name Beaumont, is the French derivative of Beamish meaning a 'beautiful view from the mountain' or a 'beautiful view'.
Ballinlough House, one of several large mansions in the area was built c.1860 by George Gregg. The house had 21 ½ acres of parkland and the adjoining crossroads were named after the family. In time 15 acres of the land were sold off to create Silverdale.
In 1850 Griffith's Valuation of property in Ballinlough, 49 individual land holdings – are listed. Some of the surnames included McGrath, Dennis, Hare, Pigott, Angleton, Barrett, Barry, Callaghan, Coughlan, Delany, Donovan, Hayes, Keeffe, Keohane, Lavallin, Love, Lyons, Mahony, Meade, Noonan, Reid, Regan, Riordan, Silke and Smith.
In the 1901 census Ballinlough townland had 17 market gardeners.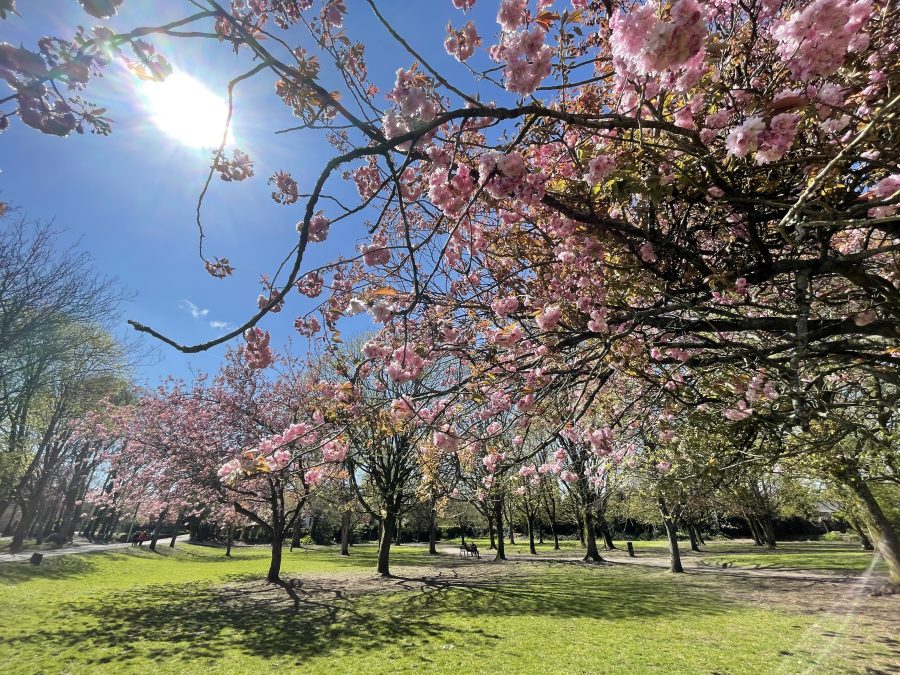 – Ballintemple (From Knights Templars to Victorian splendour)
Some trail notes:
According to Windele (1844), church erected in 1392 by the Knights Templars, which was afterwards granted to the Prior and brethren of Gillabbey.
The limestone was used in the construction of such important buildings such as the Cork Court House (1835), the Cork Savings Bank (1842) and St. FinBarre's Cathedral (1869). In the late 1800s, Carrrigmore limestone became known as Ballintemple grey marble or "Beaumont Dove"
10 October 1798, Griffin was tried by Court Martial in Ballintemple for swearing some soldiers in as United Irishmen. He was subsequently there, near where he lived.
There are also a number of other genteel houses, the country retreats of the gentry, and professional and commercial characters. They are all most pleasantly situated, mostly with neat gardens, both in front and rere, which are kept in neat order, and similar to those outlets of London (Wiliam West, 1810, A Directory and Picture of Cork and its Environs)
In Ballintemple in the 1850s, 53 residences were valued as £10 or more. Various architectural styles are notable including Norman, Gothic, Renaissance, Georgian, Victorian, Italianiate, French, Oriental. Architects include Bro.Michael Riordan, Sir John Benson, Deanes, Morrisons, Richard Brash, Hargraves, Walkers and the Hills.
The largest House of the Congregation of Missionary Sisters of Our Lady of Apostles in Ireland is to be found in the South in Ardfoyle in Cork which has been in existence since 1913.
An 1844 account records that near Ballintemple are two private lunatic asylums. Cittadella, belonging to Joshua Bull, Esq., and Lindville belonging to Dr. Osborne, which was situated in a demesne of 14 acres.
Daniel McCarthy erected the McCarthy Monument near the former Diamond Hill quarry white quarts or rock crystal on the Blackrock Road in honour of his brother Alexander McCarthy in 1871.
The Society of African Missions was founded by Bishop Melchior de Marion Bresillac on 8 December 1856. St Joseph was built in Ballintemple in 1880.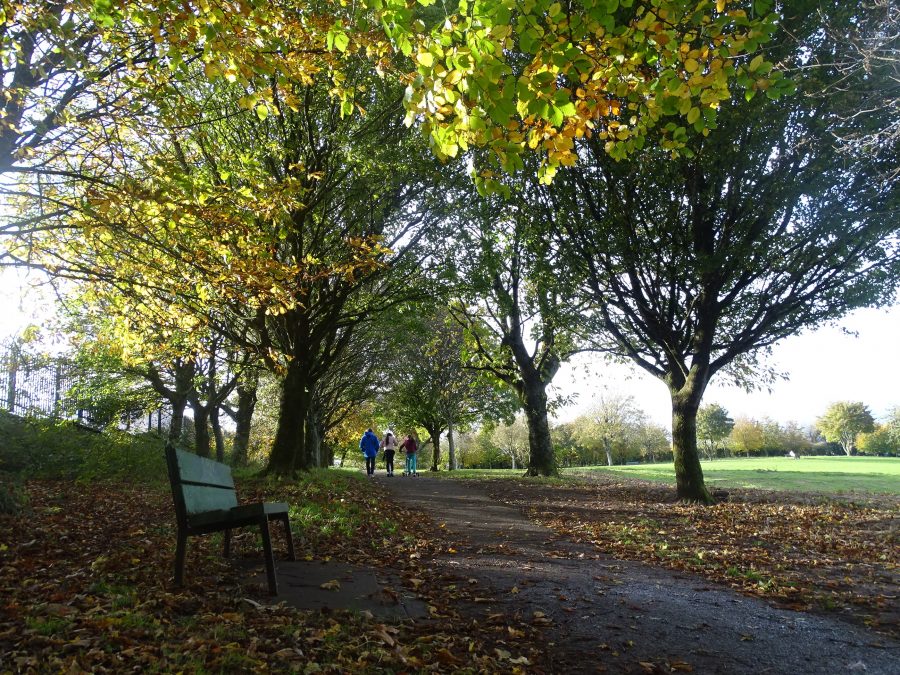 – Blackrock Village (From Big Houses to Fishermen)
Some trail notes:
The Galway family marked their presence in Blackrock by constructing Dundanion Castle, a tower house, which was built circa 1564 and lived in by various occupants until 1832. Blackrock Castle was built circa 1582 by the citizens of Cork with artillery to resist pirates and other invaders.
Samuel Lewis, 1837: "The scenery is of the most varied and pleasing character, exhibiting numerous elegant villas and cottages, with lawns, gardens, and plantations reaching down to the margin of the Lee, which is here a noble expanse of water more than a mile broad, constantly enlivened by steam-boats and other vessels".
The Seat of the Chatterton family, occupied by Sir James Chatterton in 1814 and Sir William in 1837 and at the time of Griffith's Valuation when it was valued at £47. The building now houses a youth centre run by the Redemptorist Order.
Blackrock Coastguard was one of 56 Coastguard stations in Co. Cork.
In 1843 Blackrock village had 557 families; Ninety families were living in one room to each family, 260 in two rooms and 207 in three or more rooms to each family, the average number of persons to a bed three.
The men of the sea, Coughlans, O'Learys, Kidneys, John Cashman, Buckleys, Norbergs, Deleas and Ahernes, were all outstanding hurlers. The Coughlans were skilled salmon fishers in the Lee Estuary and owned five or six oar boots specially built for river work When they weren't hurling they rowed with Blackrock Boat Club.
Prior to the foundation of the County Board in 1886. A committee organised a competition called the Challenge cup. Twelve teams took part in what was to become the forerunner to the present day County Championship. Blackrock was known as the Cork Nationals in those days, first recorded competitive match in this competition was a semi-final against Macroom.
On 25 March, 1899 a bunch of young men, all of them members of Dolphin Swimming Club, took the decision to form a Rowing Club. They even decided on the club colours Chocolate and White. The Cork Boat Club was founded.
Thomas Deane of Dundanion House was to the forefront of the development of the arts and sciences in his native city. He served on Cork Corporation for many years. He was Mayor of Cork in 1815, 1830 and 1851, and was knighted in 1830.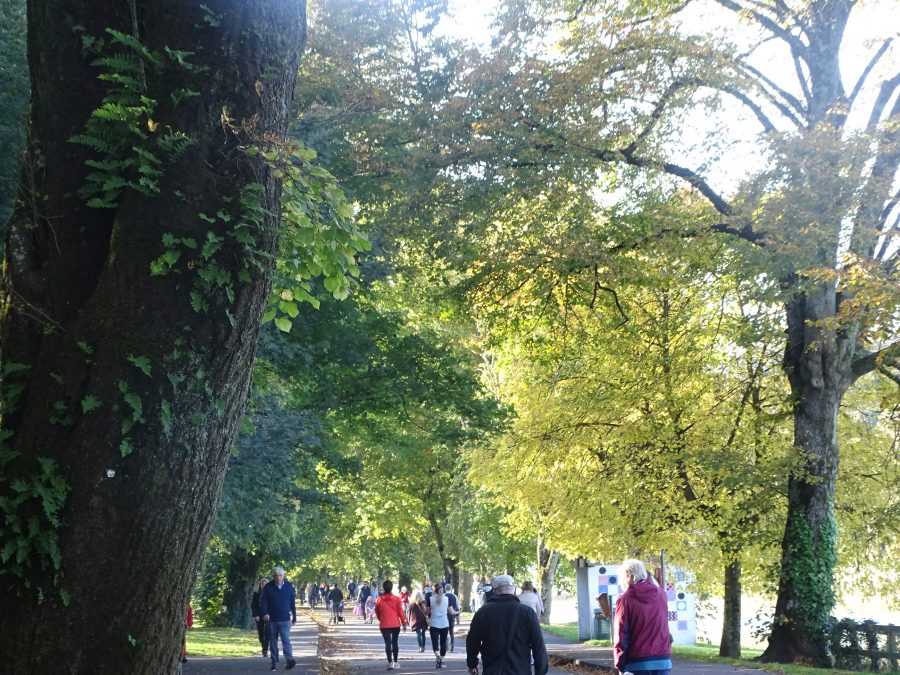 – Docklands (From Jewtown to Kennedy Park)
Some trail notes:
o Ever since Viking age time over 1,000 years ago, boats of all different shapes and sizes have been coming in and out of Cork's riverine and harbour region continuing a very long legacy of trade. Port trade was the engine in Cork's development.
o In 1763, as part of a plan to make the River Lee more navigable, work began on the construction of the Navigation or New Wall, now known as the Marina. The completion of the wall led to a large tract of land, stretch­ing from the Marina north to Victoria Road, being left in a semi-flooded condition.
o At one time a workforce of over 2,000 people comprised of pilots, employees of the Cork Harbour Board, shipwrights, carriers, carters, drovers and of course The Dockers.
o In the closing years of the nineteenth century, the Corporation of Cork planned to establish a large electricity generating plant. The plant would provide public lighting and operate an electric tramcar extending from the city centre to all of the popular suburbs.
o The O'Flynn Brothers, based in Blackpool, were responsible for the construction of the Hibernian Buildings as well as the Rathmore Buildings, St. Patrick's Hospital, The Good Shepherd Convent, Magdalen Asylum, additions to Our Lady's Hospital, a new presbytery at the North Cathedral, and the Diocesan College at Farranferris.
o Several of the earliest arrivals from a cluster of shtetls in north-western Lithuania settled in a group of recently constructed dwellings called Hibernian Buildings, Monarea Terrace and Eastville off the Albert Road, c. 1880.
o John Francis Maguire (1815-72), proprietor of the Cork Examiner and a staunch advocate of economic nationalism curbed the influence and monopoly and incorporated a rival gas company – the Cork Gas Consumers' Company, acquired a three-acre site for its own proposed gasworks adjacent to the London one.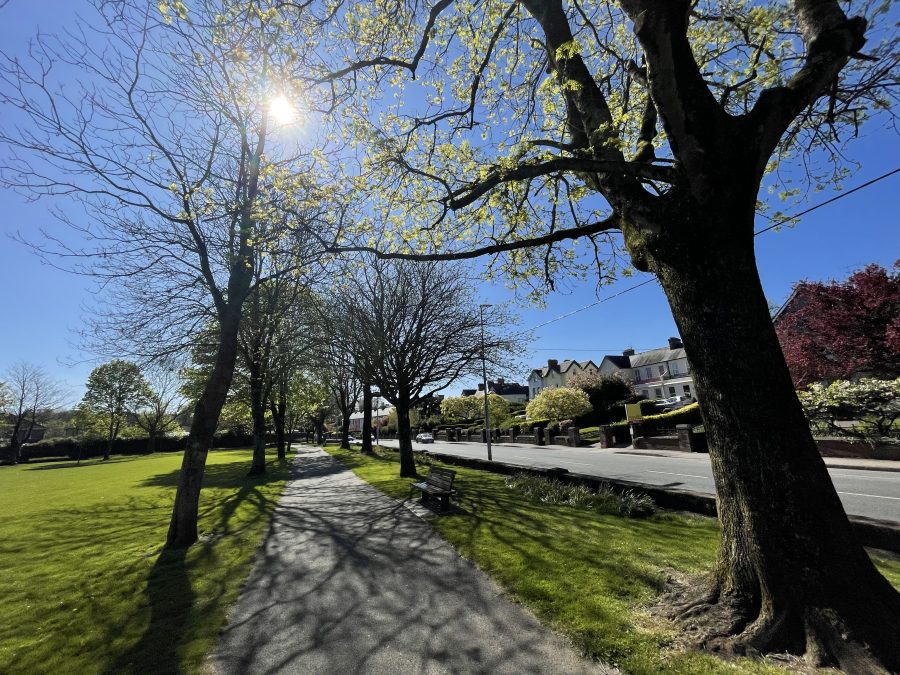 – Douglas Village (from Huguenots to Woollen Mills)
Some trail notes:
The district of Douglas takes its names from the river or rivulet bearing the Gaelic word Dubhghlas or dark stream.
In an inquisition of the lands of Gerald de Prendergast in 1251, Douglas is first mentioned. In 1299, Douglas was one of the towns listed in County Cork, where the King's proclamation was to be read out.
In 1372, in an inspection of the dower of Johanna, widow of John de Rocheford, there is a reference to allotments of land to her in Douglas. The Roches originally came from Flanders, then emigrated to Pembrokeshire in Wales, before three of the family – David, Adam and Henry de la Roch – joined Strongbow in the Anglo-Norman invasion of Ireland in the 12th century. In all there are sixteen Rochestowns in Ireland and innumerable Roche castles.
On the 1st June 1726, Douglas Factory was begun to be built. Samuel Perry and Francis Carleton were the first proprietors. They were also members of the Corporation of Cork.
The 18th century was the last golden age for wooden sailing ships, before the 1800s made steam and iron prerequisites for modern navies and trading fleets. It was a golden age too for maritime exploration, with the voyages of James Cook amongst others opening up the Pacific and the South Seas.
Robert Stephenson, technical expert on linen industry, who visited every linen factory in Munster, Leinster and Connaught on behalf of the linen board visited Cork on 9 August 1755: "Near this city and in it are carried on the only sail cloth manufacturers worth notice at present in the Kingdom; Douglas Factory, the property of Messrs. Perry, Carelton and Co. contains about 100 looms, with Boylers, Cesterns, Kieves and every apparatus for preparing the Yarn to that Number"
In 1883, the O'Brien Brothers built St. Patrick's Mills in Douglas Village. By 1903 it operated with some 80 looms and employed 300 workers, many of whom lived in company-owned houses in Douglas village.
In 1837, there were 40 or so seats or mansions and demesnes in the environs of Douglas.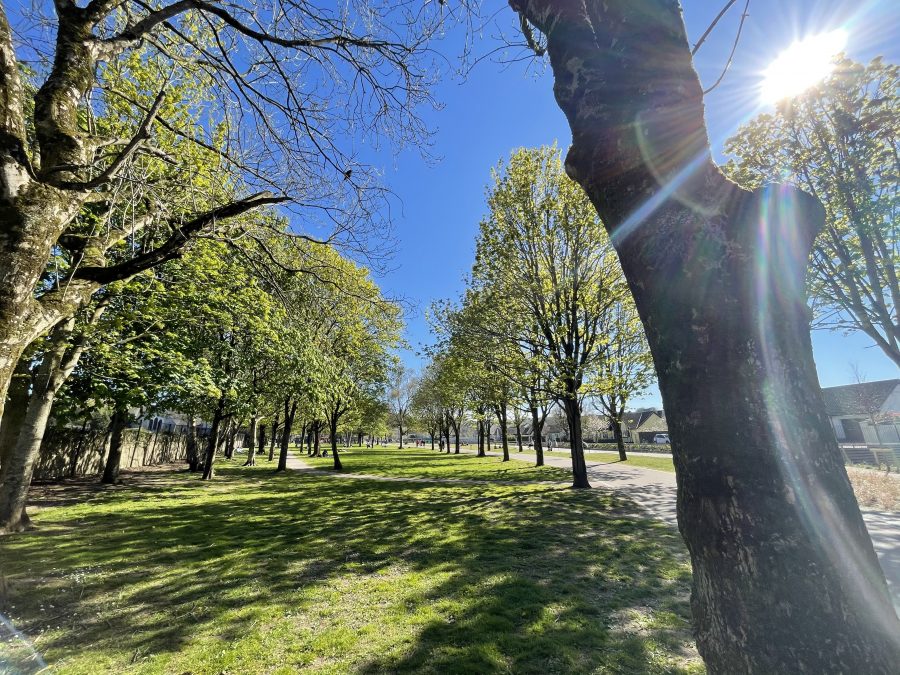 – Mahon, Where the Past and the Present meet (Dunlocha to Lakelands estate)
Some trail notes:
v John Windele's Guide to the South of Ireland in 1844 notes that the grounds between Ringmahon Castle folly and the Douglas River are called the 'Ring' because of the Irish word "Reen" which means a promontory. Overlooking second largest natural harbour in the world
v The Murphy family of Ringmahon were merchants in the City of Cork as well as being authors, brewers, distillers, inventors and parliamentarians. The profits generated by the various enterprises were invested in bricks, mortar and land.
v Ferney was the residence of Mrs Coote in 1814 and of J.H. Manley in 1837. Joseph Manly occupied the house valued at £68 at the time of Griffith's Valuation. He held it from Sir William Chatterton. This house is still extant.
v Sir David Perrier, Mayor of Cork in 1815, lived in Ballinure House (now Loughmahon Park). Perrier built a barge with seats for twenty oarsmen and accompanied by Lady Perrier, Headed up a social club at Barringtons Folly in the grounds of Lisnalee.
v William Crawford came to Cork in 1792 and founded the brewing firm along with William Beamish. He built the house 'Lakelands' now marked by Jacob's Island apartments. The location of his icehouse is marked out in Mahon Point Shopping Centre. The base of his walled gardens still survive adjacent the shopping centre.
v In January 1912, at a yearly report meeting the Rural District Council noted that it had built nearly 1,400 and they had 85 in hand including the Jameson Field or Dunlocha Cottages project (opened in 1913).
v Social housing in Mahon formed part of the city's first city development plan in 1969, where 480 acres were to be built on.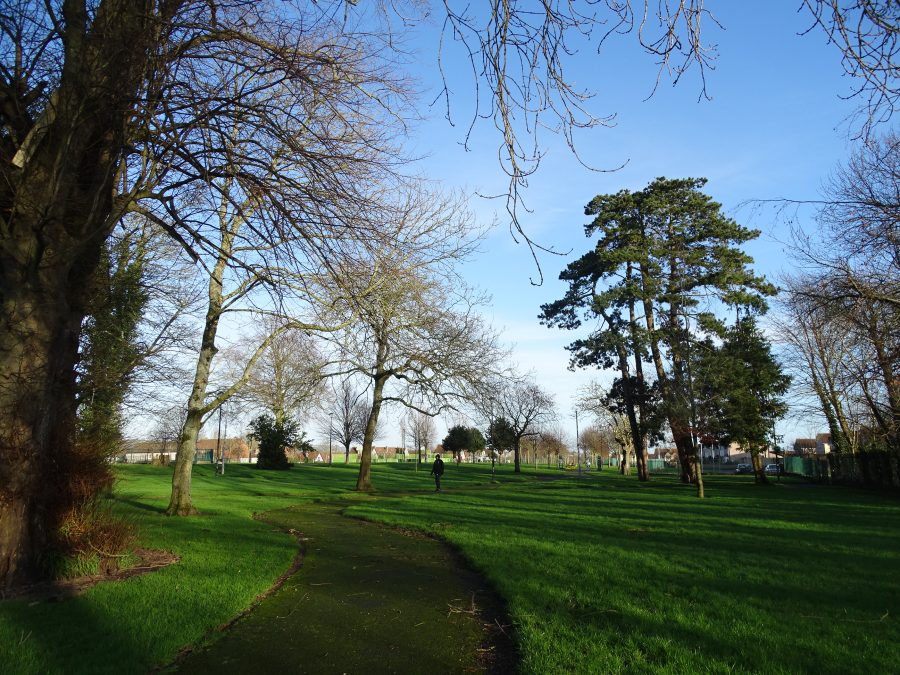 – Old Cork Blackrock and Passage Rail Line (1850 to Present Day)
Some trail notes:
Among the first of the suburban railway projects to be completed in Cork was the Cork Blackrock and Passage Railway. By the late 1800s, there were five county railway lines and one national line, all of which operated in and out of Cork City
The year 1836 marked the opening of Ireland's first railway, between Dublin and Kingstown. A year earlier in 1835, the plan for a Cork to Passage railway was first proposed by Cork based merchant, William Parker and Cork solicitor, J.C. Besnard.
The Cork Harbour town Passage West had its own dockyard and had become an important port for large deep-sea sailing ships whose cargoes were then transhipped into smaller vessels for the journey up-river to the city.
Charles Vignoles was appointed engineer of the venture. The proposed line would run close to the south of the Navigation Wall (now the site of the Marina) on reclaimed land and remain close to the river to Passage. Work began in June 1847.
Due to the fact that the construction was taking place during the Great Famine, there was no shortage of labour. The entire length of track between Cork and Passage was in place by April 1850 and within two months, the line was opened for passenger traffic.
The terminus, designed by Sir John Benson was based on Victoria Road but due to poor press was moved in 1873 to Hibernian Road. In the late 1800s, the Cork Blackrock and Passage Railway also operated a fleet of river steamers in competition with River Steamer Company (R.S.C).
By 1932, the increase in the use of motor cars caused a decrease in the use of the line by passengers. Consequently, the railway was forced to close.
Much of the traces of the Cork-Blackrock line have been destroyed while the Blackrock-Passage section is now a pedestrian walkway with several platforms and the steel viaduct that crossed the Douglas viaduct still in public view. The site of the second Cork terminus lies opposite the National Sculpture Factory.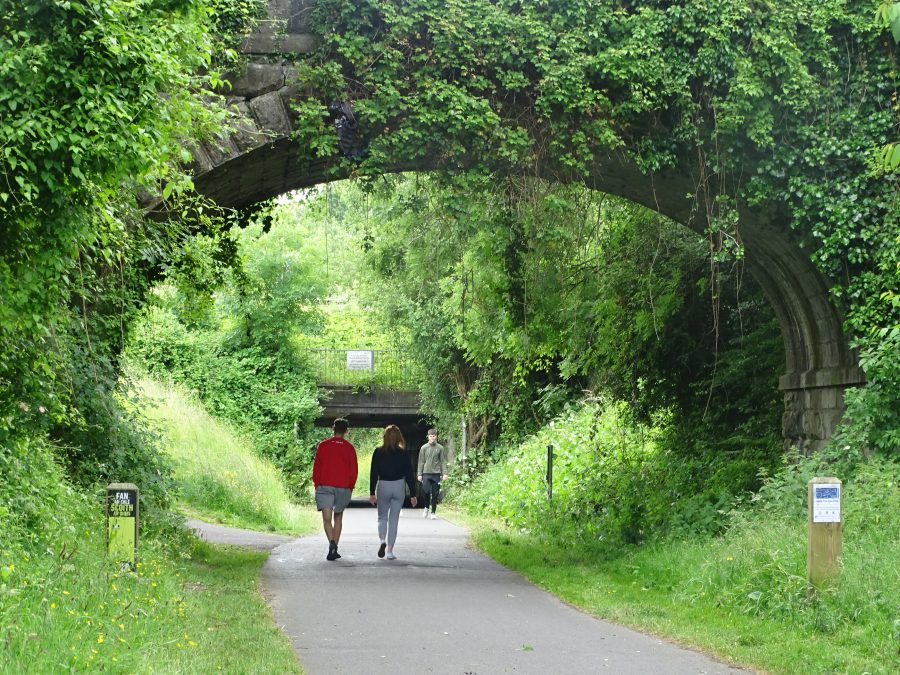 – St Finbarr's Hospital (From Workhouse to Hospital)
Some trail notes:
v The workhouse, which opened in December 1841, was an isolated place. It was built beyond the toll house and toll gates, which gave entry to the city and which stood just below the end of the wall of St. Finbarr's Hospital in the vicinity of the junction of the Douglas and Ballinlough Roads (also the 1840s city boundary)
v The Poor Law Commissioners' architect was Oxfordshire man George Wilkinson (1814-1890). He was Architect to the Poor Law Commissioners in Ireland from 1839 until 1855.
v Nearly all the workhouses, accommodating between 200 and 2000 persons apiece, were designed in a Tudor domestic idiom, with picturesque gabled entrance buildings which belied the size and comfortlessness of the institutions which lay behind them.
v In the workhouse, women and children were lodged in separated accommodation so that families were ruthlessly disrupted and loneliness and anxiety – mortality was high especially among infants.
v A typical day inside the workhouse was to rise at 6am, breakfast at 6.30am, work until 12 noon, lunch break and then work until 6pm. Supper was served at 7pm, with final lights out at 8pm. A roll call was carried out each morning.
v Between the years 1847 and 1872 the following contagious diseases raged at different times in Cork many times in Cork many cases of which were admitted to the Union workhouse Fever hospital: Small Pox, Asiatic Cholera, Typhus Fever, and all of them kept recurring.
v The first medical attendant was Dr. D.C. O'Connor. He was the first professor of Medicine at Queen's College Cork, 1849-1888. He was also the first doctor as well of Mercy Hospital in 1857. He resigned from the workhouse in 1856.
v In 1870 the Board of Guardians invited the Sisters of Mercy to take charge of the Union Hospital with the sanction of Dr Delaney. Eight came from St. Marie's of the Isle. Besides nursing- teaching of workhouse children – care of unmarried mothers and their children and any other religious or social task.
v Circa1877, further extensions to Cork Union Workhouse was accomplished. State grants were forthcoming for the upkeep of the workhouses in Ireland these were raised by means of an estate duty and a liquor duty.
v In 1898, the Workhouse name was changed to Cork District Hospital but still today is known as The Union by older residents of the area.