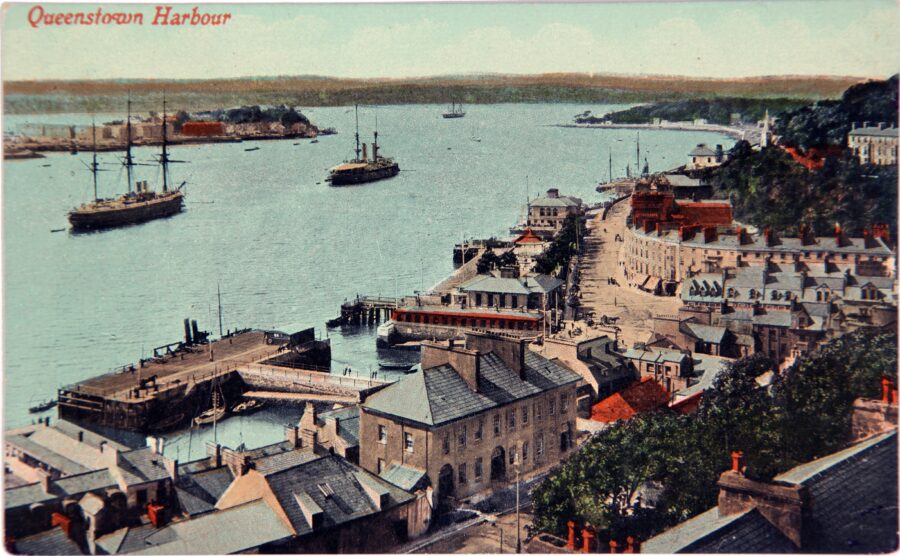 Kieran's Our City, Our Town Article,
Cork Independent, 12 January 2023
Recasting Cork: Visions for Trade and Commerce
In the first week of January 1923, a monthly meeting of the executive of Cork Chamber of Commerce convened. Chaired by Chamber President John Callaghan Foley, John Gamon, American Consul in Cobh, and Mr A Canavan, representative of the United States Lines, Cobh, were also in attendance. The President, in welcoming the representatives of the United States, noted that Ireland owed much to the States for the relief afforded the country not only since the Act of Union, 1800, but especially during the Irish War of Independence. He wished for a formal invitation be issued on behalf of the Irish chambers of commerce to the United States welcoming a delegation of American industrialists and commercial men to Ireland.
Mr Canavan, on taking the floor, stated that very little was known of the industrial possibilities of Ireland in foreign countries and stated that if Ireland had an efficient publicity scheme in place, its natural resources would become more commercially important. He asserted: "At present foreigners merely thought of lreland as a sort of Emerald Isle where kings were always at cross-purposes… this country was on the eve of a big industrial revival, to meet the necessities of which, it was necessary to bring foreign representatives of commerce in close touch with industrial possibilities in this country".
Mr Canavan detailed that the second International Meeting of the Chambers of Commerce was being held in Rome and 300 representatives of the States were expected to attend the meeting and had an itinerary marked out across other European countries but it did not include Ireland. He was of the opinion that if proper communication steps were taken, a number of the United States delegates could modify their arrangements as to include Ireland in the tour.
Mr Gamon read a few extracts from an official document setting out the business arrangements of the International Conference. He described that it was a function that had a distinctly international bearing on the world's trade and commerce; "Ireland would be the loser by not taking part in the Conference as big problems dealing with international trade would be fully discussed".
John Callaghan Foley, President, detailed that up to a few years ago Ireland's trade and commerce began and ended with England – but in their more contemporary years the question of getting into contact with foreign countries was taken up by the Chamber. As a result, direct cargo and passenger services were brought into contact with the port of Cork from foreign ports like New York, Boston, Philadelphia, Brest, Le Havre and Hamburg.
The Chamber was in constant touch with the Irish Consul's residence at New York, Paris, Brussels and Genoa and was successful in securing much direct business for Irish firms. Since the Moore-McCormack Line had begun to operate, 50,000 tons of merchandise had been carried direct from American ports to Cork, and a freight saving of up to £30,000 had been affected by the direct shipping. Brokerage through England, Liverpool harbour dues, demurrage, etc., had in the past added much to the cost of marketing foreign produce in Ireland.
John Callaghan Foley detailed that the Chamber, in spite of almost insuperable difficulties, had backed this direct service with American ports; "It appeared at present that the whole industrial and commercial fabric of this little island had broken down. It was not so, however, as even up to the close of last year Ireland imported £200,000,000 of foreign goods annually. In view of this figure, I am of the opinion that it would be advisable for this Chamber to get into touch with all other Irish chambers for the purpose of cooperating in inviting United States trade delegations to this country".
Chamber member Mr Patrick Crowley maintained that the time was opportune, and that combined steps should be taken to issue a formal invitation to an American trade delegation. Referring to the state of the country he was of opinion that Ireland looked much worse through Irish eyes than through foreign ones; "Considering the fact that there was trouble everywhere in all countries political, economic social and moral, Ireland is only experiencing its share of an economic and political unrest which had permeated the peoples of all countries". He regarded it as a big surprise that Ireland was left out of the itinerary drawn up for the American meeting delegates to Europe. He personally knew as a director of the Irish International Trading Corporation (Cork), Ltd, that US firms were very keen on keeping up business with Irish enterprises.
John Callaghan Foley concluded that in view of the fact that Messrs Henry Ford and Son had come to Cork and were at present employing 2,000 men at their Cork works, that other American firms ought to be quick in realising the facilities offered along the 14 miles stretch from Cork to Cobh. Suitable sites for large factories were available. Mr Canavan agreed with the ideas that the development of Cork Harbour offered great advantages. He stated it was his opinion that Cork, so far as natural advantages were concerned, ranked first among Atlantic ports. He had hoped that liners of 200-foot length would soon visit Cork and place the harbour as part of their routes.
Caption:
1184a. Queenstown, now Cobh, c.1920 (picture: Cork Public Museum).