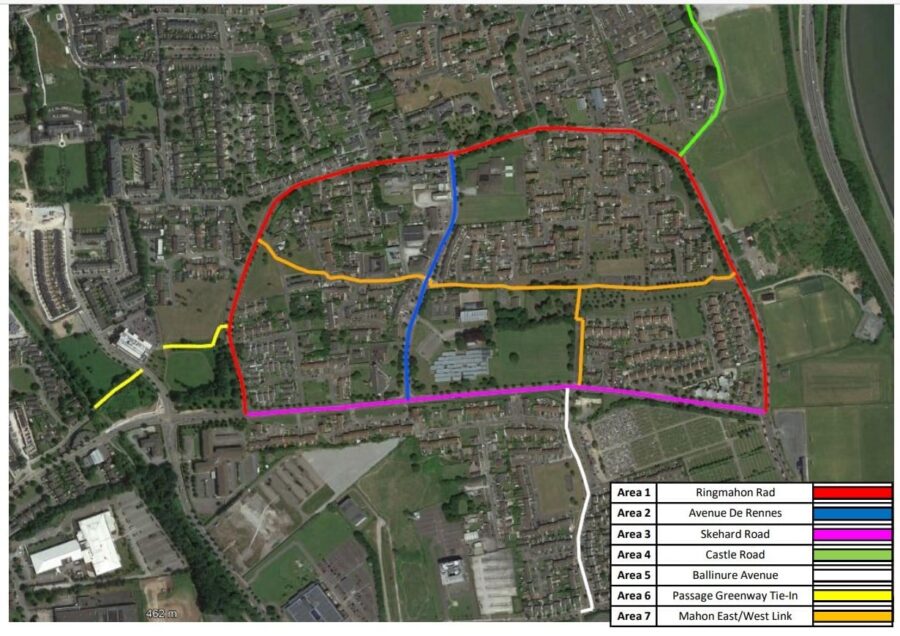 If you live in the areas below, it is very important to have a look at these road and public realm changing plans on the link below:
Cork City Council intends to carry out the following traffic management measures on:
Ringmahon Road,
Avenue de Rennes,
Skehard Road,
Ballinsheen Road,
Sean Cronin Park, Ashwood,
Mahon Drive,
Lakeland Crescent,
Loughmahon Road,
Loughmahon Park
and Castle Road
for the safety and convenience of road users, and in response to the public call for more pedestrian safety measures and the fixing of the public realm within the Mahon neighbourhood.
To see the proposed scheme with maps and to comment formally on the plans, click here: Mahon Cycle Scheme | Cork City Council's Online Consultation Portal
The main elements of the proposed Mahon Cycle Scheme are:
– Renewal of footpaths and enhancements to the public realm.- Installation of upgraded controlled pedestrian crossing facilities.
– Installation of raised table-top ramps and uncontrolled crossing facilities at junctions.
– Installation of circa 5.3 km of cycle infrastructure, including segregated cycle tracks and greenways. – Signalisation of junctions at Ringmahon Road West/Skehard Road, Ringmahon Road/Avenue de Rennes and Skehard Road/Avenue de Rennes.
– Adjustments to the existing road layout, including traffic lanes, parking areas and new road markings and signage.- Other necessary associated works.
The project will be funded by the National Transport Authority, and offers funding heretofore non existent in Cork City Council's coffers to do any works.
My email is at kieran_mccarthy@corkcity.ie if any clarifications are needed. I did ask that the maps be made easier to read. I was partially successful in that quest.
Kieran's Press Quote:
"A e6m investment by the National Transport Authority into the heart of Mahon is significant. The funding may come from the National Transport Authority but it is being driven by Cork City Council as a response by local residents and ward councillors like myself calling for substantial investment in the public realm in Mahon".
"The funding won't solve all of the area's crumbling footpaths and roads, but it is a start and does put a huge focus on the principal roads putting in protected cycleways bit also upgrading footpaths. I regularly get correspondence from Mahon residents calling for measures to slow down the traffic, calls to add in new pedestrian crossings, and altogether make it a better and safer area to be able to walk and cross the core roads in the area".
"This is a big cycle scheme though with over 5.5kms of road space effected. I have called on the engineer involved in the project to have info days for the local community so people can hear about the process behind the project. I would call on all local people to have a look at the scheme on the Cork City Council Consultation web page. Google the latter and the scheme can be reviewed. If there questions and or concerns it is important to put in a submission during the public consultation phase. I have no doubt there will be aspects that local people can support and others that may not gather as much support – but please make a submission – is my call to local people who have concerns".