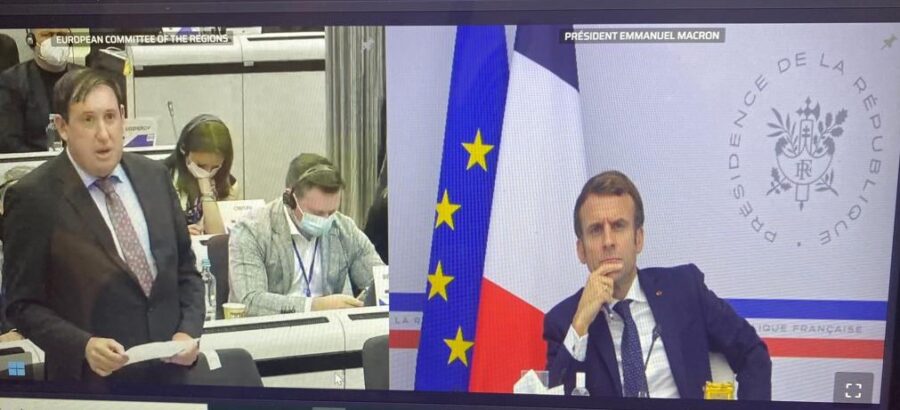 Independent Cllr Kieran McCarthy, this month, led calls to French President Emmanuel Macron for more consultation with citizens on the future of the European Union
In the December European Committee of the Regions plenary session, Cllr McCarthy, member, used his two minute online debate slot with the President to call for more investment into small cities and in rural, mountain and island regions. In particular, he asked for less centralisation of budgets and decision making in the EU.

Cllr McCarthy thanked the French President for his support in the Brexit negotiation with the EU, adding that this has been particularly helpful in maintaining peace and ensuring no hard border on the island of Ireland.
Cllr McCarthy noted: "I hope we will make progress on areas, which need investment and sometimes areas that feel forgotten about especially our rural mountainous and island regions we need to really focus on smart inclusive development with a specific focus on those regions and the best way to do this is from the bottom up. From Cork to Corsica our citizens deserve to be heard. Ultimately if you empower the regions, the EU will be a success".
In recent months, Cllr McCarthy has strongly lobbied at EU level that local and regional authorities such as Cork City Council, who are on the forefront of the fight against the Coronavirus pandemic must be supported by EU Funds. He also raised the plight of SMEs in smaller European cities such as Cork and that any emergency EU funding released needs to get to the citizen on the actual ground and not be held up at central government level.
The European Committee of the Regions is a 329 person formal EU assembly of councillors, Mayor and Regional Presidents from over 270 regions in the EU.  
LISTEN to Kieran's comments here: