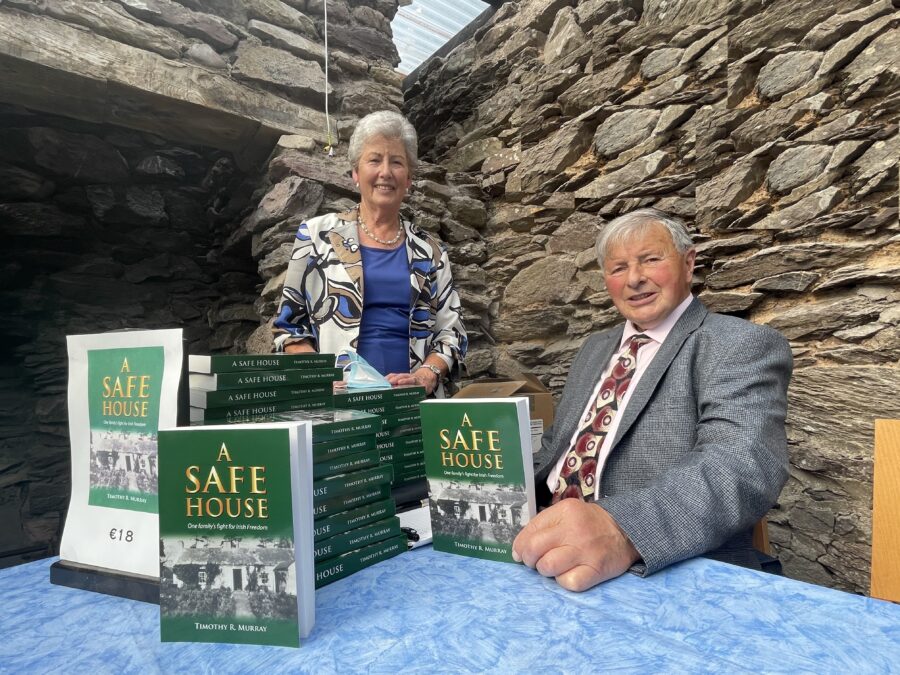 Kieran's Our City, Our Town Article,
Cork Independent, 7 October 2021
Journeys to a Truce: A Safe House, One Family's Fight for Irish Freedom
The book A Safe House, One Family's Fight for Irish Freedom has recently been published by Timothy Murray in Courtbrack, Blarney.It is the story of the Murray family from Courtbrack during 1913-23. Four brothers, Michael (1890-1957), Timothy (1891-1959), James (1896-1942) and Denis (Sonny) (1894–1966), as well as their sister Helena (Nell) took an active and leading role in the local volunteers/IRA and Cumann na mBan.
The family had an 80 acre farm. Two of the brothers Timothy and James were medical students but were never destined to finish their studies. With no immediate hardship the family were willing to risk life and fortune in getting involved in Ireland's struggle for freedom.
The family was inspired by the stories that were told around his family fireplace. Michael Murray from Tullyniskey Clonakilty came to live in Courtbrack when he married into the farm of Hanorah Finn in 1883. Michael's sister Mary Murray married and gave birth to James O'Brien who in turn fathered Marion O'Brien, who was the mother of Michael Collins.
In Courtbrack Michael Murray had three sons and a daughter. His eldest son Denis inherited the family farm. James became a priest and emigrated to Clinton Iowa in the US and became a successful and wealthy attorney in law. He never married. The third son Timothy joined the RIC and retired from the force in 1911.
Three of the Murray siblings – Nell, Denis and James – have left written accounts of their activities during the revolutionary period.
Nell Murray brought an application for a military pension in 1941 which was granted. This record has been reproduced verbatim in the book. She was a member of Courtbrack Cumann na mBan. She helped volunteers and supplied outfits for Easter Week 1916. She supplied food for volunteers after Sunday parades. She fed and provided beds for brigade officers Tomás MacCurtain, Seán Murphy and Seán O'Sullivan. Her home was raided twice in Easter Week 1916 by RIC and military. She reported on military activities and delivered urgent dispatches to the volunteers in the company area in Gurrane.
In 1917 and 1918 Nell organised the Cumann na mBan in the Courtbrack district whilst acting as secretary. She attended weekly meetings and drill lessons for volunteer officers. She attended first-aid lectures and provided beds for callers from Cork, Kerry, and Dublin – then on the run – as well as to brigade instructors. She visited men in Cork County Gaol and brought them food and comforts. During 1919 Nell catered for men engaged in the manufacturing of munitions on the Murray farm. Indeed, several times men would call for the guns. There were shotguns, American rifles and revolvers. She never had to carry them anywhere outside her own place nor to go to any attack.
In December 1920, Nell tried to save her home from fire when the military set fire to an upstairs room. They burnt the old house on the same evening. In addition, in late January 1921, she helped the local IRA to get ready for Dripsey Ambush.
The eldest son, Denis, in 1957 wrote an extensive account of his activities and the new book reproduces this verbatim. Over 150 pages are given over to his written up notes. Denis took an active part in local politics and was a member of the Cork Rural District Council and the support of the William O'Brienite party. Denis bought the farm from the landlord in 1908 and married Nora Sullivan from Castletownkinneigh near Enniskeane. Norah was a formidable woman and took an active role in the Land League in 1882. She was secretary of the Enniskeane branch of the Women's Auxiliary Organisation of the Land League in the 1880s.
Denis outlines that Courtbrack was one of the first rural areas in County Cork to have its own company of Irish volunteers. Established on Sunday 9 August 1914, the local parish priest Father Shinnick encouraged young men to join. On the first afternoon they even took part in their first drill.
For Easter Sunday 1916 the company set out on the road to Bweeng, the collecting point for the mid Cork companies. They were armed with 12 rifles, 12 shotguns, six revolvers and 20 Pikes. Some hours later the Courtbrack company was stood down along with other mid to north Cork companies by Tomás MacCurtain.
On the morning of 30 August 1917 Denis Murray and volunteer Michael O'Sullivan were arrested by a force of RIC and were removed to Cork Military Barracks but would not be accepted so the escort took them to the Cork County Gaol.
On 19 September 1917 Denis and two others were removed with a police escort from Cork County Gaol to Mountjoy Prison. There Denis took part in a hunger strike. Almost a month later Dennis was moved to Dundalk Gaol. He was released in mid-November 1917.
Fast forward to Spring 1920 and the Courtbrack company was a 'well-oiled' unit. Denis's home was often raided but despite this, company meetings continued to be held one night each week. In the period April 1920 to March 1921 Denis outlines manoeuvres involving the Turpin's Rock Ambush, Inniscarra Ambush, the Courtbrack Ambush position plus the defence of mid County Cork.
A Safe House, One Family's Fight for Irish Freedom by Timothy R Murray is a great and enlightening addition to the story of the War of Independence especially in mid County Cork. The book is available from various shops in Blarney and Cloghroe plus also can be bought from the author, Timothy R Murray at 087 663 9750.
Caption:
1120a. Noreen and author Timothy R Murray of Courtbrack, Blarney at the recent book launch of A Safe House, One Family's Fight for Irish Freedom, September 2021 (picture: Kieran McCarthy).