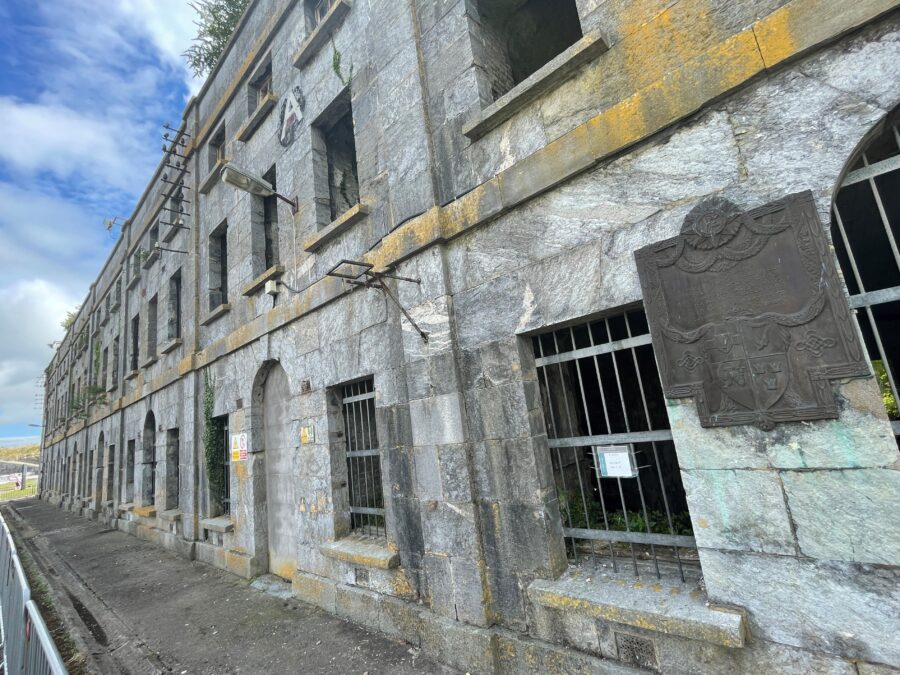 Kieran's Our City, Our Town Article,
Cork Independent, 2 September 2021
Journeys to a Truce: Imprisoning the Nation
The year 2021 marks the centenary of the use of Spike Island as a British military run prison for Republican prisoners and internees between February and November 1921. Almost 1200 Republicans were imprisoned on the island.
Spike Island's newest exhibition entitled "Imprisoning a Nation", and sponsored by Cork County Council, is set in the Mitchell Hall space. The exhibitionprovides another insight and angle into studying the Irish War of Independence era. It features original letters, newspaper clippings as well as handwritten correspondence between the prisoners and internees and other family members as well as official documentation by the British forces in 1921. Approximately 140 photographs have been collected over a period of ten years. The autograph books containing signatures of those in prison and Spike Island during 1921 are especially remarkable. Accompanying the exhibition is historian Tom O'Neil's newest book – Spike Island's Republican Prisoners 1921 – which is a tour-de-force piece of research and which inspired the exhibition.
The exhibition outlines that because the Royal Irish Constabulary and British Army held a large number of Republicans in prison during 1920 there was an pressing need for extra prison places. This influenced the opening of a British military prisons for prisoners and internees on Spike Island and on Bere Island in early 1921.
Prisoners on Spike Island were those sentenced to imprisonment by military courts. Internees were in prison without trial. There were approximately 900 internees and 300 prisoners detained in Spike Island during 1921. The vast majority were from the Martial Law areas. There were no female prisoners imprisoned on Spike Island.
Republican prisoners and internees were sent to Spike Island from the civilian jails in Cork Kilkenny Waterford in Limerick and from the military barracks and camps in Bere Island, Buttevant, Cork, Fermoy, Kilkenny, Kilworth, Moore Park, Tralee and Waterford. There were regular transfers both ways, between Spike Island, Bere Island and Cork County or Male Gaol.
The formidable fortress on Spike Island is sunk almost 20 feet deep in the middle of the island, and occupies about half of its 150 acres. The fortress is surrounded by a deep moat, and high walls on either side. In 1921 the interior of the fortress contained a number of two-storied blocks of barrack rooms, offices and stores, spacious parade grounds and a sizable building used for religious services and other purposes. Internees were housed in old nineteenth century prison blocks or within specially created wooden camp blocks within the fortress.
James Duggan of 2nd Battalion, 2nd Tipperary Brigade in his Bureau of Military History witness statement (WS1510) recalls arriving at the Spike Island camp in Spring 1921 and being introduced to his camp commandant, Henry O'Mahoney, of Passage, Cork, and the vice-commandant, Bill Quirke, and assigned to his quarters. James notes of the quarters; "Each barrack room contained 20 to 25 men and we had all to assemble at about 10 a.m. every morning on the parade ground to be checked and counted, and we were again counted in our quarters at night. We were allowed out on the parade ground for a time each day where we played hurling or football for exercise. This ground was completely surrounded by a dense barbed wire entanglement and while we were out there was always a number of armed sentries outside the barbed wire".
The exhibition recalls a number of instances of note in the spring and summer months of 1921. On 9 April 1921 three prisoners escaped by board from Spike Island they were Seán McSwiney (brother of Terence McSwiney), Cornelius Twomey and Tom Malone. None of them were recaptured.
On the evening of 31 May 1921, Patrick White from Meelick, County Clare, was fatally shot when he was playing hurling on the parade ground. A British army sentry shot him when he went to retrieve the ball, after it rolled under the barbwire fence that was around the interment compound. He died shortly afterwards in the prison hospital.
On 30 August 1921, two hunger strikes began – the prisoners for improved conditions and the internees for unconditional release. This led Tom Barry to visit Spike Island. He was by now one of the Chief Liaison Officers of the Martial Law Areas, which were established by Éamon de Valera – to make sure that the ceasefire and peace was kept. On 31 August 1921, an account is published in Cork Examiner stating that Tom attempted to visit and enter the camp for the purpose of trying to gather information regarding the hunger strike of the internees. In his press interview he noted that he was informed by the Governor that permission from the Sixth Division of the British Army was necessary before entrance of the camp could be obtained. Permission was not granted.
Tom Barry made the following statement condemning the members of the British Army present and their reading of the Truce conditions: "The action of the COG sixth division in refusing me an opportunity to arrange matters is evidently one calculated to prevent a settlement without the drastic step of a hunger strike by the internees. It is apparent that he has followed the precedents set up by himself at the beginning of a truce placing difficulties in the way of the smooth working of the conditions agreed to between the Irish Republican army and the British Army. Such action is to be deployed at the present juncture when clearer thinking and a more intelligent grasp of actualities is so much needed".
The hunger strikes lasted four days and were halted due to a request by Sinn Féin General Head Quarters as it may upset delicate ongoing Truce negotiations. However, the conditions at the prison became a regular topic amongst remaining Republicans in the city especially those members of Cork Corporation. There are a number of their detailed criticisms on crowded conditions published in local newspapers such as the Cork Examiner in the autumn and winter of 1921.
The "Imprisoning the Nation" exhibition is currently open on Spike Island. Tom O'Neil's new book is in any good bookshop at present.
Captions:
1115a. Former nineteenth century prison block, which held internees on Spike Island in 1921, which includes a memorial to shot internee Patrick White, present day (picture: Kieran McCarthy).
1115b. Part of the "Imprisoning the Nation" exhibition on Spike Island, showcasing 140 photographs of individual internees, present day (picture: Kieran McCarthy).