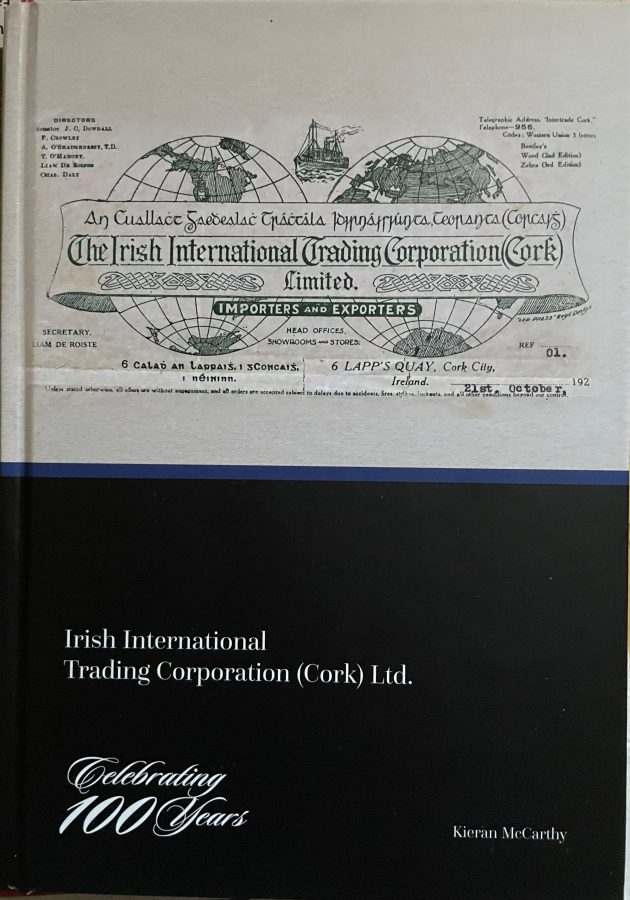 Kieran's Our City, Our Town Article,
Cork Independent, 27 May 2021
Journeys to a Truce: The Irish International Trading Corporation (Cork)
Details on the tit-for-tat violence between the IRA and Black and Tans during the War of Independence fill vast pages of Irish history books. However, not much is known on those who were Independence supporters in Ireland's cities and regions, but who were also pragmatic and economically preparing for a Brexit of sorts from the British Empire. The question of "if we get Independence what do we do next" had not been quite resolved especially where Britain was also Ireland's main trading ally.
To resolve such a question in Cork city and region the creation of Irish International Trading Corporation (Cork) was set up in 1920 to facilitate international trade, both import and export, for local businesses. Its story is the subject of my new book, which is published by the present company, whilst also charting its journey in more modern times.
The company's origins lay in the ambition of the Cork Industrial Development Association (IDA), which was founded in 1903 after the Cork International Exhibition. During the Irish War of Independence period, the Cork IDA played no small part in formulating schemes for the economic rehabilitation of the country. Without the cooperation of the Cork IDA, the Irish Consuls resident at New York, Paris and Brussels would have been very much restricted in their Consular activities on behalf of the trade and commerce of Ireland. Important national work was conducted through the agencies of these Consuls, for which the Cork IDA kept business connections open with.
In 1920 two important companies are highlighted as closely linked to the work of the Cork IDA – (a) Messrs Dowdall and Company, Shipping Agents of the Direct Lines to USA and French ports, and (b) the Irish International Trading Corporation (Cork) Ltd. The first named company aimed to promote direct trade whilst IITC aspired to build up business by purchasing from and selling direct to Continental and American firms. A gentleman's agreement stood that no goods would be introduced into the Irish market, which would compete unfairly with the products of Irish industries.
The proposal to form the Irish International Trading Corporation (Cork) Ltd for the development of direct trading between Irish merchants and traders of other countries was generally welcomed by commercial circles in Cork. The company was in effect a private, self-help version of what state agencies do to support trade.
On 4 May 1920, the Cork Examiner recorded a preliminary meeting of persons interested in the company, which was held in the offices of the Cork IDA, under the Chairmanship of Mr James C Dowdall. Steps were taken to have the prospectus issued at an early date. Promises of substantial financial support were forthcoming from those present. The promoters aspired to secure outward as well as inward cargo for the vessels then running between Cork and the United States ports, and also for the vessels about to run between Cork and Continental ports. The company's temporary offices were at 27 Grand Parade.
Central to the work of the Irish International trading Corporation (Cork) Ltd was its Company Secretary Liam De Róiste (1882-1959). Liam was an original member of the Irish Volunteers in Cork. In late 1916 and throughout 1917 Liam was an important figure to keep the re-organisation of Sinn Féin going in Cork, especially with Terence MacSwiney and Tomás MacCurtain being imprisoned for long periods of time during the years 1916-1918. Liam kept the re-organisation of the party strong, being involved in organising rallies in Cork in late 1917 for Arthur Griffith, Countess Markievicz, and Eamon de Valera. He was elected a Sinn Féin Councillor for Cork City in January 1920.
The American link for the new company was Diarmuid J Fawsitt who was born near Blarney Street in Cork's northside in 1884. Diarmuid was active in cultural, industrial and nationalist circles, including the Celtic Literary Society, Sinn Féin, the Gaelic League, Cork National Theatre Society, and especially with the foundation of the Cork IDA. During the War of Independence, Arthur Griffith sent Fawsitt to the United States as consul and trade commissioner of the Irish Republic. He was based in New York.
With Fawsitt in New York searching for opportunities, Liam De Róiste as an enthusiastic secretary of the Corporation, a strong chairman was also required to lead the new company. James Charles Dowdall had a prominent role in industrial development and was president of the Cork IDA for a time in its early years. He was educated at the Presentation Brothers College, Cork, and in Denmark and Sweden. On the death of their uncle, James and his brother Thomas joined with their cousin, Mr J B O'Mahony, in forming the now well-known firm of Dowdall O'Mahony and Company Ltd. This company was based at Union Quay, Cork, with branches at Manchester and Cardiff and was engaged in the manufacture of butter and margarine.
As the months passed in 1920 and 1921, the business of Irish International Trading Corporation (Cork) expanded. By December 1920, an array of import destinations was in place. Payment were given to Clyde Shipping Company Ltd for freight charges and the Bank of Ireland for Siemen's and Company who brought in raisins from Malaga, Oosthock and Zoon Company, Holland for slated ties, the Lyon and Quin Company, Prague for chairs, the ZRB Hirdes, Holland for yarn, Verrieries de Dampremy, Belgium for Glass, Victor Zorn, Berlin for scissors and enamelware, National Glass Company, Philadelphia, USA for bottles, and baking powder from the Calumet Baking Powder Company, Chicago, USA as a trial order. Exports from Cork mainly encompassed butter boxes and egg cases.
Kieran McCarthy's new book Irish International Trading Corporation (Cork), Celebrating 100 Years is a commission of the company and is now available from the company's premises on Tramore Road, Cork, or telephone 021 4705800 or email info@iitc.ie
Captions:
1101a. Front cover of Kieran's new book, Irish International Trading Corporation, Cork, Celebrating 100 Years (2021, IITC).
1101b. Letter head for Irish International Trading Corporation (Cork), 1927 (source: Company Archives)