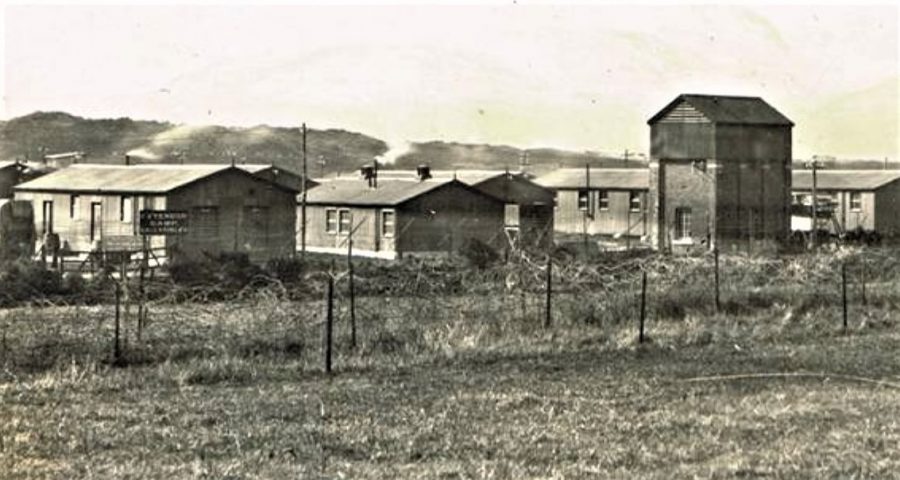 Kieran's Our City, Our Town Article,
Cork Independent, 6 May 2021
Journeys to a Truce: A Corkman at Ballykinlar
Much reference is given in the newspapers of Spring 1921 to Cork Volunteers from across the batalions of the Cork IRA Brigades being rounded up and sent to Ballykinlar Internment Camp in County Down. Monaghan born Frank O'Duffy was interned in Camp II, Ballykinlar from January to December 1921 and acted as Prisoners' Commandant in that camp from June to December 1921.
In his witness statement in the Bureau of Military History (WS665), Frank describes that there were two internment camps at Ballykinlar – Camp I and Camp II. Though these two camps adjoined each other for a short distance at one end being separated only by the double fence of barbed wire, which encircled each camp they were isolated from each other, and communication between the prisoners in one camp and those in the other was banned. Frank relates of this latter issue: "This regulation was overcome, however, by the simple plan of throwing messages (attached to a stone) from one camp to the other at the place where the two camps adjoined. To prevent these messages falling into the hands of the British a code of signals was arranged to indicate 'coast clear', and safe receipt of the message".
Each camp was self-contained, apart from the fact that there was only one hospital for sick prisoners. This was located in Camp I, and this fact was availed of for discussions of important issues of policy between the prisoners' leaders of the two camps: a reliable person from Camp II "went sick" and got transferred to the hospital. It was also availed of to transfer men who were wanted by British crown forces from one camp to the other. Though there was a British medical officer on the staff of the Camps, the medical treatment of the prisoners was left mainly to their own doctors, of whom there were a number among the prisoners. So, names could be changed on documentation.
Each camp contained (when full) 1,000 (one thousand) prisoners. These were divided, for purposes of administration, into four companies (250 men each), and each company was housed in ten huts (25 men to each hut). The companies in Camp I were described as A, B, C, and D, and those in Camp II as E, F, G, and H. In addition to the huts, in which the men slept, the camp buildings included large central huts for use as chapel, dining-hall, recreation (concerts etc.), canteen, cook-house, work-shops, etc. The sanitary arrangements were very primitive with latrines and buckets.
At first no objection was raised to the prisoners' drilling in the camp, and all (especially the younger men) were drilled for some time each forenoon. A roll was made (and checked, as far as possible) of all prisoners who were Volunteer Officers, and lectures and training. Frank details: "Prisoners who had taken part in ambushes or other military events gave an account of them, and discussions on tactics, etc. took place. After a few weeks, an order was issued by the British forbidding drill in the camp, but military training continued secretly".
Formal classes in subjects such as Irish maths and surveying also took place. Examinations were held and certificates issued at the end of some of the educational courses. Lectures, debates, and discussions were frequently held. Frank describes that historical anniversaries for Wolfe Tone, Robert Emmet, and host of other names were faithfully celebrated. Dramatic performances were also staged frequently. Some of the prisoners devoted all their spare time to the preparations for these performances, (making costumes, scenery, etc.), and the results of their work sometimes reached a high standard.
In his witness statement Frank also compliments the Irish classes section – who have as he notes, "the most faithful and hard-working of the Irish teachers" – being Cork's Cllr Micheál Ó Cuill (of Cork Corporation). Micheál's obituary in the Cork Examiner on 19 September 1955 describes that he was a native of the Macroom district, he came to Cork circa 1910. He was connected with Countess Markievicz in the founding and organising of Fianna Eireann and a few years later was largely responsible for the formation of Cumann na mBan.
Micheál was one of the Cork volunteers who paraded at Easter 1916 hoping to take part in the Rising. When circumstances prevented Corkmen from playing their part he set out alone for Dublin and had got to the neighbourhood of the city when the surrender took place. He was arrested and deported to Frongoch.
Micheál was a close friend of Terence MacSwiney and TomásMacCurtain and worked closely with them in the Irish Volunteers. He became a member of Sinn Féin's bench in Cork Corporation in January 1920. It was he who, speaking in Irish, proposed Tomás MacCurtain for the office of Lord Mayor on 30 January. On Terence's death Micheál was sent to be among the Guard of Honour to the deceased Lord Mayor in London. He also acted tor some time as Deputy Lord Mayor following Terence's death before Donal Óg O'Callaghan took on the position. In late 1920 he was arrested in Cork City and sent to Ballykinlar.
Micheál was an ardent lover ofIrish and a fluent speaker of it, He was one of theprominent Gaelic League organisers and teachers in the country and later in time became Vice President of a Cork branch of the Conradh na Gaeilge. For many years he conducted classes at An Dún, Queen Street (now Fr Mathew Street). About 1930, he joined the staff of the Cork County Vocational Education Committee as Irish inspector. He became very well-known at the summer courses of Ballingeary, which hesupervised every summer.
Captions:
1098a. Ballykinlar Internment Camp, Co. Down, 1921 (picture: Cork City Library).
1098b. Internee William Johnson's sketch looking out from one of the camps in Ballykinlar, 1921 (picture: Down County Museum).