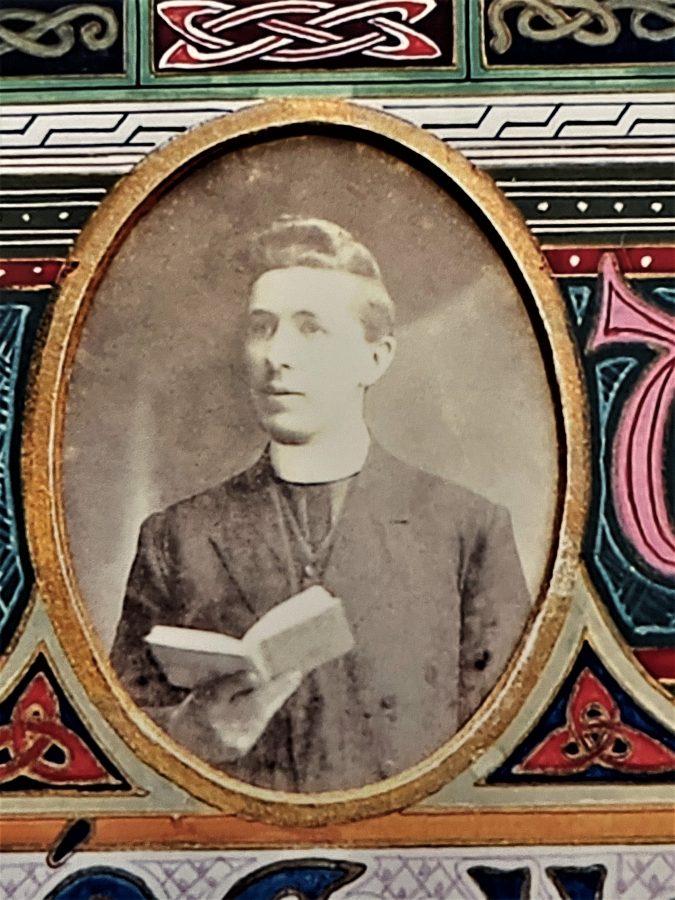 Kieran's Our City, Our Town Article,
Cork Independent, 13 May 2021
Journeys to a Truce: Fr O'Callaghan's Last Stand
Ireland experienced a tragic Whitsuntide bank holiday weekend in mid-May 1921. Many deaths amongst civilians and Crown forces were reported from various parts of the south of the country.
About four o'clock on Saturday evening, 14 May, a bomb was thrown at police in the Blackpool district, near O'Connell Street. One constable was killed and three wounded. One died later on. Large swathes of military and police searched the area with much of Blackpool ransacked. Several arrests were made across the city.
One tragic outcome was the quest to arrest Alderman Liam De Róiste of Sinn Féin on Cork Corporation. In the search for him, instead of Liam being arrested, a renter within his house was shot and died from his wounds. On Saturday night/ Sunday morning, 15 May, Father James O'Callaghan was staying at Liam's residence in Upper Janemount, Sunday's Well.
From the Templemartin district, County Cork, Fr O'Callaghan was ordained at St Patrick's College, Maynooth in 1908. He was a fluent Irish speaker and was a valued Irish teacher in Ballingeary Irish College. He had a ministry abroad between 1908 and 1912 and was curate in Ballingeary from 1912 to 1917. He then became Chaplain at the Good Shepherd Convent between and 1917 and 1920. In 1920 he was made curate of the North Cathedral Parish and at Clogheen Church. he was attached to the convent of the Good Shepherd's.
Fr O'Callaghan's new post in the North Cathedral left him with no living quarters. He was an acquaintance of Sinn Féin Corporation member and Teachta Dála Liam de Róiste. He asked Liam for hospitality and was invited to stay at the parliamentarian's house.
According to a report which Liam sent to Bishop Cohalan after Fr O'Callaghan's murder, Crown forces raided his house only a few days after Fr O'Callaghan had moved in and treated him roughly.
At the General Elections held in May 1921 under the provisions of the 1920 Government of Ireland Act, Liam De Róiste was an unopposed Sinn Féin candidate for the Cork borough constituency. Afraid that this situation would draw hostile interest from the Crown forces, Liam decided not to sleep in his house at night, leaving Fr O'Callaghan there together with his wife, his mother-in-law and the priest's housekeeper Katie Kearney. Katie was from Inchigeela and had been a housekeeper of the priest for fourteen years.
On Saturday night /Sunday morning, 15 May 1921 between 3.30am and 4am, a number of armed men broke open the glass-panelled door and rushed into the house. Liam De Róiste was fortunately not there at the time. Liam's wife Nora, detailed to the Cork Examiner in the days that followed and to her husband for his diary that her mother was present and that both occupied bedrooms immediately over the hall door. Fr O'Callaghan and Katie had their respective rooms at the other side of the house.
Nora enquired who was there and got an order to come down and open the door. She declined. One of the men climbed up a garden trellis and entered a bedroom through the window. She grappled with him and a revolver fell from his hands. Threatening him with a clothes brush she made him back out the window.
Meanwhile, other members of the party of men had forced the opening of the half-door and one man walked up two flights of stairs and branched off to the two other rooms in the house – occupied by Fr O'Callaghan and Katie respectively. They both met the intruder outside their bedrooms. A scuffle ensued between the man and Fr O'Callaghan.
Katie Kearney (years later) penned her memory of the evening and recalls of the scuffle; "As the Tan came up the stairs, he had a cap on his head and a scarf on his neck. I put up my hand to pull off the cap and scarf and was not able to do so. I said to them 'This is Fr O'Callaghan, you won't shoot him'. He drilled towards me and the Priest went backwards a few steps. The Tan followed him and pulled him to the bedroom door. I saw him prepare the revolver and I grasped it by the muzzle and as I did one shot rang out against the partition. He shook the revolver out of my grasp and pulled over the Priest and shot him through the spine and paralyzed him, he fell on the corridor, the Tan walked down the stairs and away".
Father O'Callaghan was seriously wounded in his liver and spine before the raiders took their departure. The Corporation ambulance was summoned, and Fr O'Callaghan was conveyed, still conscious to the North Infirmary. It was there that he detailed that he knew his attacker – a Black and Tan who was on regular duty in and around Shandon Street. Some hours later at 6pm he succumbed to his injuries in the presence of a nurse and Liam De Róiste who prayed for the priest by his side.
Originally the internment of Fr O'Callaghan was fixed for St Joseph's Cemetery, but by request of the residents of Clogheen, where the deceased ministered, the place of burial was changed to Clogheen. Despite widespread warnings the streets and roads were lined to mark their respect as the funeral cortege passed. A cross now marks his burial place at the Church of the Most Precious Blood. Over many decades, the story of the murder has been passed down by many historians and especially by the O'Callaghan family. Fr O'Callaghan's coat complete with bullet marks has survived as part of their family heirlooms. Remembrance was also shown through the name of Cork's Fr O'Callaghan's GAA Club for several decades.
Many thanks to Mary and Donal Healy, Maureen and Mary O'Brien, Rita O'Brien, Cork City and County Archives, and Cllr Ken Collins for their help and insights with this article.
Captions:
1099a. Fr James O'Callaghan, c.1917 (source: O'Brien family archive).
1099b. Mary Healy (nee O'Brien) and Mary O'Brien with Fr James O'Callaghan's priest jacket, present day (picture: Kieran McCarthy).
1099c. Burial place of Fr James O'Callaghan, Clogheen Church, present day (picture: Kieran McCarthy).