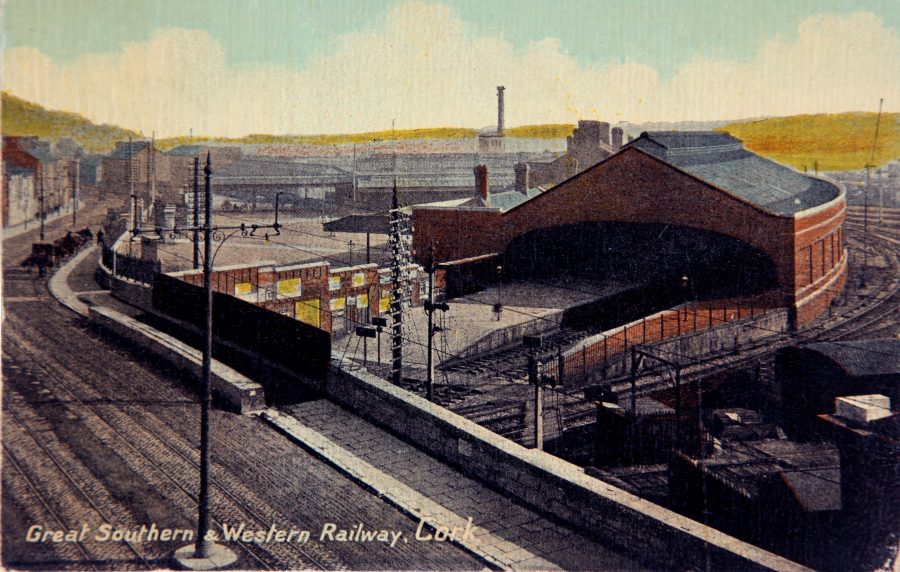 Kieran's Our City, Our Town Article,
Cork Independent, 1 April 2021
Journeys to a Truce: Intelligence Work in Spring 1921
Documenting the activities of Cork IRA Brigade No.1 in the spring of 1921 is well covered in the witness statements in the Bureau of Military History. In Joseph Kelleher's account (WS1675), he describes his time Captain of E Company of 1st Battalion, Cork IRA Brigade No.1. He carried out activities of a very varied nature against British crown forces in Cork.
In the spring of 1921 E Company's made frequent raids on mails with postmen being held up and letters taken away for censoring. Anything found of interest to the IRA intelligence service was passed on to the battalion intelligence officer. Raids on railway premises for military stores were carried out. Petrol lorries were held up and large quantities of petrol captured. E Company brought the petrol by horse and car to Killeens on the Blarney Road where it was placed in a dump for use by the company and brigade. The dump also contained revolvers, rifles, bombs and explosive materials.
Another important dump was located on the premises of Messrs. Harrington, Goodlass, Wall Ltd, Paint, Oil and Chemical Merchants on Commons Road. This dump was created in 1918 and continued until 1923. It contained explosive materials (procured mainly on the premises) such as nitric acid, acetone, patent turpentine, yellow phosphorus, guncotton, manganese and other material used by the brigade for the manufacture of explosives.
On various occasions E Company waited in ambush for military and Black and Tan patrols. On one such occasion, Joseph recalls that about fifteen of them, armed with revolvers, rifles and grenades, remained all night on the alert in the house of Miss Peg Duggan (a prominent member of Cumann na mBan) at 49 Thomas Davis Street. They had received word from the brigade that a reprisal attack by crown forces was anticipated on the house of the late Tomás McCurtain, former Lord Mayor of Cork, and Brigadier of the Cork Brigade. Miss Duggan's house was almost opposite that of the McCurtain house. The family of the latter still resided there. E Company waited all night for the coming of crown forces, but they failed to put in an appearance and they withdrew from Peg Duggan's the following morning.
In May 1921, Joseph's home was raided at night by British military and his brother John (also a member of E Company) were taken to Cork Military Barracks. After some time, there he was removed to Cork Gaol and from there to Spike Island.
Seán Healy, Captain of A Company of the 1st Battalion of Cork IRA Brigade No. 1 Cork (WS1643) worked in the Parcels Office at Glanmire Road station (now Kent Station). During the early weeks of the spring of 1921, Lieutenant Eamon O'Mahoney, who was then employed as a railway clerk in the Goods Depot at the station informed him that Seán's name, as well as his own and the names of other members of the railway company's staff, were included in one of the 'murder' lists of crown forces.
Seán felt that his accommodation on Alfred Street was too exposed and too easily kept under observationby Crown agents. This house could be watched from the Soldiers' Home, which was situated on the opposite side of the street. He describes: "This house was originally opened as a place the British military forces could spend their hours of leisure, but it was now a rendezvous for all Crown agents. Spies and informers frequented the place at all this of the day and night. The front entrance was on the Lower Road and it had a rear entrance from Summerhill. An attack with bombs was made against it by the men of A Company a few months later, a couple of soldiers being seriously wounded and the premises badly damaged".
Seán moved to an address on the Lower Road at the other end of the railway station. With the knowledge that the British Intelligence Officers were now aware that he was a prominent IRA officer, he had to take every precaution to see that he was not shadowed when going to or coming from work at the station, or when carrying out my duties as a fighting man.
Seán describes that sniping, decoy tactics, tapping telephone wires and subversive activities generally were regular features of A Company's war efforts. They frequently received orders to carry out decoy operations such as the interruptions of communications and blocking of roads at places outside the city.These were usually night operations, which meant that they could not return to the city. On hiding out near Glanmire village Seán describes: "We would billet on some friendly household when convenient and when there was any serious danger of getting their friends into trouble we took shelter in outhouses or hay barns. There was a large house in Sarsfield Court where we hid. This house was vacant for a long time and was in a bad state of repair. A part of the upstairs floor collapsed one night, when I got a bad fall. I suffered injury to one knee which put me out of action for about a week".
Caption:
1093a. Cork Dublin Railway Terminus (now Kent Station, Cork, c,1910 (source: Cork City Through Time by Kieran McCarthy & Dan Breen).