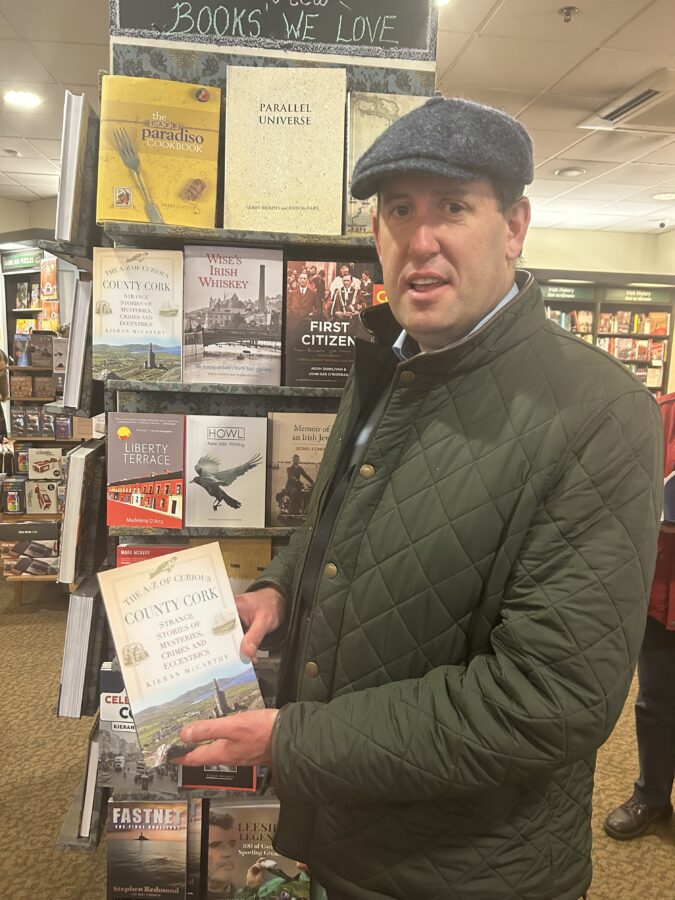 Kieran's Our City, Our Town Article,
Cork Independent, 7 December 2023
Kieran's Cork Books for Christmas
It's only a few weeks to Christmas. There are two publications of mine, which readers of the column might be interested in to buy as Christmas gifts. Both were published in the past eighteen months and are available in Waterstones, Vibes and Scribes, and Easons.
My new book, The A-Z of Curious County Cork, published by History Press UK (2023) has been born out of my own personal curiosity for many years now to venture off the main roads of County Cork to explore the curiosities of cultural heritage in County Cork. There are approximately 120 stories from different corners of County Cork. From the A-listing of Apparition to the Z listing of Zeal.
The added task of picking over one hundred curiosities of County Cork was also going to be a challenge. It is difficult to define what a curiosity is. Such a distinction varies from one person to another. The importance of a curiosity in one locale may also not be a curiosity to another locale. The stories within this book, and which I have chosen and noted as curiosities are ones, which have lingered in my mind long after I found them or brought me down further 'rabbit holes' of research.  
Being the largest county in Ireland, Cork has the advantage of also having the largest number of cultural heritage nuggets. However, with that accolade comes the conundrum of what nuggets to pick from. With any A-Z of anything it does not cover every single aspect of a particular history but this book does provides brief insights into and showcases the nuggets and narratives of cultural interest that are really embedded in local areas. It also draws upon stories from across the county's geography.
Much has been written on the histories of County Cork. There is much written down and lots more still to be researched and written up. The County is also blessed with active guardians of its past. In particular, there is a notable myriad of local historians and historical societies, which mind the county's past and also celebrate and even commemorate it through penning stories in newspaper articles, journals, books and providing regular fieldtrips for the general public. There is also the impressive heritage book series on County Cork, published by the Heritage Unit of Cork County Council.
In addition, this book builds on the Little Book of Cork (2015) and the Little Book of Cork Harbour (2019), both History Press publications. This book can also be read in one go or dipped in and out of. I encourage though that once you have read it bring it out into the historic county of Cork to discover many of the curiosities up close and personal.
Celebrating Cork (2022, Amberley Publishing) explores some of the many reasons why Cork is special in the hearts of Corkonians and visitors. Itbuilds on my previous publications – notably Cork In 50 Buildings, Secret Cork, and Cork City Centre Tour – all published by Amberley Publishing. 
Celebrating Cork takes the reader on a journey through the known and unknown layers of Cork's history and 'DNA'. It has chapters about its layered port history, the documents and maps that define its sense of identity, the arts and crafts movements that can be viewed within the cityscape, its statues and monuments, its key institutions and charities, its engineering feats and certain elements of why Cork is known for is rebel nature. 
This book focuses on different topics again of Cork's past and places more focus on elements I have not had a chance to write upon and reflect about in the past. With more and more archival material being digitised it is easier to access original source material in antiquarian books or to search through old newspapers to find the voices championing steps in Corks progression in infrastructure, community life or in its cultural development.
   Cork's construction on a swampland is important to note and the knock-on effects of that of that in terms of having a building stock that is not overly tall. Merchants and residents throughout the ages were aware of its physical position in the middle of a marshland with a river – and from this the hard work required in reclaiming land on a swampland. I like to think they saw and reflected upon the multitudes of timber trunks being hand driven into the ground to create foundational material for the city's array of different architectural styles.
Cork is a stronghold of community life and culture. Corkonians have a large variety of strong cultural traditions, from the city's history, to sports, commerce, education, maritime, festivals, literature, art, music and the rich Cork accent itself. Celebrating Cork is about being proud of the city's and its citizens' achievements. This book at its very heart is a nod to the resilience of Cork to community life, togetherness and neighbourliness.
Caption:
1231a. Kieran with The A-Z of Curious County Cork, Waterstones, St Patrick's Street, Cork.